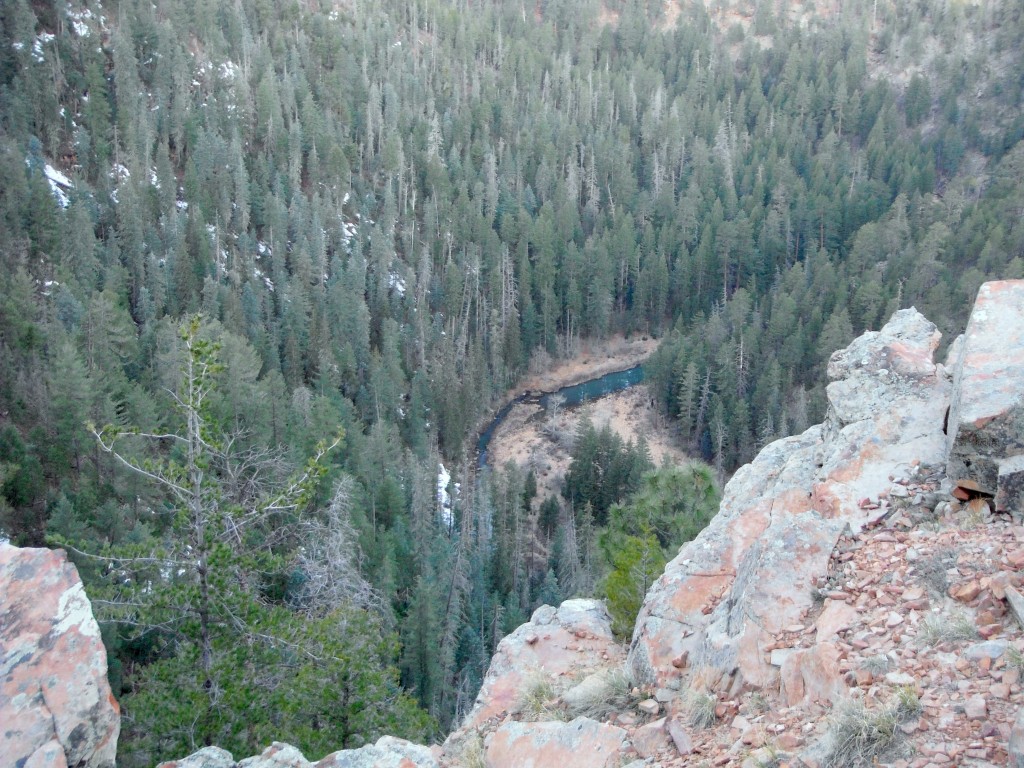 My wife laughed at me when I told her what time I would be getting up on Saturday morning to go fishing. I wondered about the decision myself, but when the alarm clock beeped, I popped up like a daisy. With a little bit of coffee and a granola bar for the truck ride, I met up with Antonio and Keith for a day of fly fishing in the Arizona backcountry.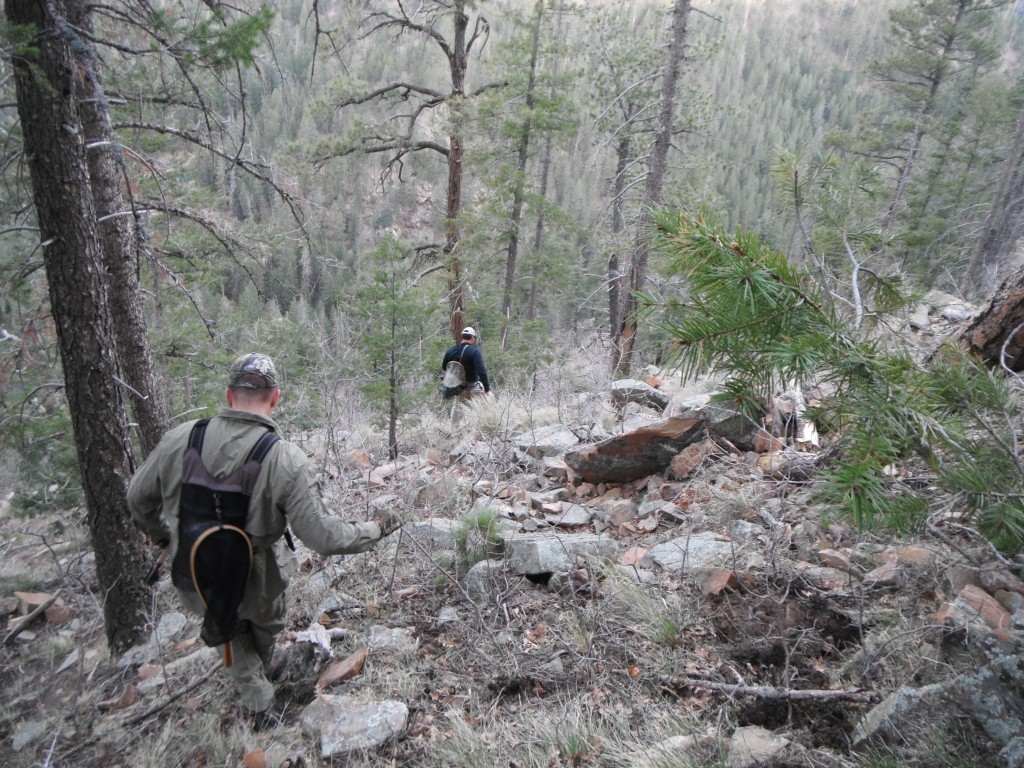 A few hours later, I was looking over the side of a canyon with no trails or signs of life. In the bottom, I could see a turquoise pool just waiting to be fished and without a second thought, we bailed off the edge and into the abyss. Loose rock, deadfalls, and pricker bushes made for an interesting decent and I tried not to contemplate the return journey which I knew would be miserable after a hard day of fishing.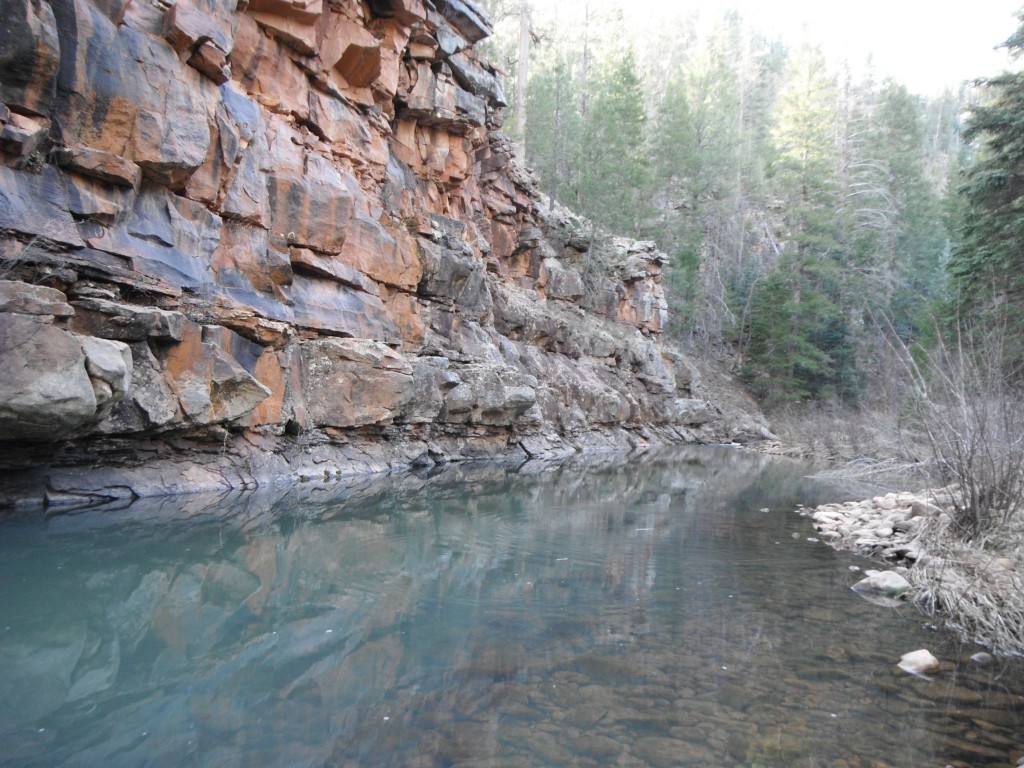 The hike/scramble down the canyon wall was well worth it, and the cold morning air felt good as we rigged our fly rods for the day ahead. It had been 27 degrees when we left the truck and in the sunless canyon, I am sure it was a bit colder. We stripped streamers for the first hour or so, but figured the water was much too cold for fish to be active. Antonio started off the day with a bang with an engorged brown trout taking his signature streamer. The picture below proves there are some real predators living in these Arizona streams and how productive Arizona fly fishing can be.
Half the reason these fish get to be so big is because they live in these slow ice-cold pools feeding on the plethora of crayfish that also thrive in these backcountry streams, like the one pictured below. Although the crayfish help some of these big browns gain their size, some of these creeks are simply overwhelmed by the crayfish numbers.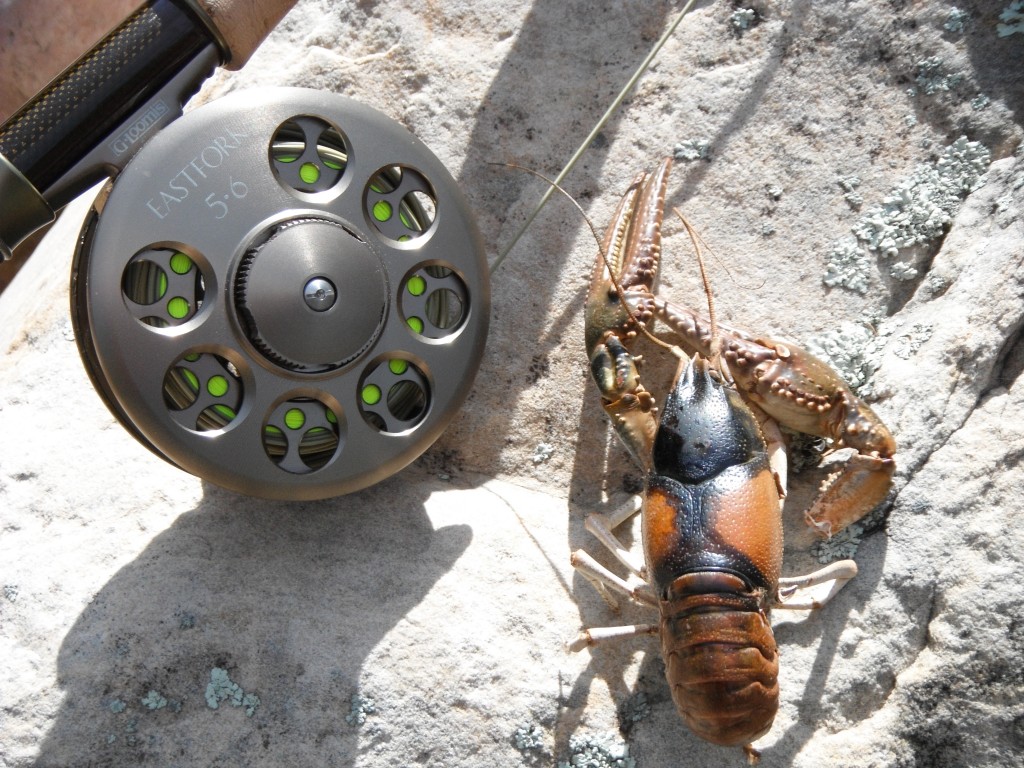 As the day warmed up, the creek came alive with bugs and rising trout. I walked ahead to a small pool and amidst the dancing midges, I could see a trout finning in the current, occasionally rising for a bug or two. I opened my box and perused my fly selection and settled on a gray-bodied CDC midge pattern. A few casts later, the surface erupted as the healthy brown devoured my fly.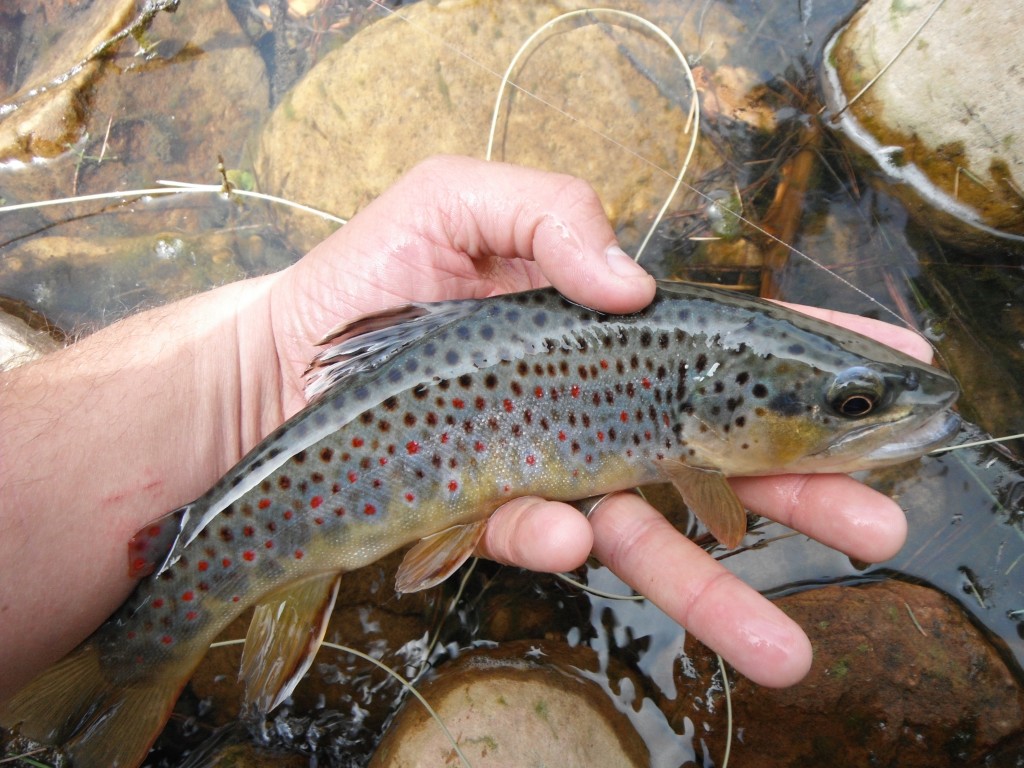 I cradled the fish and said a quick thank you before releasing him back into his home pictured below. With the skunk avoided, I was able to relax and get into a fishing rhythm.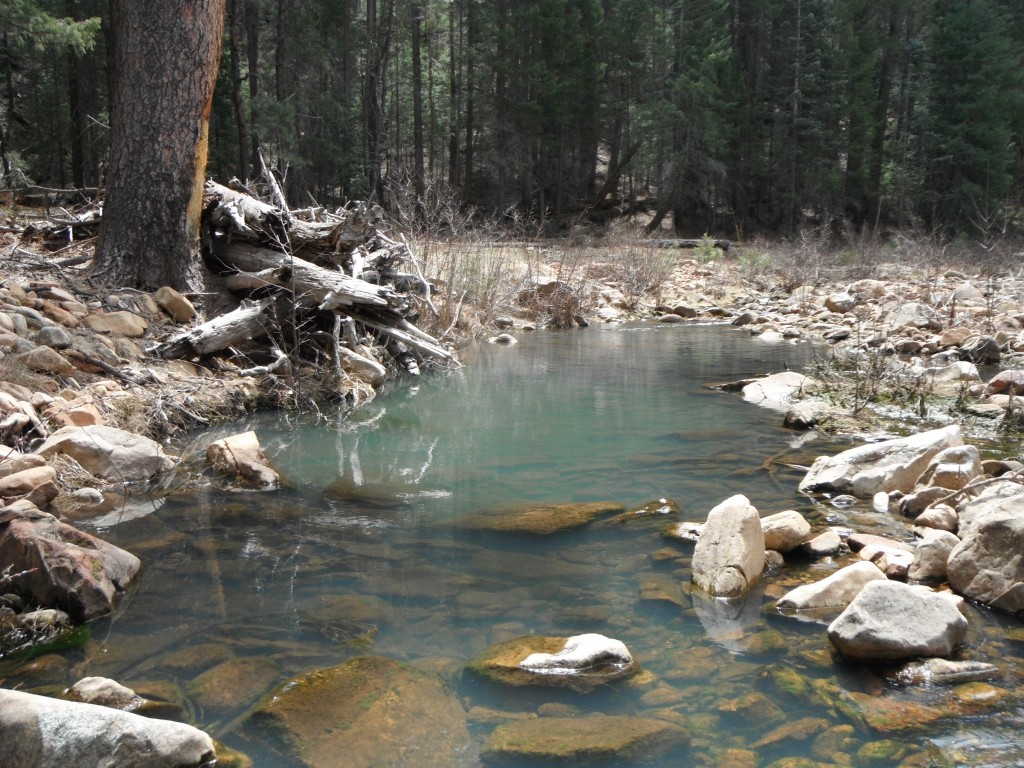 The browns continued to come and around noon the prolific bug life on the creek came to life. I switched to a mini-hopper and an ice-dubbed pheasant tail and began pulling a fish or two from every pool. We fished our way up a mile or two enjoying the slight breeze and smell of the pines before turning back downstream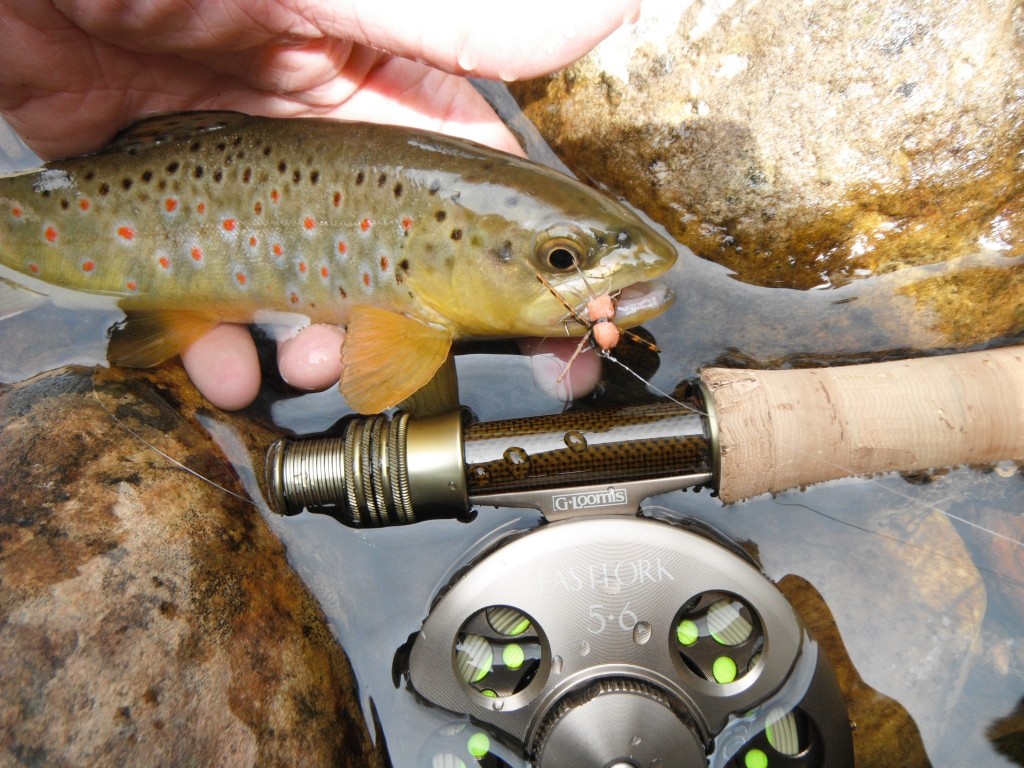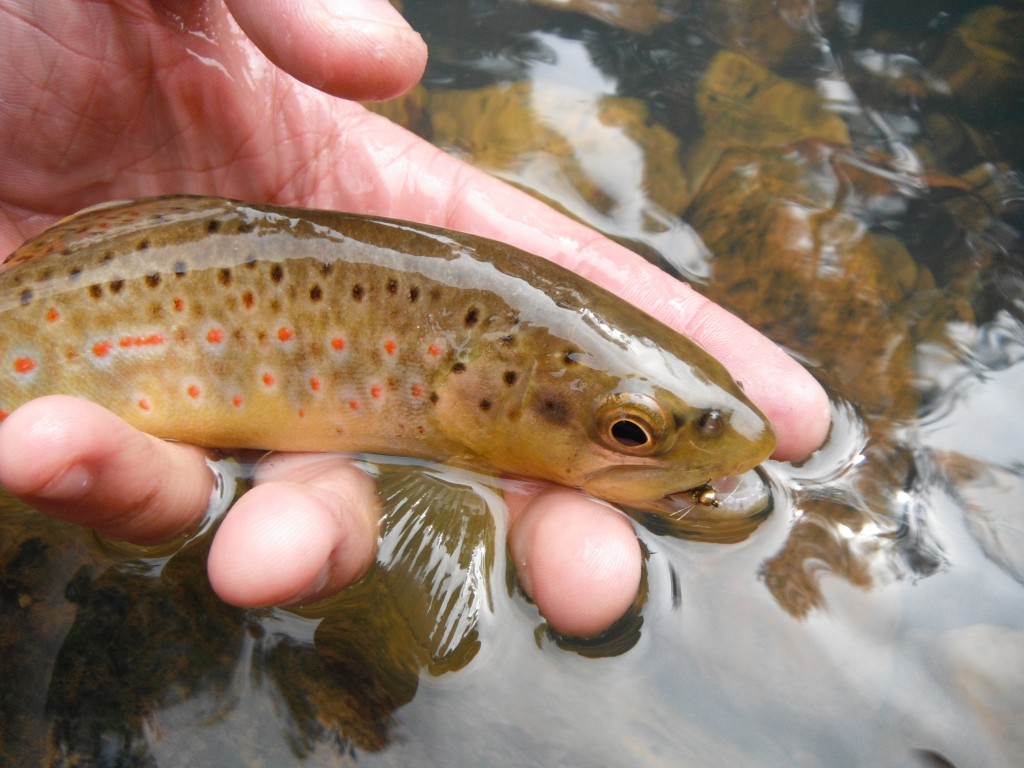 As we fished some of the better pools on the way back down, I stumbled upon a beautiful elk shed lying right by the creek. After admiring it and feeling it's weight, I opted not to carry it out of the canyon and gave it to Antonio who politely posed for a photo below while rocking his Arizona Wanderings T-shirt. (In hindsight, I'm fairly certain the reason he landed his nice brown was because of the powerful mojo found in each AZW shirt – Get yours at the AZW Shop.)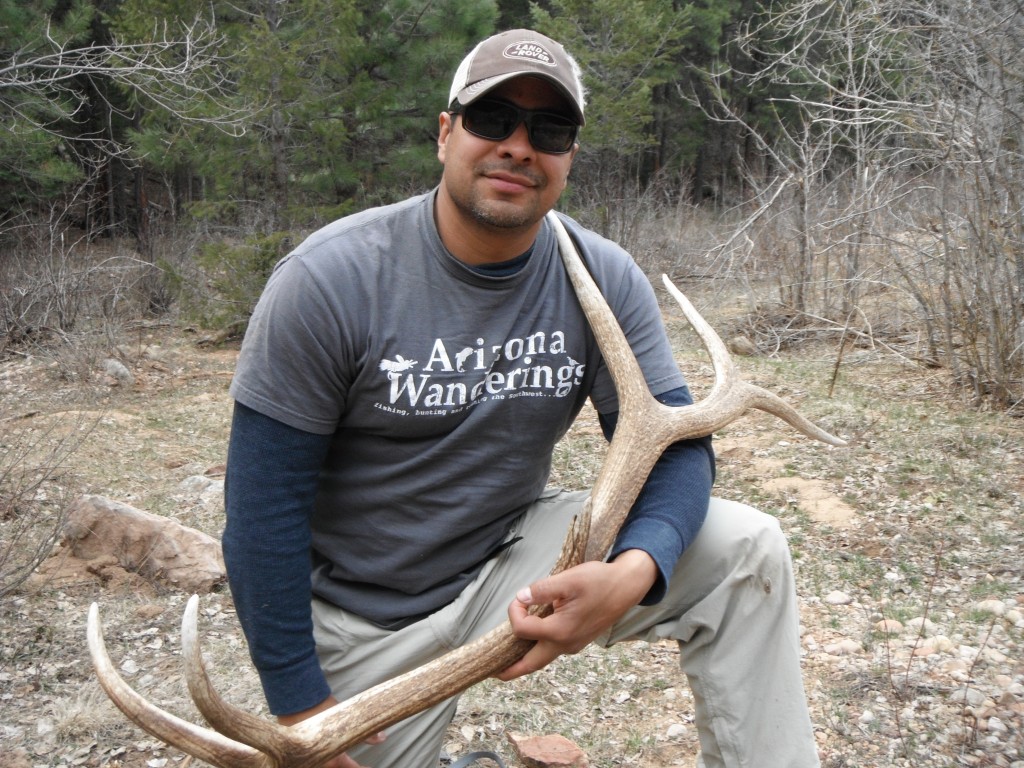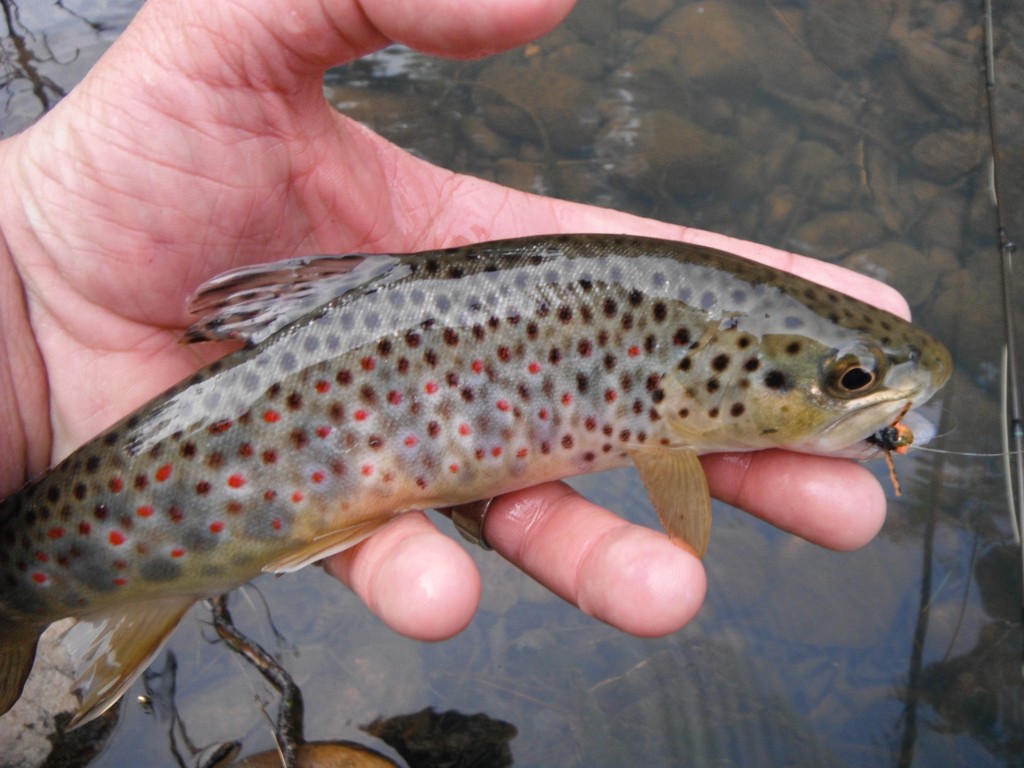 I stopped at one more foamy run before our scramble up the hill and pulled 8 fish from the same spot. So much for small stream trout being spooky. Most fish we pulled throughout the day were fat, healthy and ready to eat more.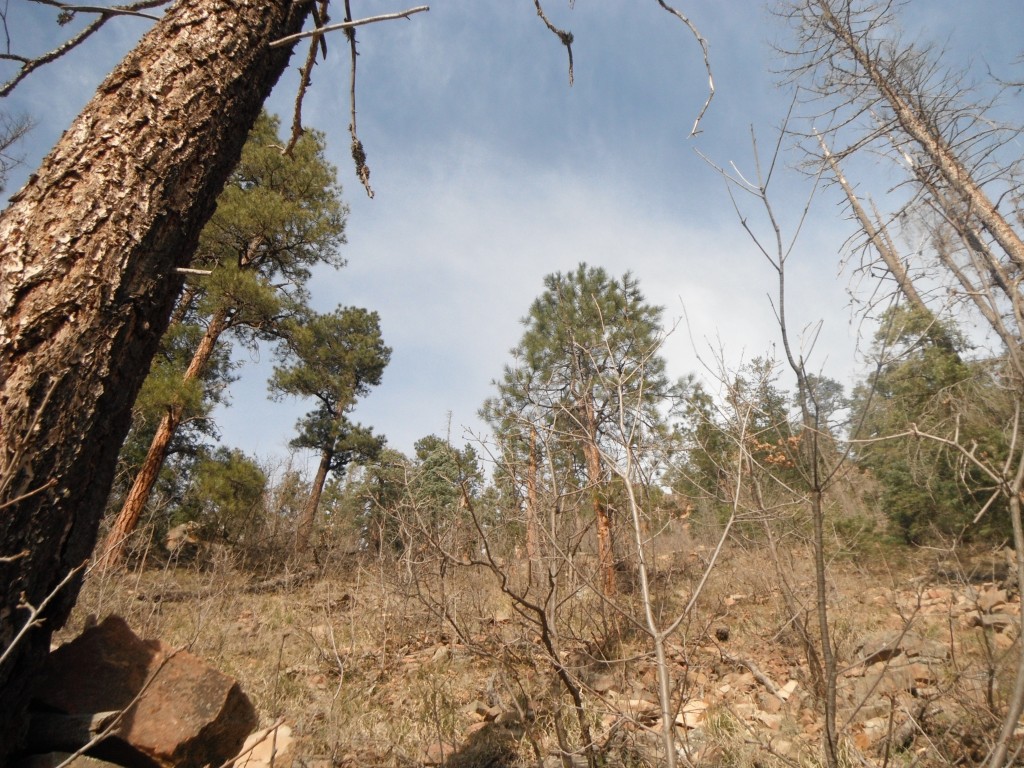 It was a great day on the water with a good couple of guys. Many thanks to Antonio and Keith for sharing the experience with me today. It has been a beautiful start to the season and I'm crossing my fingers that we get some more precipitation to keep the creeks healthy and flowing.