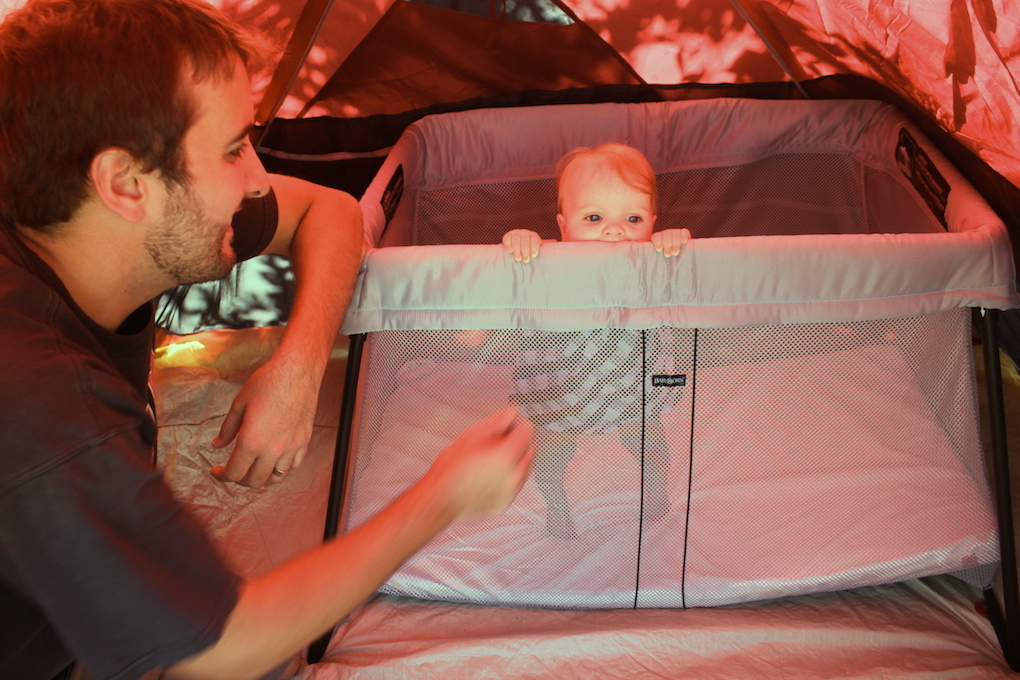 Rambling Review
Why:
For those of you following this blog, you know that my life has greatly changed this past year with the birth of my daughter. Although my weekend trips are a bit fewer in number and more calculated when planned, I've still been able to get out here and there. I do have to say that my greatest joy has come from spending time in the woods and on the water with my wife and baby girl. Camping with a 6 month old has turned out to be a bit of a trick, but my wife and I are adjusting. Our inquisitive little girl is always on the go and so happy when she's outside. I received more than a few emails from friends and readers asking me about how my wife and I have managed camping with our little girl. One of the greatest editions to our camping arsenal has been the BabyBjörn Travel Crib Light.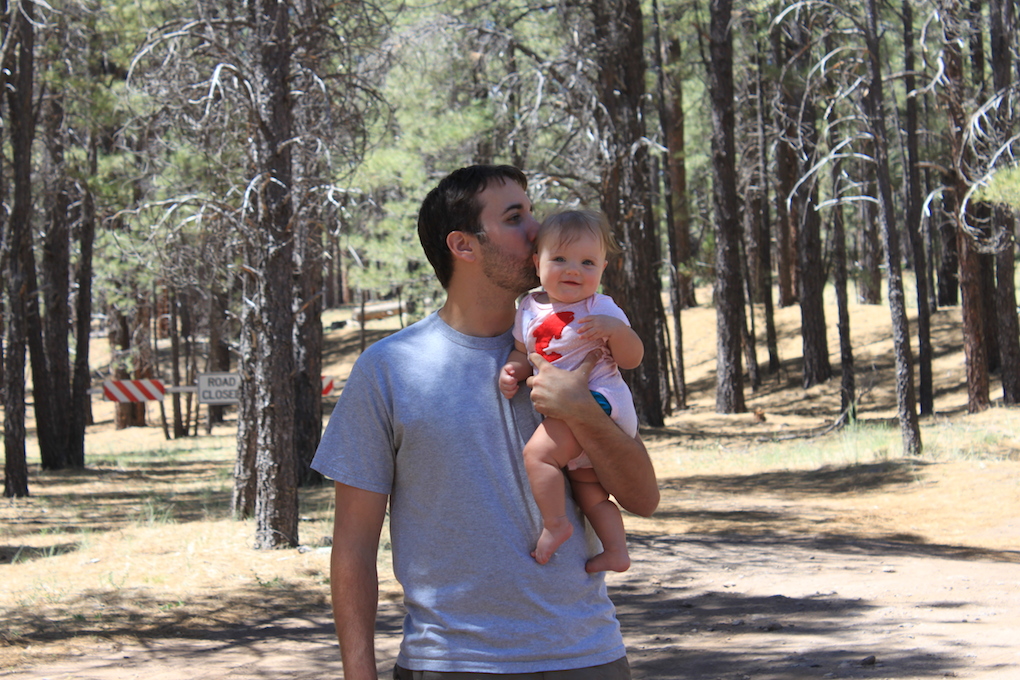 First impressions:
The weight – Compared to the 30+ pounds of our standard pack and play, the BabyBjörn Travel Crib Light weighs in at a measly 13 pounds. That's pretty nice when you're hefting it into the bed of the truck at the end of a long weekend in the woods.
Dimensions – Folded up in the carrying case, theTravel Crib Light measures 19 x 23.5 x 5.5 in. Fully set up it runs 32 x 44 x 24 in.
The materials – The BabyBjörn Travel Crib Light is manufactured to some pretty high standards and all the material is fair game for chewing and gumming, which, as I have learned, is what babies do.
Field Use:
As a new father, I've learned that a college degree doesn't necessarily make you qualified to put baby furniture together. To be honest, those first couple months were touch and go as I assembled cribs, swings, and all the other paraphernalia that comes with fatherhood. The BabyBjörn Travel Crib Light certainly bucks that trend. It comes in a handy carrying bag and once unzipped, it's pretty straightforward on setting it up.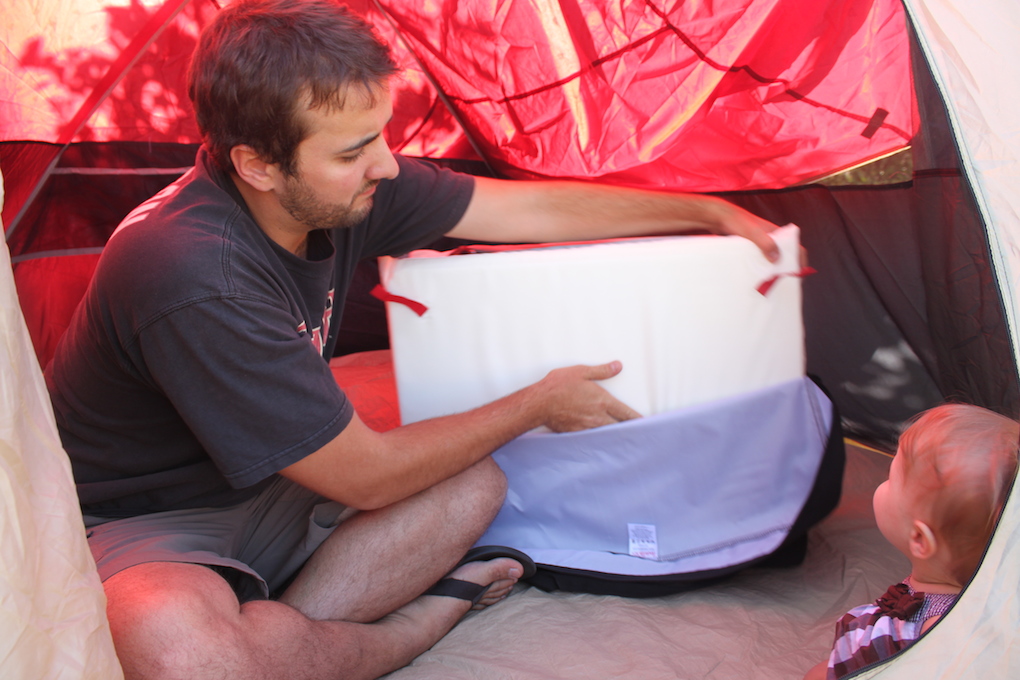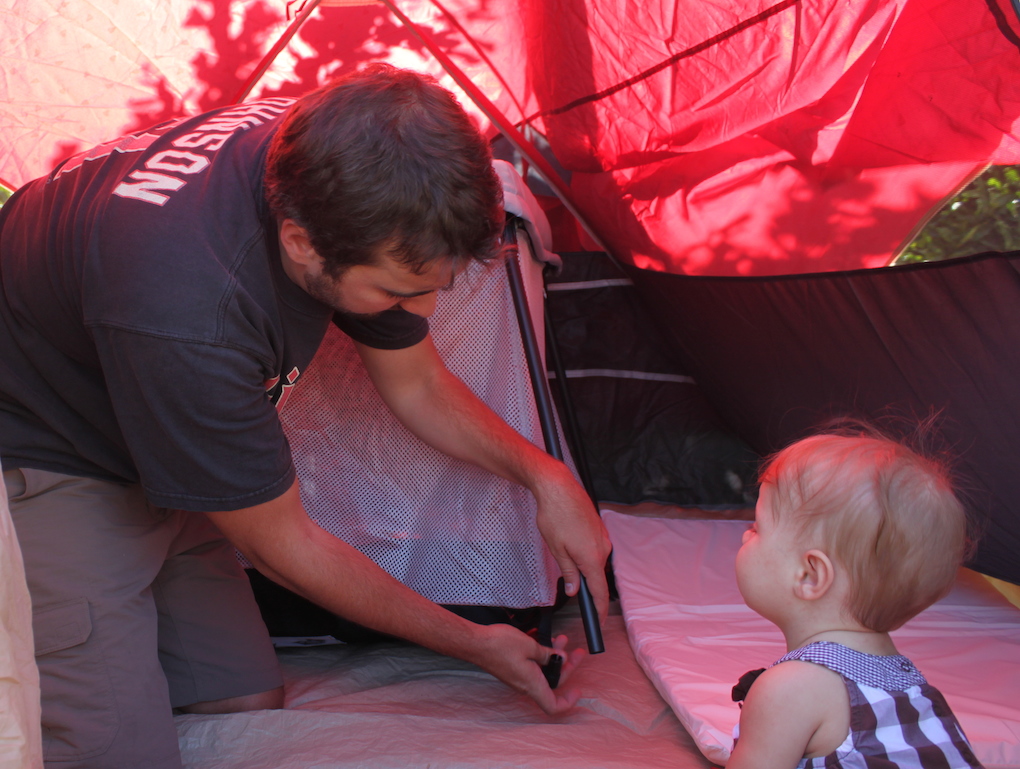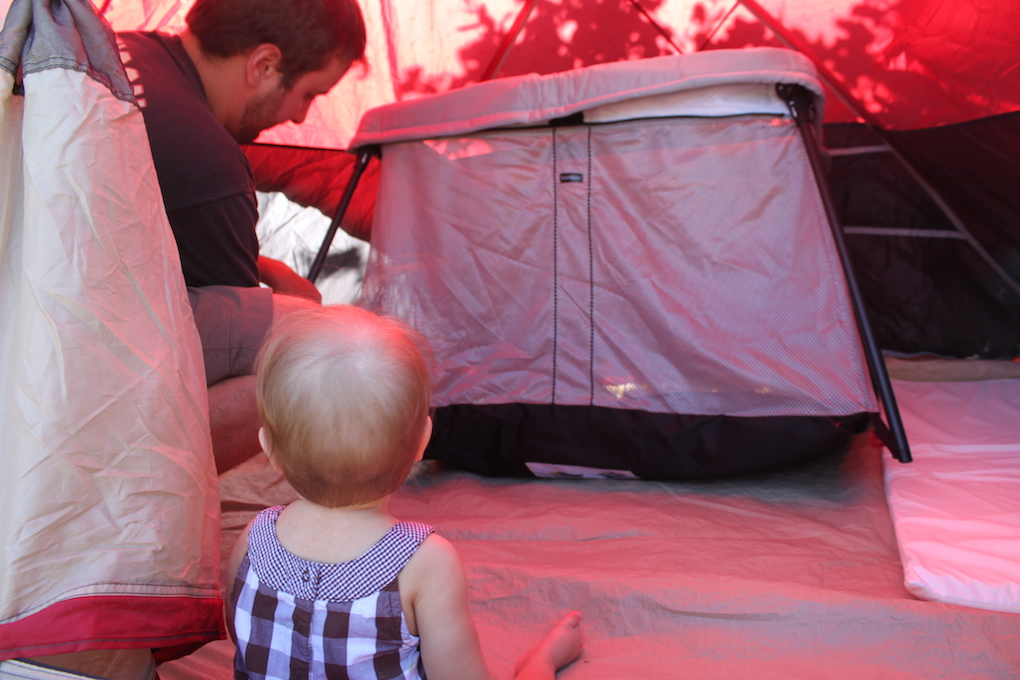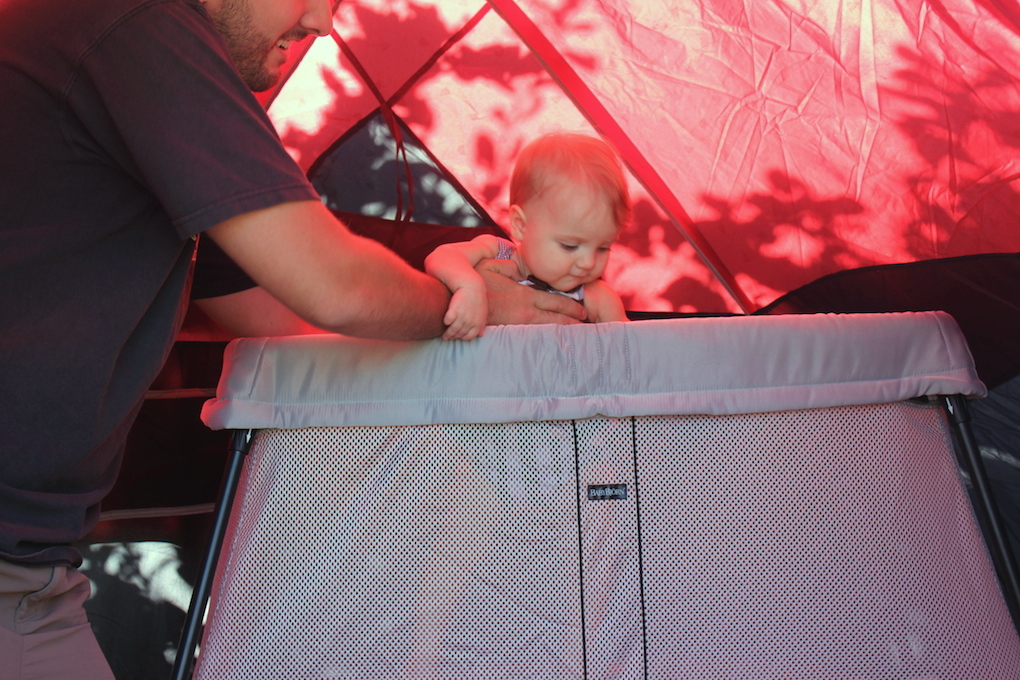 We were extremely happy with how the whole BabyBjörn Travel Crib Light worked for us on our couple of camping trips. One thing that was really nice was that were able to come home and unzip the actual fabric cover and throw it in the washing machine. You can only imagine how much dirt our gorgeous little girl found in the woods.
As you can see from the picture, the legs of the crib are at an angle which really adds the stability of the whole crib. The BabyBjörn Travel Crib Light sits very low which causes it to have a low center of gravity and keep it from tipping over.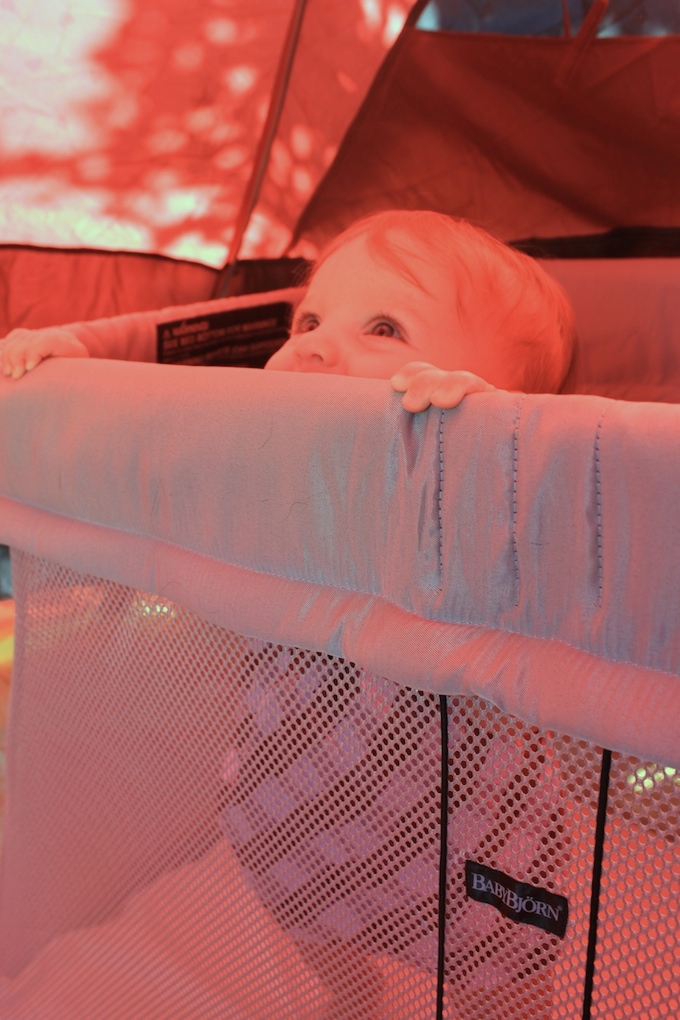 Pros:
Extremely light weight
Super simple and intuitive to set up
Quick to set up and take down
Carrying case
Washable
Perfect for camping and travel
Cons:
Cost – As with most quality made products, the price tag on the BabyBjörn Travel Crib Light reflects the high quality manufacturing that has become synonymous with BabyBjörn.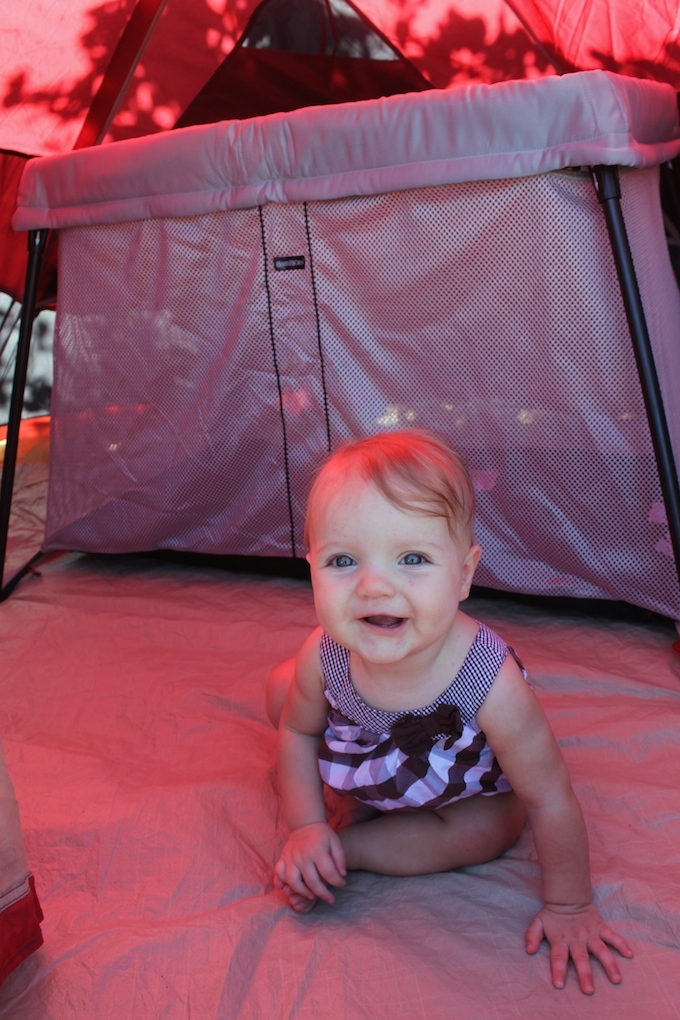 Prognosis:  If you are looking into the logistics of camping with a baby, do yourself a favor and pick up a BabyBjörn Travel Crib Light. You won't regret it.
* Disclaimer:
The reviews at Arizona Wanderings are my honest opinion. Arizona Wanderings is not sponsored by or associated with any of the stated companies and is accepting no compensation, monetary or otherwise, in exchange for this review.  The BabyBjörn Travel Crib Light was provided by BabyBjörn for the purpose of this review.  My independent status may change in the future but, as of the date of publication, no relationship other than described above has been pursued or established.