Rambling Review: K-pump K200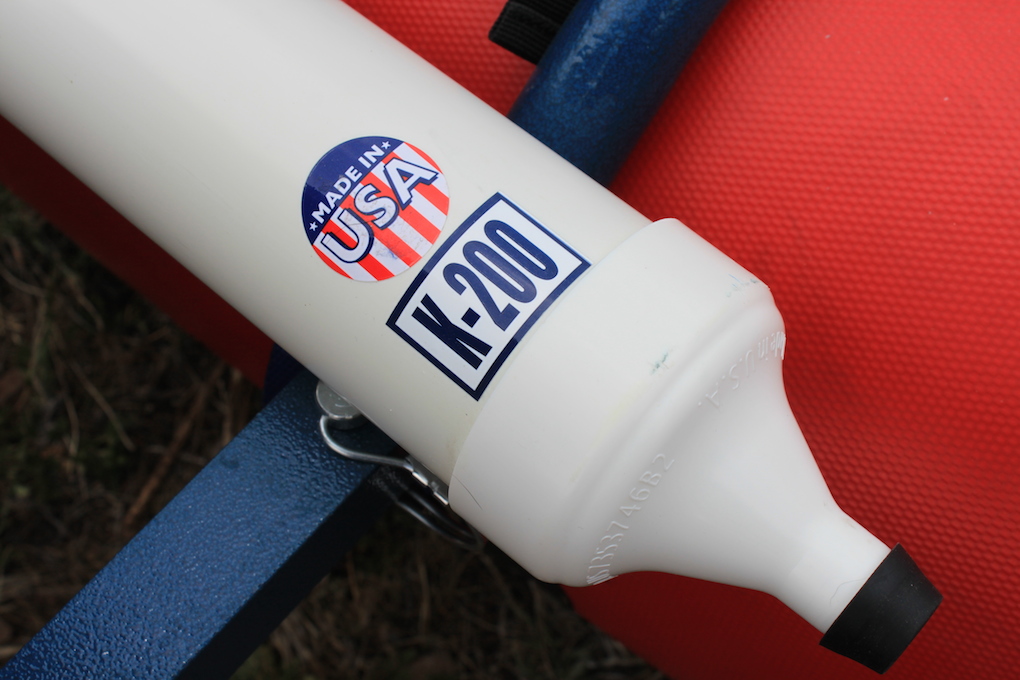 Why:
I picked up my Dave Scadden North Fork Outfitters Madison River pontoon boat last year second hand with the intent of exploring the Colorado River and Arizona's lakes. As you might expect with an inflatable pontoon, I spend quite a bit of time setting up the pontoons and making sure that they are properly inflated throughout the day. After a bit of research, I picked up a K-Pump K200 and have been really please with it over this past year.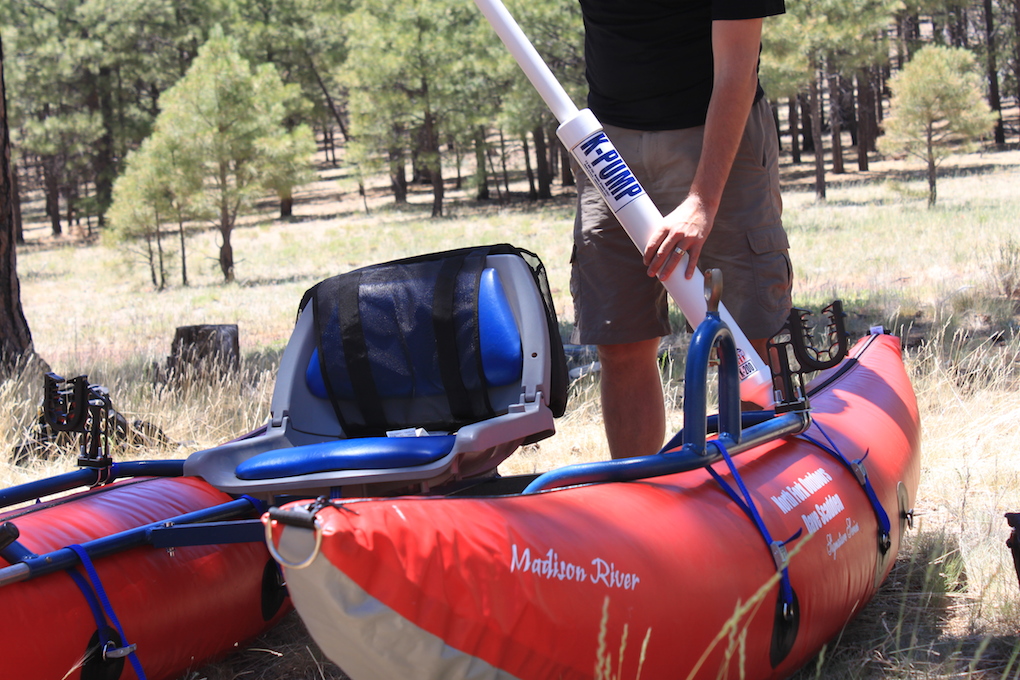 First impressions:
The design – The K-pumps are a no-hose design which cuts down on many of the problems that you can run in to with other pumps.  K200 is made of a special ABS material that makes the pump extremely durable. The K200 is a single chamber pump (as is the K100) which makes these pumps great for small inflatable crafts (like the 9′ Scadden) and topping off larger inflatables.
The extras – The K200 comes with a nice stow bag, additional adaptors, and lubricant for maintenance.
The warranty – All K-pumps are covered by a 2 year unlimited warranty.
Made in the USA – The K-pump company is based out of Oregon and is a family owned company. All pumps are made in the USA.
Dimensions – The K200 is around 32″ long and has a diameter of 3″ wide. It has an output of roughly 0.8 Gal ABS pressure.
Price – The K200 retails for right around $89.95, which at first glance seems a bit much for a pump. I will say this, it is worth every penny.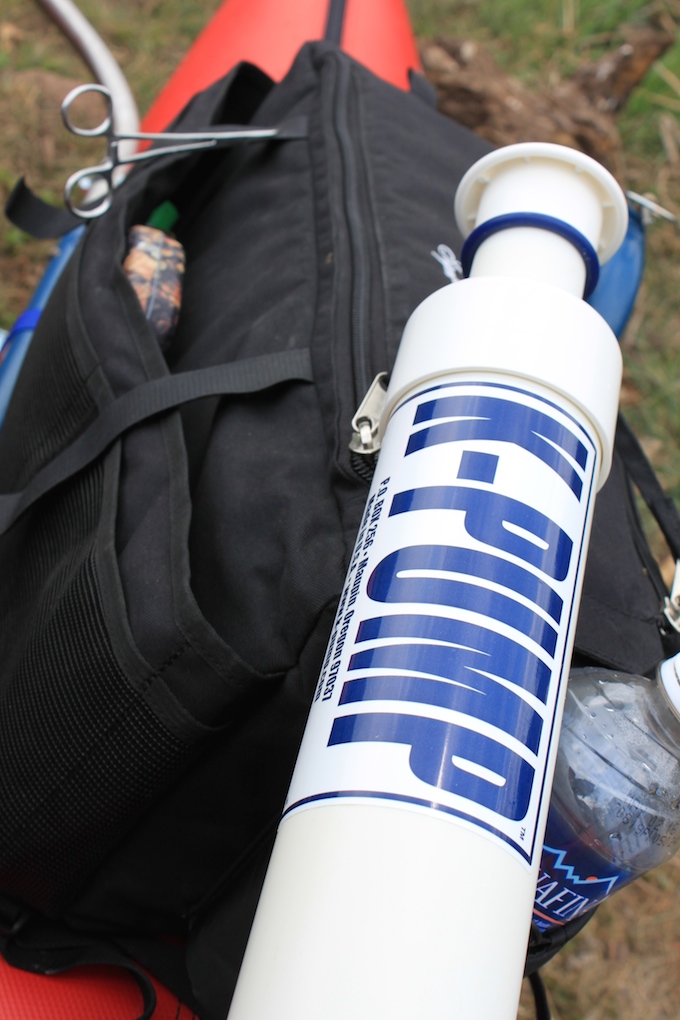 Field Use:
I've been extremely impressed with K-pump K 200. Most of the time, when I'm headed out with my pontoon, one of my buddies will have an electric pump, which is way easier for getting the pontoon inflated to about 75%. From there, I'll finish putting the frame together and lashing the frame to the pontoons. The K200 is perfect for finishing off the pontoons and inflating them to the correct pressure. Because of the K200 size and slim shape, I always stash it on my pontoon, just in case a buddy or I need it throughout the day.
I have had multiple instances where I have not had access to an electric pump and needed to inflate my pontoons from empty with nothing but the K200. One of those instances was when I floated Lees Ferry. We were backhauled upriver and needed to take all of our gear with us. After we were dropped on the beach, we spent our time arranging gear and assembling our pontoons. The K-pump K200 was more than enough pump to handle filling up my pontoons.
In my opinion, the entire action of filling/topping off your pontoon is a bit easier with the K200. First of all, you are able to stand up. With many of the double action pumps, you end up hunched over. The K200 allows you to stand upright and not bust your back filling your pontoons. The second thing I like about the K200 is the length of the handle/plunger. With each compression you are getting a long, full push of air into your pontoons. Ultimately, this cuts down on the amount of pumps, and gets you on to the water faster.
K-pump does offer a wide array of pumps that meet many different needs. The K200 is a part of the single chamber pumps, but K-pump also makes double chamber pumps like the K40 or K400. These pumps are two stage: a low pressure for shaping your tubes and a high pressure for topping off. If you are looking for something with a bit more output, one of these pumps might be worth looking at.
Probably one of the most striking things about K-pump has nothing to do with the actual pump. After using the pump several times I had a question about the pump and called the customer service number on the website. On the second ring, Jim Kutella, the owner of the company picked up the phone and spent a good 10 minutes talking to me about his products. Jim doesn't know me from Adam, and I was very impressed with his knowledge and willingness to answer all my questions.  It's very cool to see a company take customer service seriously.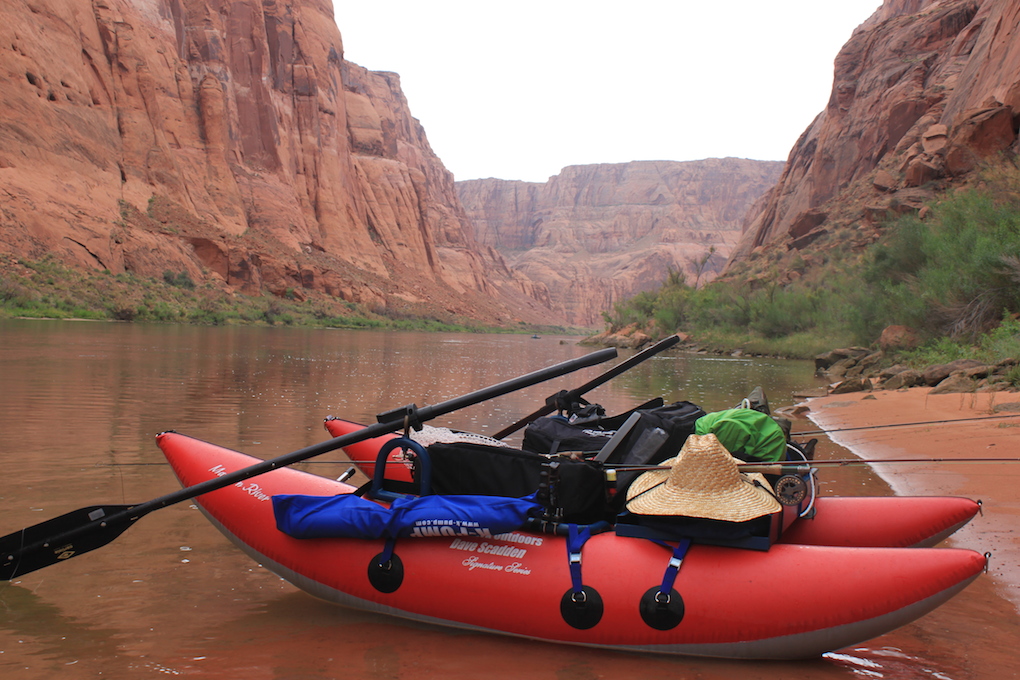 Pros:
Made in the USA
2-year warranty
Rock solid construction
Multiple adapters
Slim/stowable design
Excellent customer service
Cons:
Cost – a bit pricier than the cheap double action pumps, but worth it.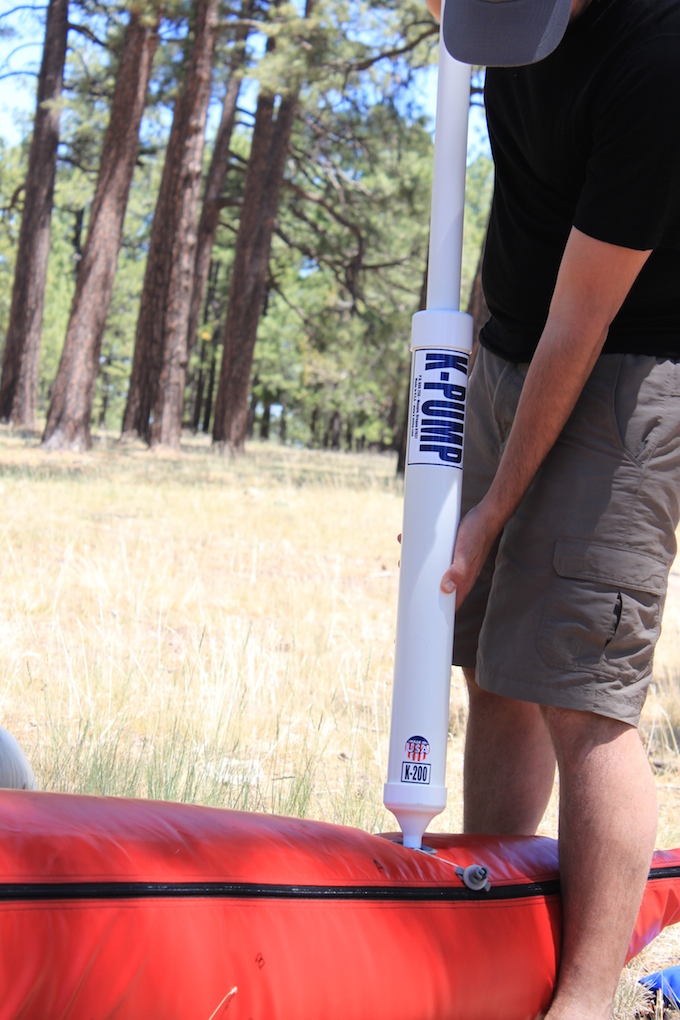 Prognosis:  If you are looking for a superior pump for your float tube or pontoon boat, I can't say enough good things about the K-pump K200. The K200 is a top quality production made here in America and definitely worth every penny.
* Disclaimer:
The reviews at Arizona Wanderings are my honest opinion. Arizona Wanderings is not sponsored by or associated with any of the stated companies and is accepting no compensation, monetary or otherwise, in exchange for this review.  The K-pump K200 was bought with my own hard earned cash and probably one of the best purchases I made for my pontoon boat. My independent status may change in the future but, as of the date of publication, no relationship other than described above has been pursued or established.