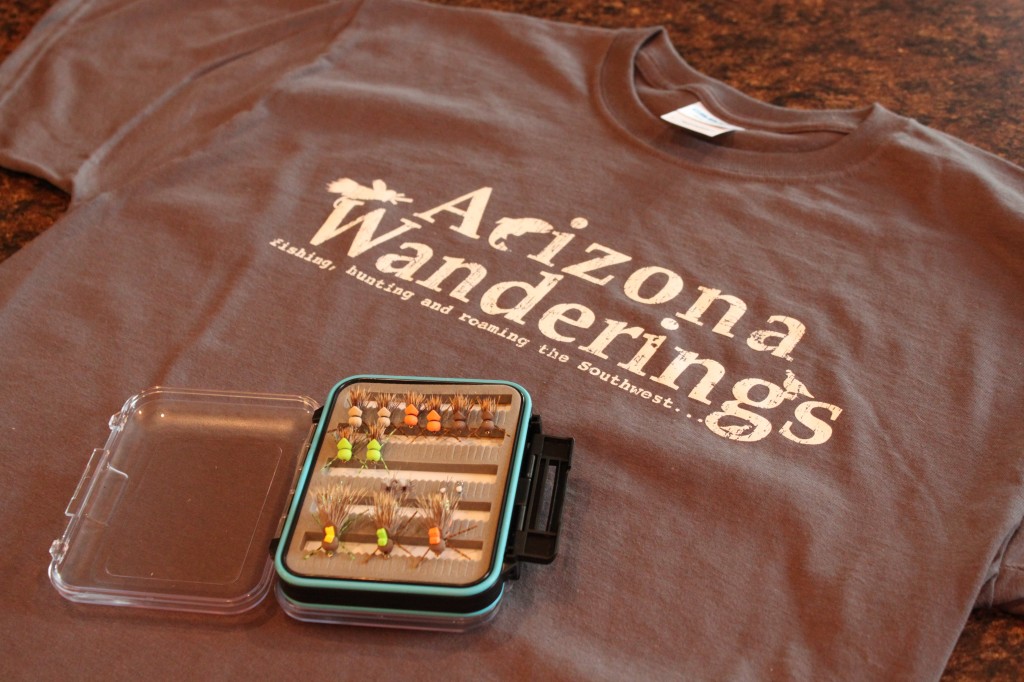 In celebration of such a great summer and memorable turkey hunt last weekend, I tied up some of my favorite go-to flies and put together a small stream fly box for a giveaway. Also up for grabs is an Arizona Wanderings t-shirt. I will not be making you jump through any serious hoops to enter, so here are the basics.
1. Leave a comment on this post with either something you like about the Arizona Wanderings site, a favorite post, or maybe something you would want to see in the future on the site or in the shop. As much as this site is about my travels, I am always looking to add more features that would be of interest to my readers.
2. For a second chance at one of the prizes, "Like" Arizona Wanderings on Facebook and then comment a second time on this post, doubling up your chances and letting me know that you have done the whole Facebook thing too.
3. Two random number will be generated on Wednesday, September 7 from the blog comments and the first person can choose either the fly box or the t-shirt. The second number gets whatever is left.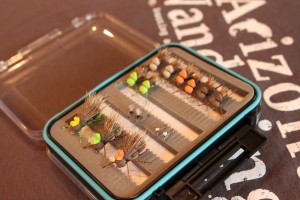 The small stream fly collection will include a mix of:
– Mini-hoppers
– Sparkle parachutes (yes, I used some of my dwindling hackle supply for you…)
– Parachute Adams
– Hopper Juan Variants
– Bead-head pheasant tails
– Bead-head hare's ear
– Zebra midges
– Simi-Seal Leeches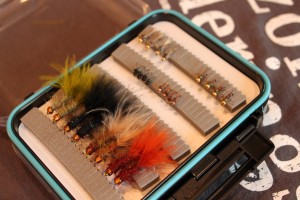 All the flies are tied by yours truly and are my favorite flies to use on just about any piece of moving water.
Don't forget that quail season is right around the corner. Check out a preview of the new ebook Hunting Gambel's Quail at the Arizona Wanderings Shop.