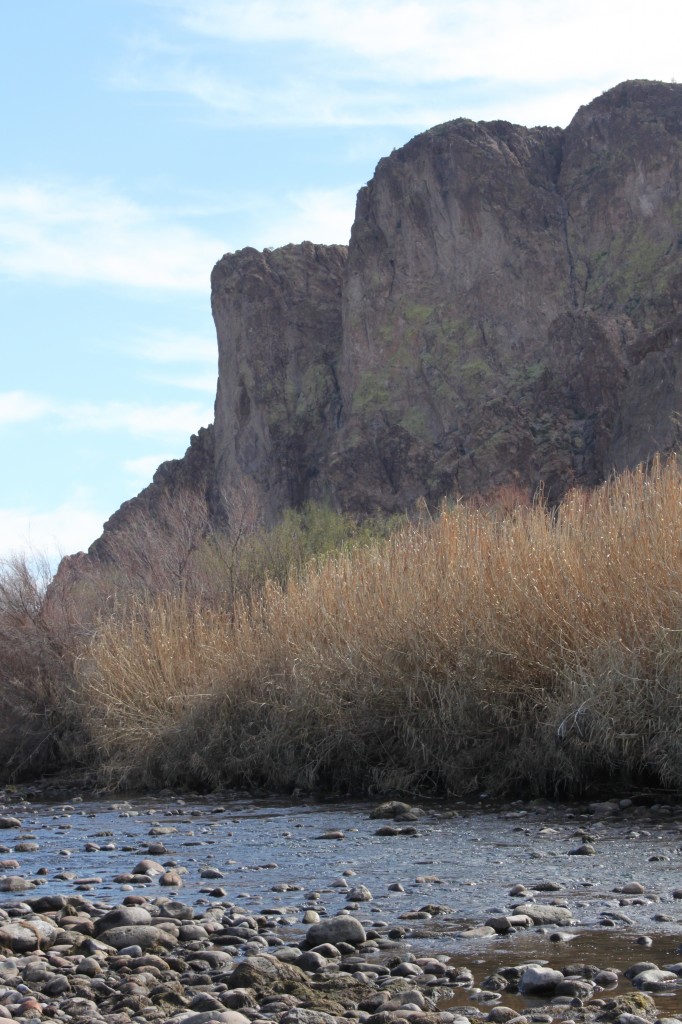 My mom is in town visiting from the icy Northeast. As we toured around city, we swung by the Salt River below Saguaro Lake. I have always had a love/hate relationship with this stretch of water (actually more just hate), but it's close proximity made for a quick hour on the water getting my rusty cast back into practice. I threw a few different bugs at the fish there below the bridge and had a few takes on a parachute adams and an orange mini-hopper. Two fish on but both "long-released" for me so I did not have to get my hands fishy.
What is really disheartening about fishing this stretch of river is the seemingly missed opportunities to turn this valuable piece of water into a quality fishery. The flows from the Stewart Dam are irregular at best which has a significant impact on the sustainability of quality trout fishing.  SRP controls those flows and uses the power generated from the dam to help feed the bottomless energy appetite of the Valley. From the different articles that I have read, there has been talk of maintaining consistent flows and turning the portion of the Salt right below the dam into a blue ribbon trout fishery.  The future of that project is unclear as the cost is extremely steep.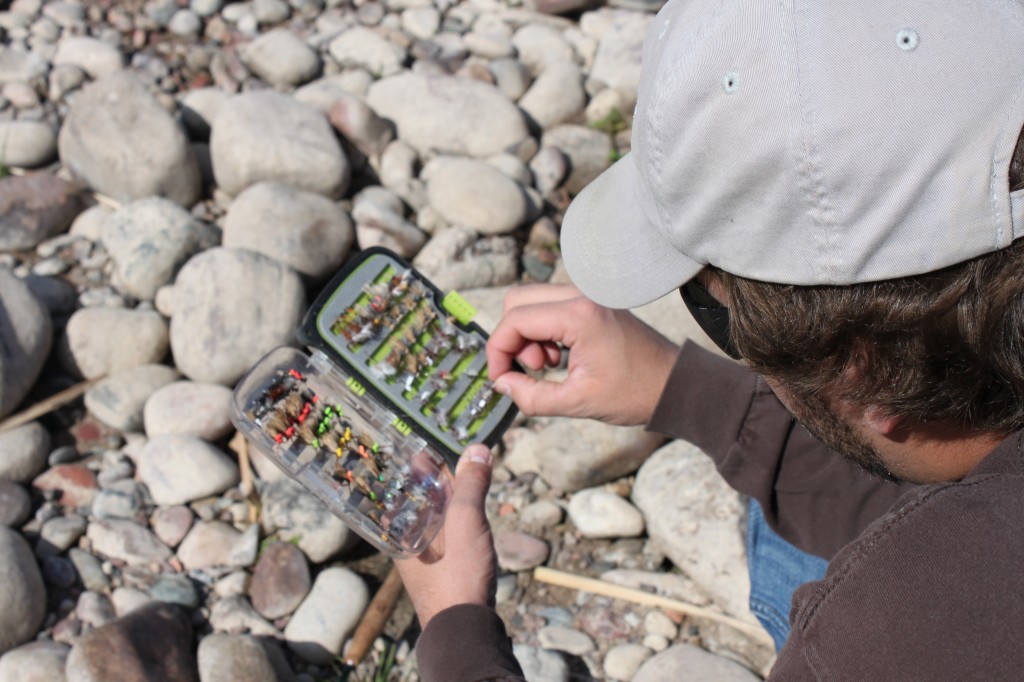 Here is the way that I see it. (I could be wrong, but for what it's worth…)
Reasons for making a portion of the Salt River below Stewart Dam a blue ribbon catch and release section for trout…
1. Close proximity of the Salt River to Metro-Phoenix – A quality stretch of water in a reasonable driving distance from town would be utilized by local fly fishermen.
2. Money – If there was a blue ribbon trout fishery at the Salt River, local fly fishermen would pay just about any reasonable fee to fish it. More money is added to the pot as snowbirds or other out-of-towners come to the Valley looking to experience all that the Arizona outdoors has to offer.
3. Conservation and environmental responsibility – If you head to the Salt River below Stewart Dam right now, although the beauty of the canyon is great, you will be assaulted by the large amount of trash and debris left by tubers, day users, and non-caring fishermen. I believe that if you place special use restrictions on parts of the Salt, one would clearly notice the difference in the amount of trash being left around this beautiful stretch of water.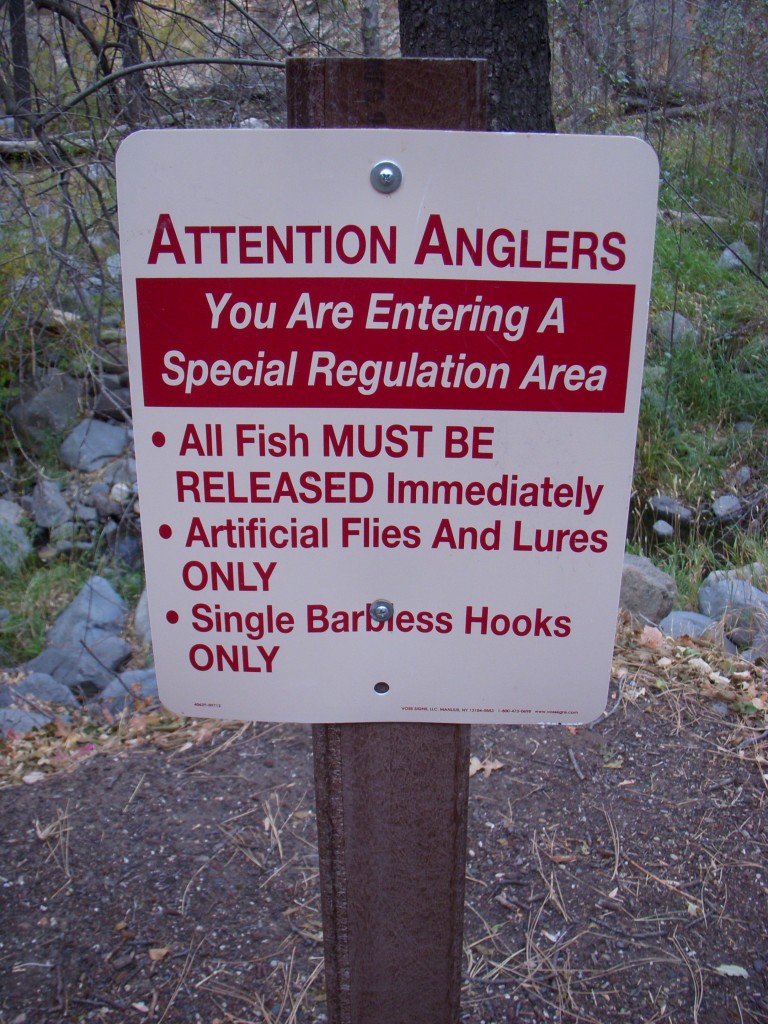 Reasons that it probably won't happen…
1. SRP – The Salt River Project currently controls the water released from the dam. Generally the flows decrease in the winter and increase in the summer to generate more power to feed the increasing electricity use by the Valley of the Sun. With drought-like conditions the last five or ten years, the flows have been tightly regulated to utilize every drop of water. Convincing SRP to let their "cash flow" (pun intended) go would definitely be a hard and expensive sell.
2. Tubers – During the summer hordes of college kids stampede  to take a comatose tube ride down the river while bringing a good chunk of money to the economy. Alcohol is consumed while trash, clothing  and beer cans litter the banks of this river.  Inevitably, every year the booze and water combination takes its toll and claims lives of multiple tubers. In my opinion, having a quality trout fishery is a more appropriate use of natural resources, but I know I am a little partial to the fly fishermen side of the argument.
3. Native fish – Along with the many different species of fish swimming in the Salt, apparently there are some native suckers or chubs. I imagine, some would argue that making a portion of the Salt a designated trout fishery could impact native fish populations.
4. Water Temp – No one will contest the fact that the summer months are brutal here in Arizona and I have heard some say that the Salt gets too warm for trout to survive. On the other hand, I know of other fishermen who have caught holdovers from years before. If consistent flows are kept, it seems that the water temps could maintain cold enough temperatures to sustain trout life. I would like to see what the impact of stocking native trout would be.  Gila trout have a higher tolerance for warm waters than other salmonoids and could provide a unique opportunity for fishermen to chase these native fish.
– At the end of the day, I am a fly fisherman and not a biology expert. These are simply my thoughts, and I am sure not all of them are plausible, but it is nice to dream of a dynamic fishery that is within easy driving distance. I guess I am just tired of showing up to fish the Salt River and being disgusted and disappointed every time I fish it. I look forward to a day when the Salt River can be utilized to it's full potential as a blue ribbon trout fishery.
Feel free to let me know what you think.
Ben