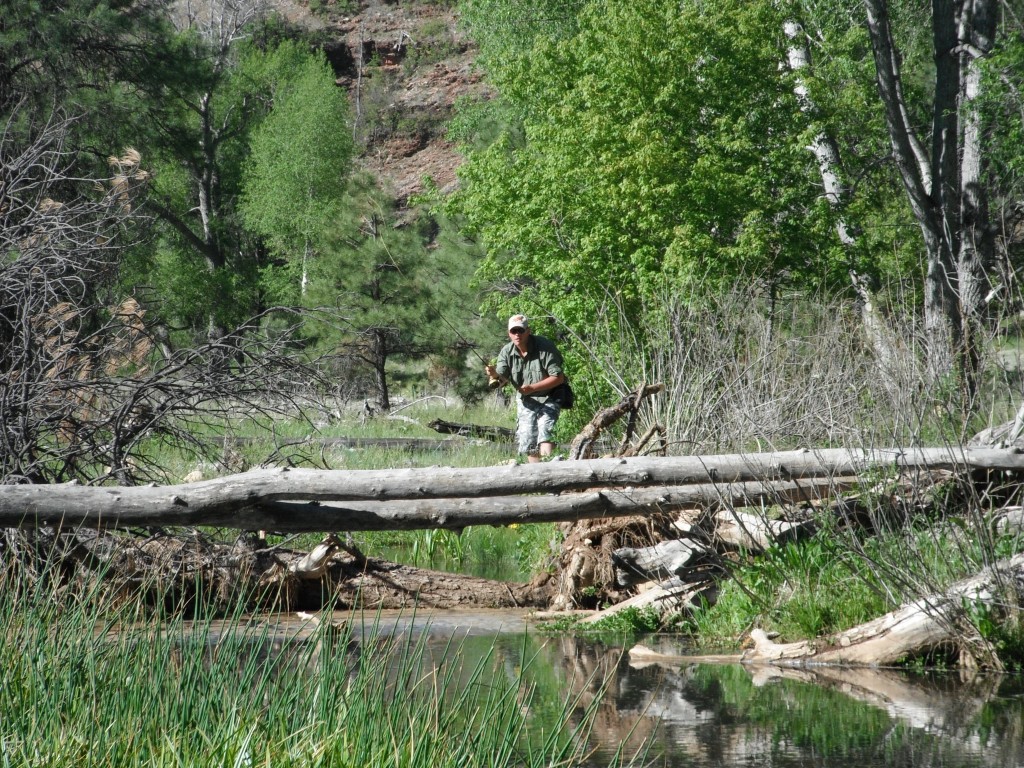 I left early Tuesday morning to meet some friends from across the pond for a little fly fishing jaunt on the Mogollon Rim. Shane Jones and his wife Collette live in Wales but were in Sedona for a week or so and looking to do a little fly fishing while they were here in Arizona. Both fly fish a healthy amount around the UK and are as passionate about fly fishing as I am. Shane has fly fished since an early age and Collette has since joined him in his ventures. This was Collettes first time on moving water, but after a pool or two she quickly figured out the drift and connected with the first fish of the day.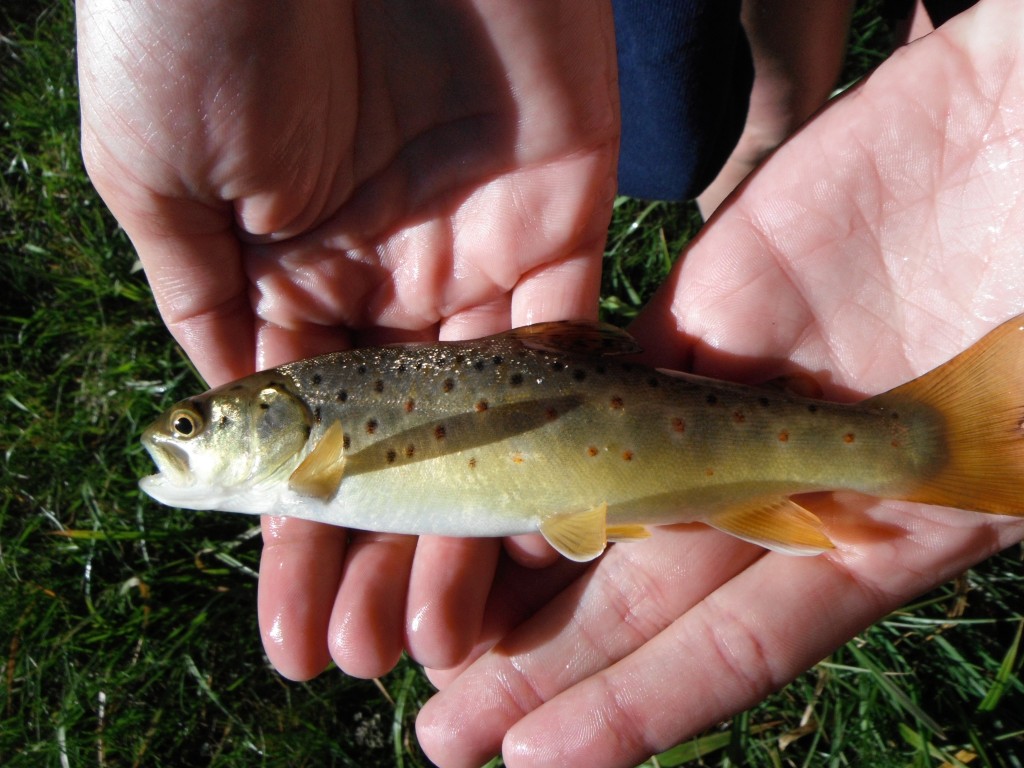 The creek was kind to us and although it was running a little bit skinnier than I would have liked to seen it, the bugs were out in full force and the fish were hungry. Midges, mayflies, caddis, and a plethora of terrestrials could be found on the banks and in the water. We started by fishing mini-hoppers with a bunch of different droppers with the fish feeding on pretty much anything we threw at them.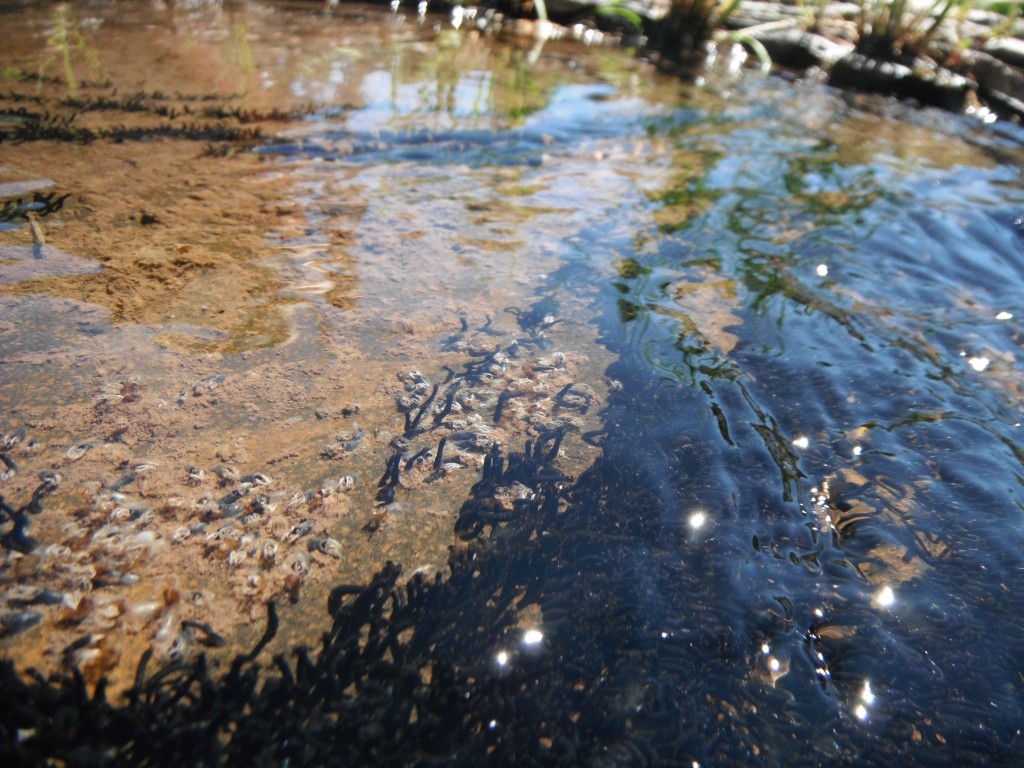 As we fished the morning away, Collette was working one of the deeper plunge pools. She had nailed a decent size brown on the dropper and had missed a large brown from under the bank. She threw one more perfect drift a few inches from the undercut and the brown reappeared for the mini-hopper. She neatly set the fly in the corner of his mouth and after a few acrobatic jumps, brought the largest fish of the day to the net. Not bad for her first time on a creek.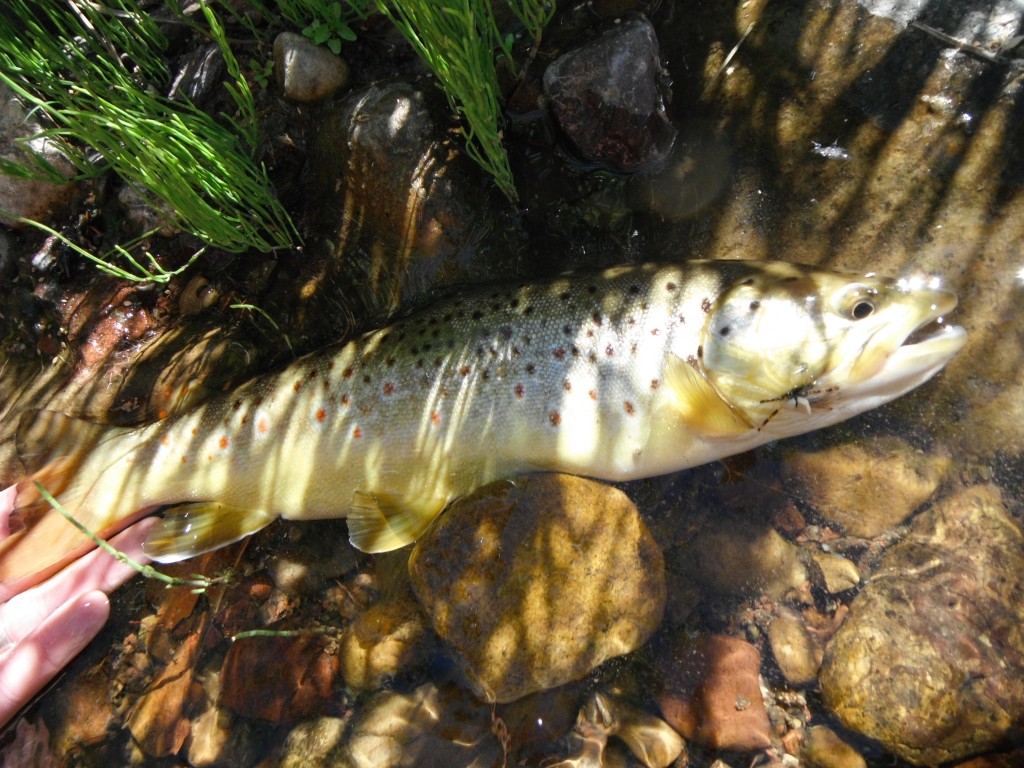 Tough for us boys to swallow that the lady in the group was out-fishing us. Ulitmately we all pulled quite a few fish from the creek and we all caught one fairly good size fish a piece.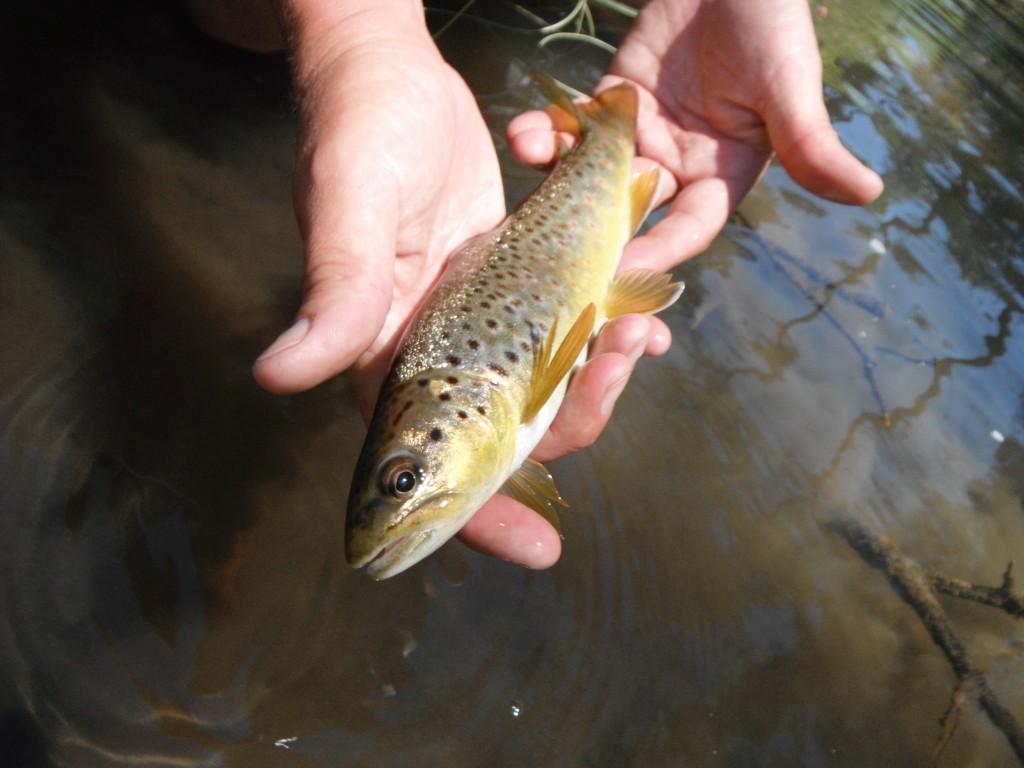 As we fished our way back to the truck, I worked a pool that had some overhanging roots. After working the foam line, I drifted my mini/dropper setup near the roots and was pleased when a larger body darted out of the cover and sucked in my mini-hopper. My three weight bent pretty good as I tried to stop several runs to the tangle of roots that would surely have made a mess of my line. The heft brown trout that came to my net had me smiling for the next hour or so. It is always rewarding fooling one of the bigger resident browns that you know must have seen a hundred flies before mine.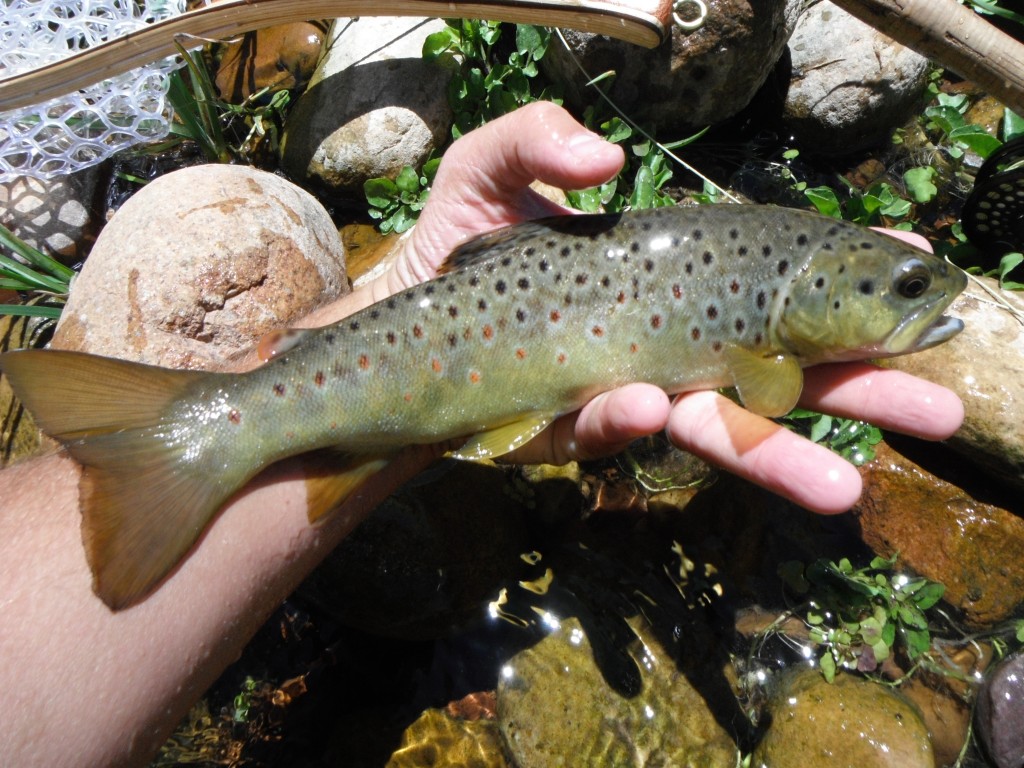 Around 1 o'clock we found our way back to the truck for PB&Js and some rest in the shade. The wind had been picking up and making accurate casting difficult so we opted to head to something more sheltered. Both Shane and Collette were very interested in catching some of the wild rainbows found in the secluded reaches of some of the Rim creeks. After ranting and raving about how this second creek was going to have rainbows coming out of the wood work, wouldn't you know we caught mostly browns.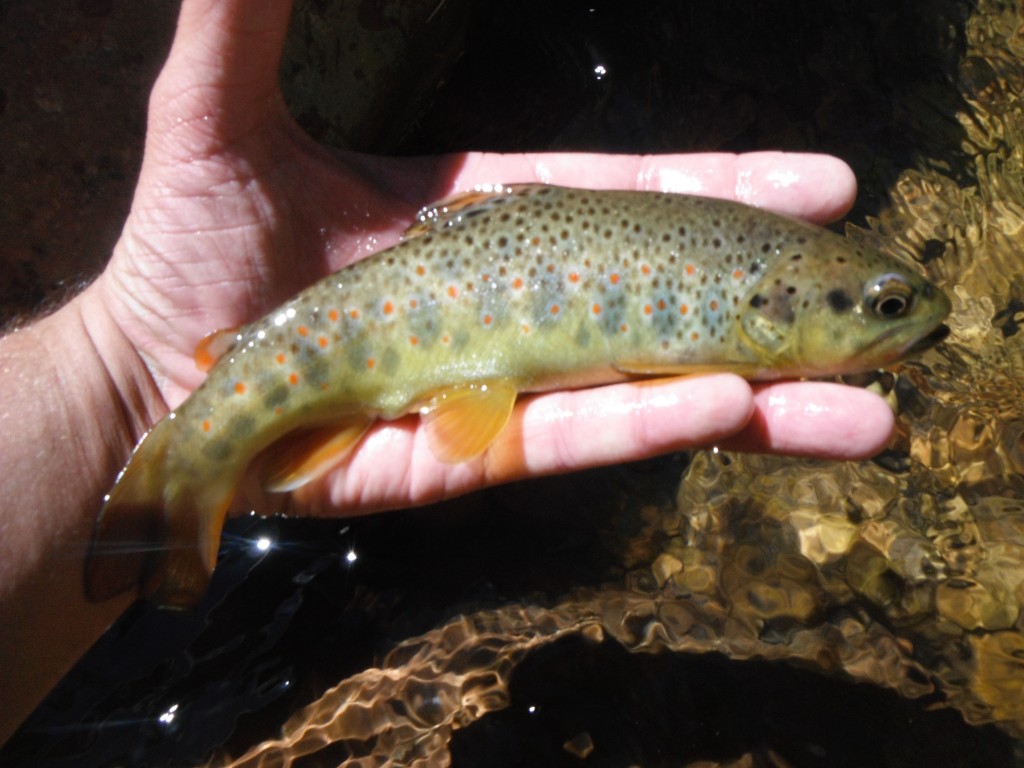 We did find a few rainbows before they had to take off to get back to their family. It was a fantastic day on the water with good friends. Shane was a phenomenal fisherman and his casting made me want to go practice. Collette picked up the creek fishing a little too well and brought some great fish in for some pictures.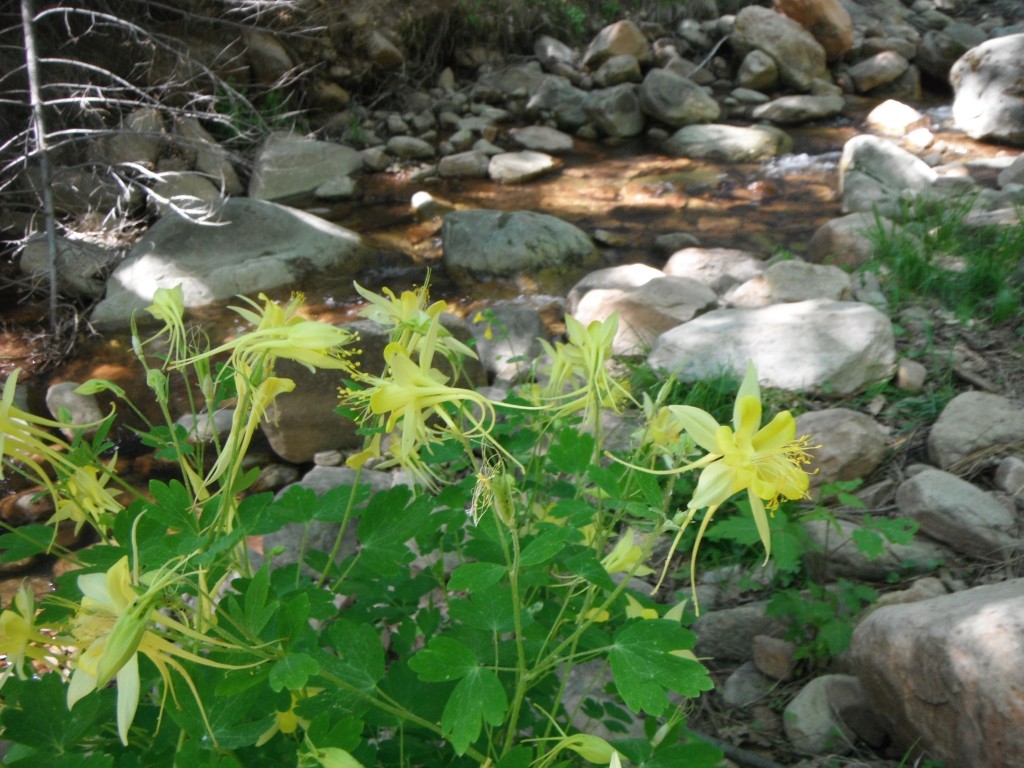 It is easy to lose track of time, when fish are coming to the net and you are sharing the experience with good friends. The weather made for a beautiful day and the wading was pleasant. It seemed that everywhere I looked there was beauty all around.  Summer in the mountains is my favorite time of year and intend to continue to take full advantage of the nice weather.