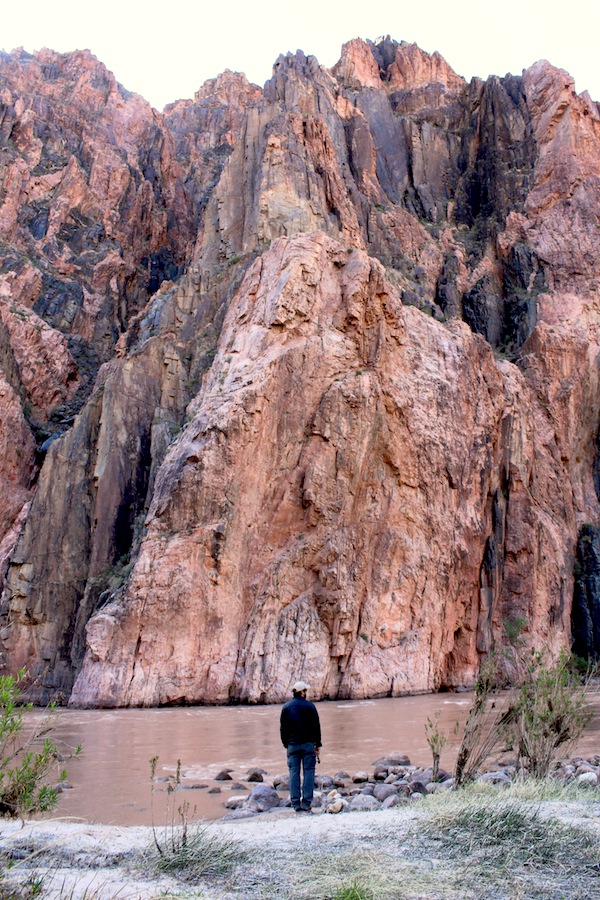 My wife and I hiked to the bottom of the Grand Canyon to stay at Bright Angel Campground for two nights. This gave me the perfect opportunity to explore and fish Bright Angel Creek. We made our way down the South Kaibab Trail and made it to the campground around 1:20 in the afternoon. After securing our campsite and setting up our tent, Michelle gave me the nod to rig up my fly rod and see what was in Bright Angel Creek.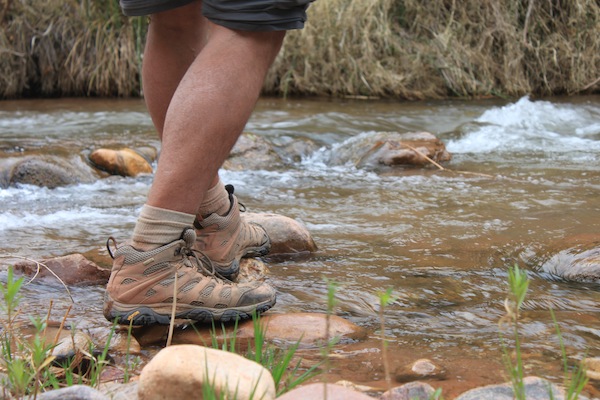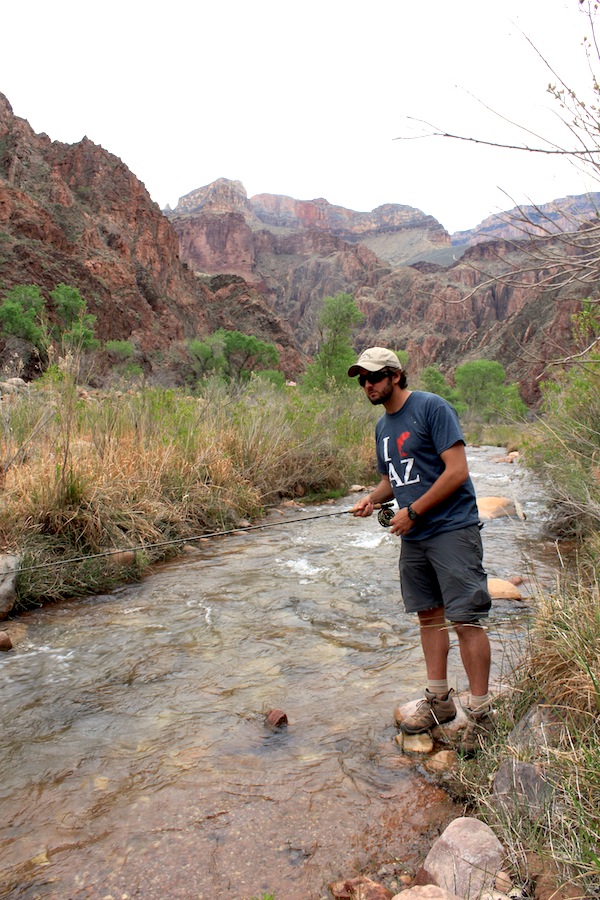 Bright Angel Creek has been the scene of some controversy in the Arizona fly fishing scene. Back in the mid 1900s, non-native brown trout were stocked in the creek. Based on it's location it doesn't see a whole ton of pressure and those browns thrived in this beautiful creek. Non-native rainbows from the Colorado River also made their way into the creek, and both species made Bright Angel Creek a fantastic fishery. In more recent years, there has been a movement by the National Parks Service to eradicate the voracious trout in an effort to restore the humpback chub in the Bright Angel waters. Their efforts culminated in a huge electroshocking/eradication project this past winter, and I was nervous to see if there were any trout left in the water. Here are some others who have written more on the topic:
Iain at Oak Creek Angler 
Will at 111º West
David at The Trout Zone
Mike at Arizona Fly
and from the National Parks Service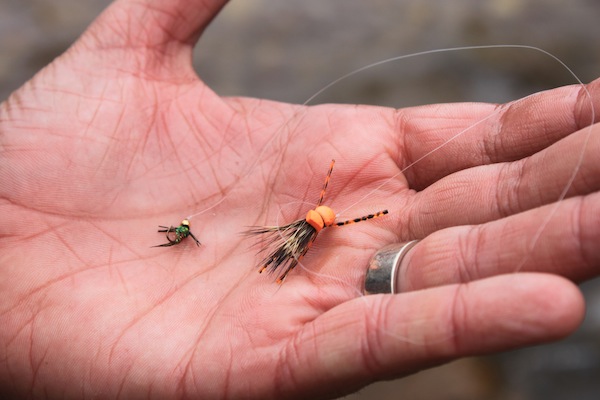 I rigged a hopper/dropper and set out right next to the campground in an effort to work my way up the creek. After a few casts a small rainbow nipped at my fly and found it's way to my hand. I worked my way up the creek, changing flies occasionally and found a few more hungry rainbows. With the weight of a possible skunking off my shoulders, I settled into a grove and worked the water until dinner time. We made it an early night, as our knees and joints were a bit achey from our descent with plenty of time the next day to fish.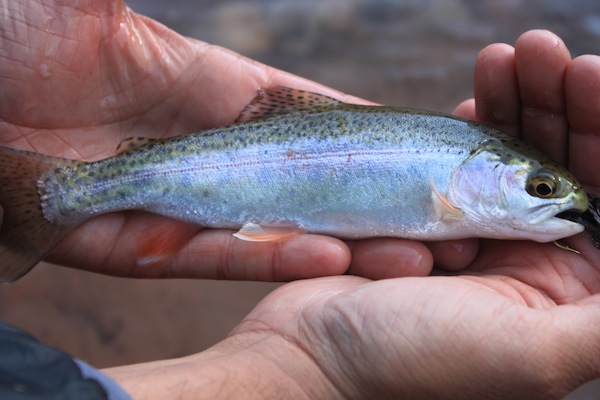 The morning came quickly and the sun warmed our little canyon quickly. We picked our way along the creek until we reached the mighty Colorado River. The river was running like chocolate milk and nixed any opportunity to work the fast moving riffles.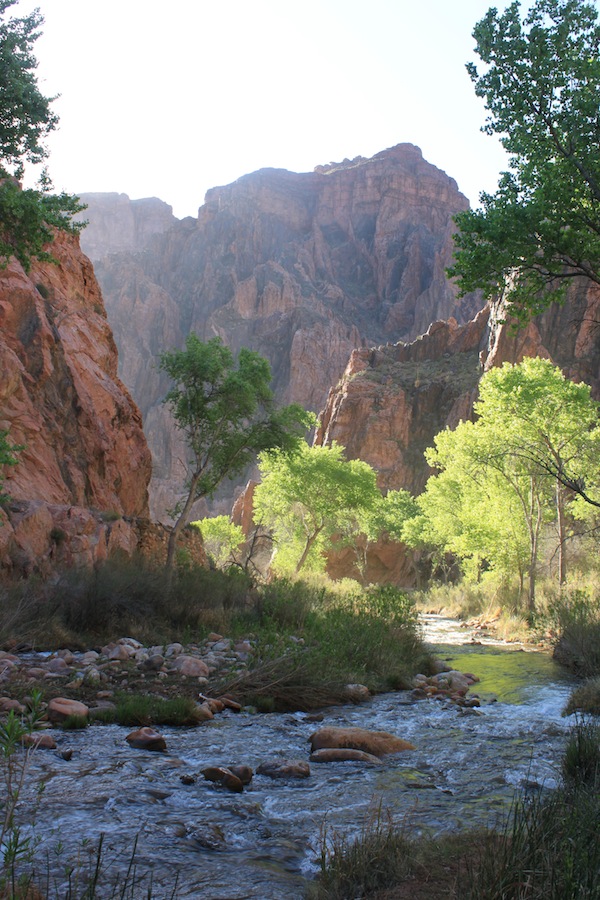 I worked the bigger runs at the bottom of Bright Angel Creek, and as I drifted a heavy streamer through a good looking run, my line paused and I lifted the rod. Everything went a bit crazy at that point. I saw an orange tail as my fly rod really started to bend. My first thought was "Big Brown! Don't screw this up!" I hoped beyond hope that this was one of the big Bright Angel brown trout that had possibly survived the electroshocking efforts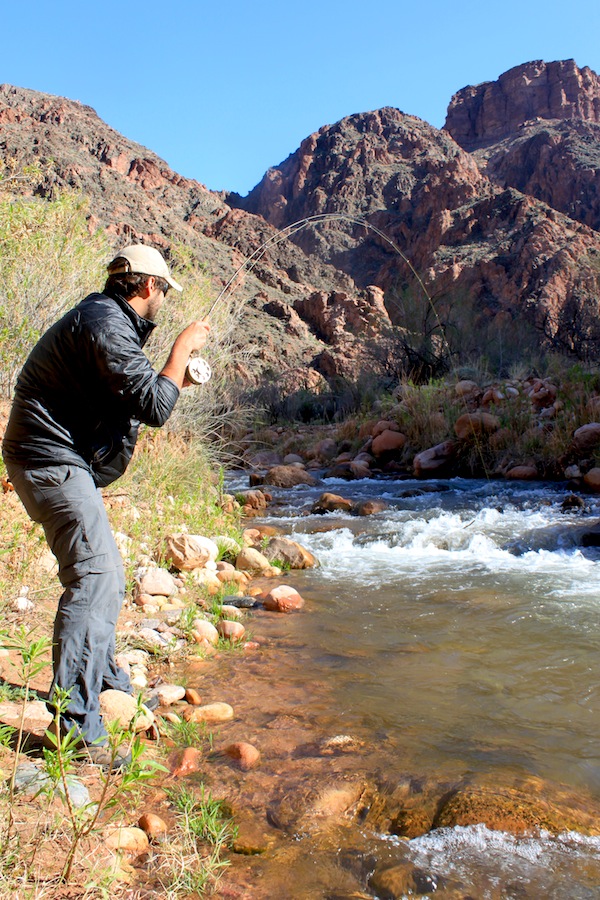 The fish stayed on the bottom of the pool, making it difficult to see what I was dealing with. Orange flashes kept my mind on holding a big brown trout, but as I worked the fish to the bank I realized that my dreams of a big Bright Angel brown trout were going to have to wait. What I later found out was a flannelmouth sucker had picked up my crayfish pattern. I held this heavy fish, admired it's unique features, and released him back into his home.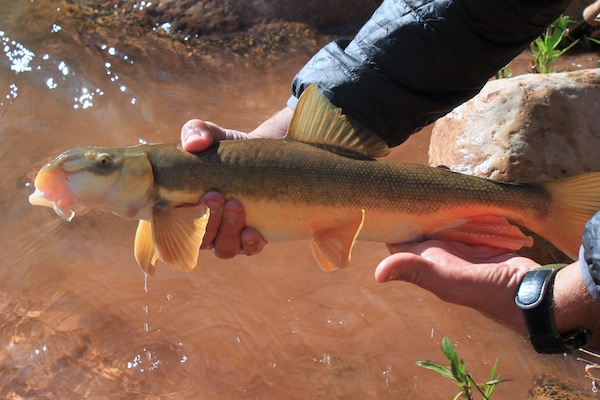 As I continued up the bottom portion of Bright Angel Creek, I kept seeing more and more of the big suckers in the slow waters. After talking to a park ranger, he verified that the flannelmouth suckers were currently moving into the lower creek to spawn. I heeded his suggestion to move farther up the creek. Although bummed that the fish I caught was not a brown, it was cool to hold one of these fish. Although not endangered, the flannelmouth suckers are considered a threatened species.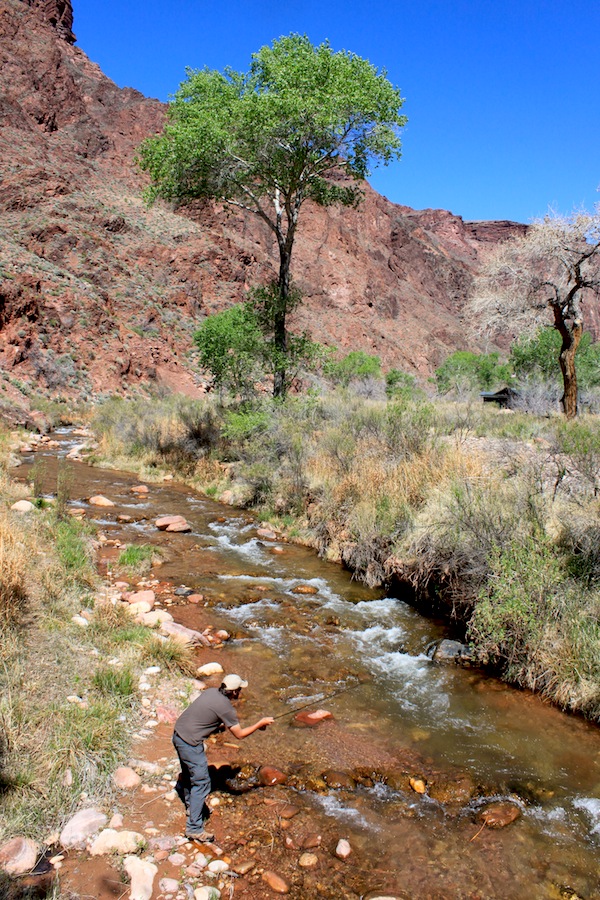 I headed back up the creek with my beautiful and patient wife in tow. The gorgeous photos that accompany this post are all hers, and I appreciate the time she took to follow me around. From the bridge at the top of the campground, I spotted a silvery rainbow working the far side of the stream, clearly feeding on passing insects. I walked below to the creek and started to drift flies to the hungry rainbow. After several drifts, the spunky trout attacked a big hopper with a splashy take. I set the hook in front of a growing crowd of onlookers. After landing the chunky little rainbow, I released him back to the ice cold waters to live another day. There is nothing like the pressure of an audience when fishing.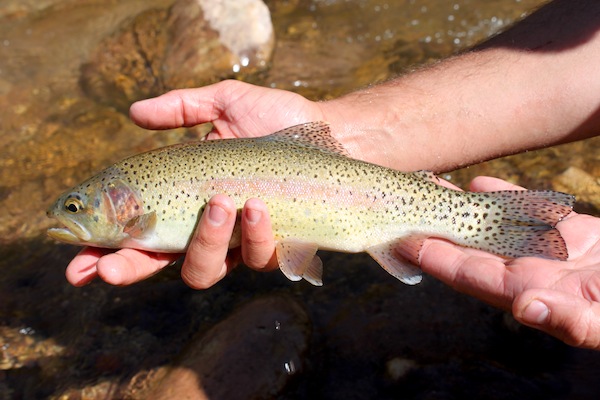 I fished through the afternoon and with the sun bright overhead, I was able to sight fish for rainbows with nice big foam hoppers.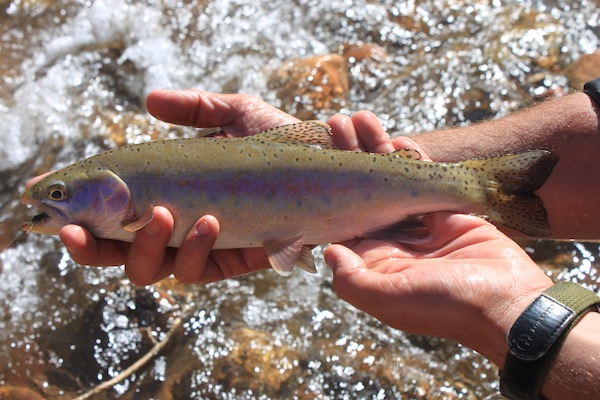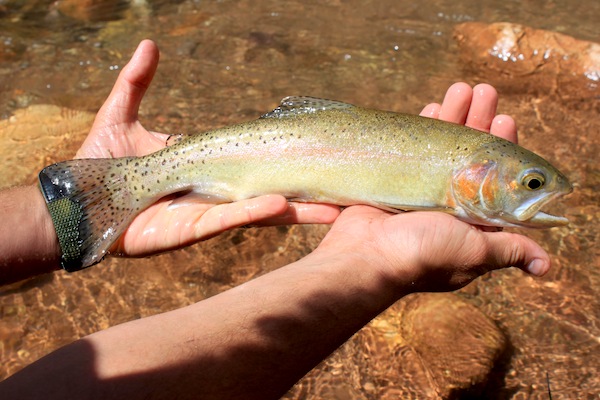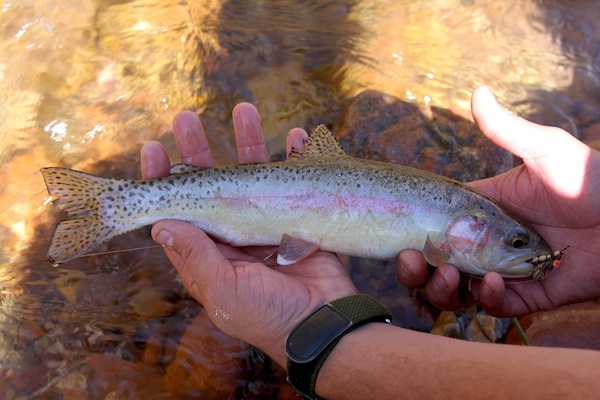 I did find one little brown still left after the electroshocking and secretly I hope there are more.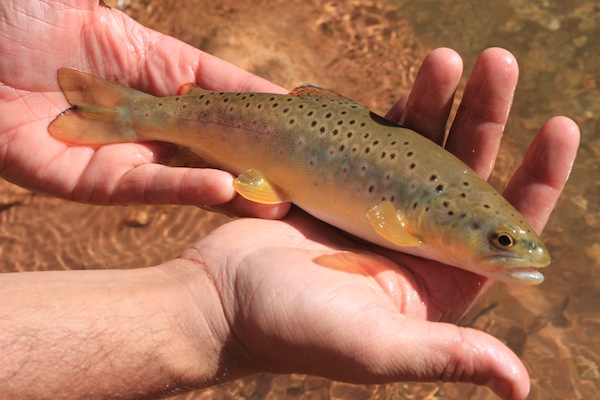 With all this unfolding through the afternoon, my wife graciously continued to take pictures and read on the bank of the creek. She listened to me babble about creek fishing and looked when I pointed out fish. After seeing me catch a good number of fish, I could sort of tell that she was paying more attention and asking more in depth questions. I offered if she would like to give it a try. Sure enough she said yes and started to cast and drift flies through the fast small creek riffles.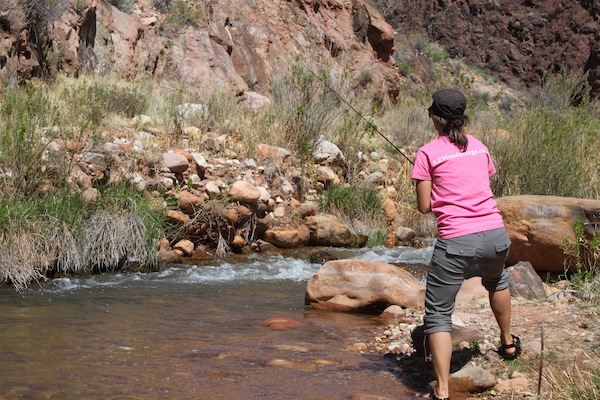 She was doing something right because she had a half dozen trout rise to her fly. Anyone who knows my wife, knows that she is as competitive and stubborn as I am. She would not give up and in the end her perseverance paid off when she set the hook on a healthy Bright Angel rainbow. She played it to shore were we both admired the beautiful fish.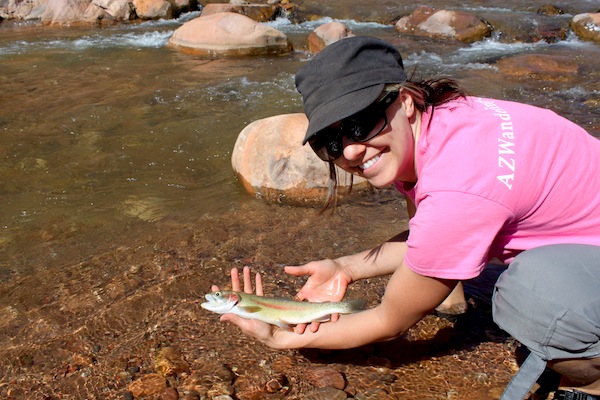 It was one of the greatest experiences to see my wife catch her first fish on a fly and it is something that I will not soon forget. Her enthusiasm was contagious and I look forward to fishing with her again. Lord help me if she ever catches the biggest fish of the day.