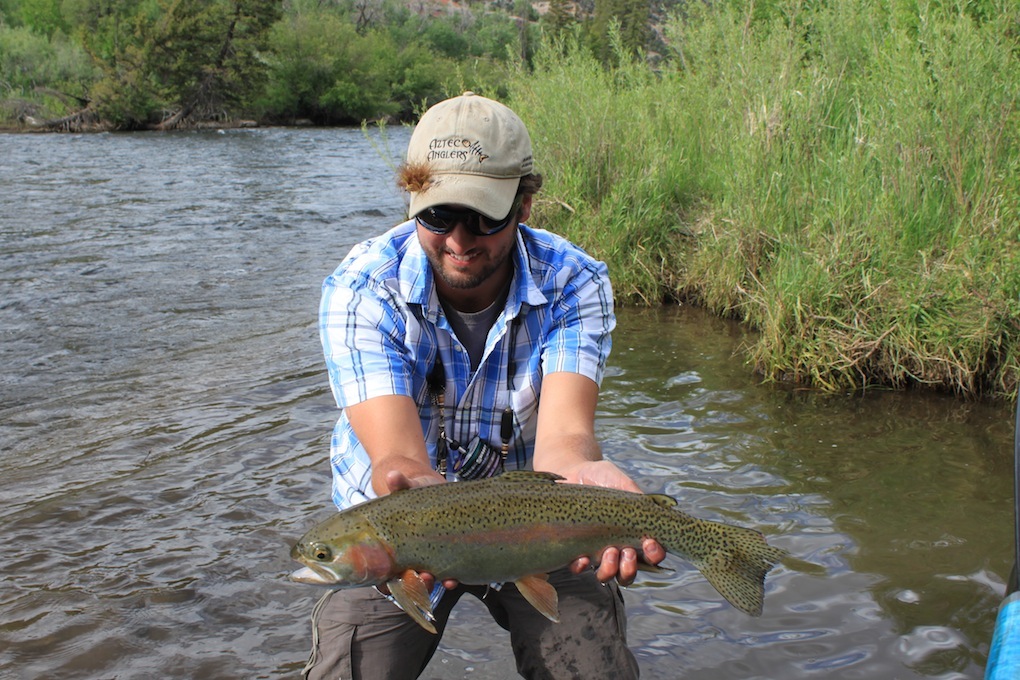 By my third day in Colorado, my soul was ready to fish, but my body was beat from two solid days of fishing. We slept in and made a late start of our float. After a fantastic BBQ platter loaded with baked beans and potato salad at Moes Original BBQ in Eagle, Colorado, we dropped the SUV and trailer at the takeout and headed back upriver to the boat.
The float started slow and it took me a while to get into the swing of things. After some rerigging, Jay suggested the Eagle River standby – a Pat's Rubber Legs and a pheasant tail. That did the trick and soon fish were coming to the net. After a couple of tangles, snags, and lost flies, I could feel my blood starting to boil. Jay was kind enough to pull the boat over and let me rerig, and before we pulled back into the current I floated my two fly rig on the edge of the seam next to the boat. On the second pass through, my indicator dipped and I came tight on what I thought was the bottom of the river, until the rod started to pulse. After several minutes of wondering what I was hooked into and sweating the thought of losing it, a slab of a rainbow made its way to the surface and Jay quickly netted it.
My legs were shaking as I cradled the fish pictured above for a quick photo, before releasing it back into its watery home. I think the look on my face in the picture above kind of says it all. Colorado is slice of heaven.