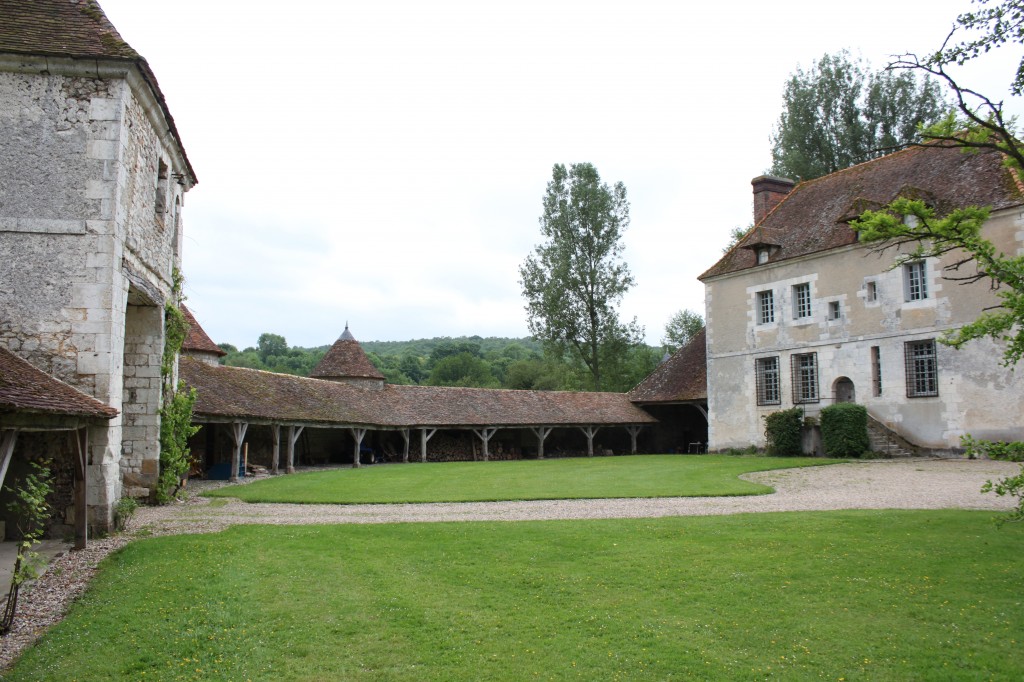 Knowing that I was going to be in Europe, I could not help getting on Google and seeing if there was anywhere for me to do a bit of fishing along the way. My wife rolled her eyes when she found out what I was doing, but it was already too late. One of my searches took me to the website of the Manor of Malvoisine. I sent an email and in no time at all I was talking with Adrian and Hedy Thompson and had booked a night for my wife and I.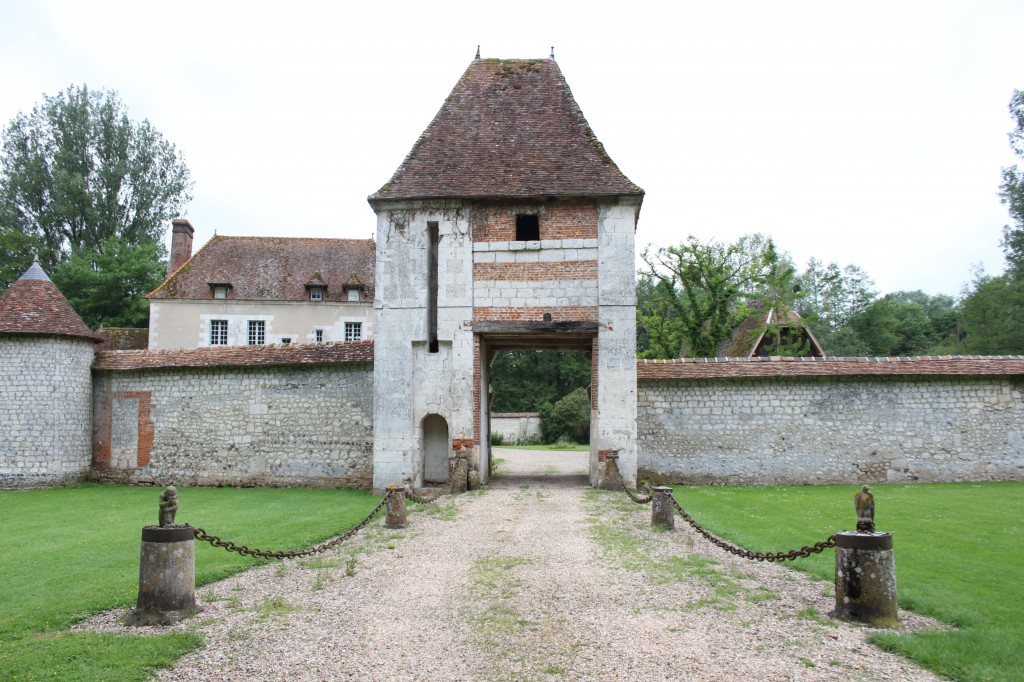 The Manoir de Malvoisine is situated right on the Andelle and Heronchelle Rivers which are two fairly famous chalkstreams in Normandy, France. The fortified Manoir had been built around the 12th century, along with other structures like it, as a part of the defense system in the area. It changed hands many times through the years, and during World War II it had been occupied by the Nazis and then later taken when the Allies stormed the beaches of Normandy. It is said that both Churchill and Eisenhower favored the Andelle and fished it often. Adrian and Hedy bought the Manor several years ago and have put love and hard work into the buildings and rivers. They now run it as a fly fishing retreat with more information at chalkstream.net.
After a fantastic lunch, I strung up my little 8 piece 6'6″ Black Bear Fiberglass rod, and Michelle and I set off down the Andelle. Adrian had walked the beat with me earlier and showed me the immense property. One thing I had not fully realized is that when you book a day or night at the Manoir, it is exclusively yours. No one else will be there, save Adrian and Hedy, so you have over a mile or two of prime fishing all to yourself.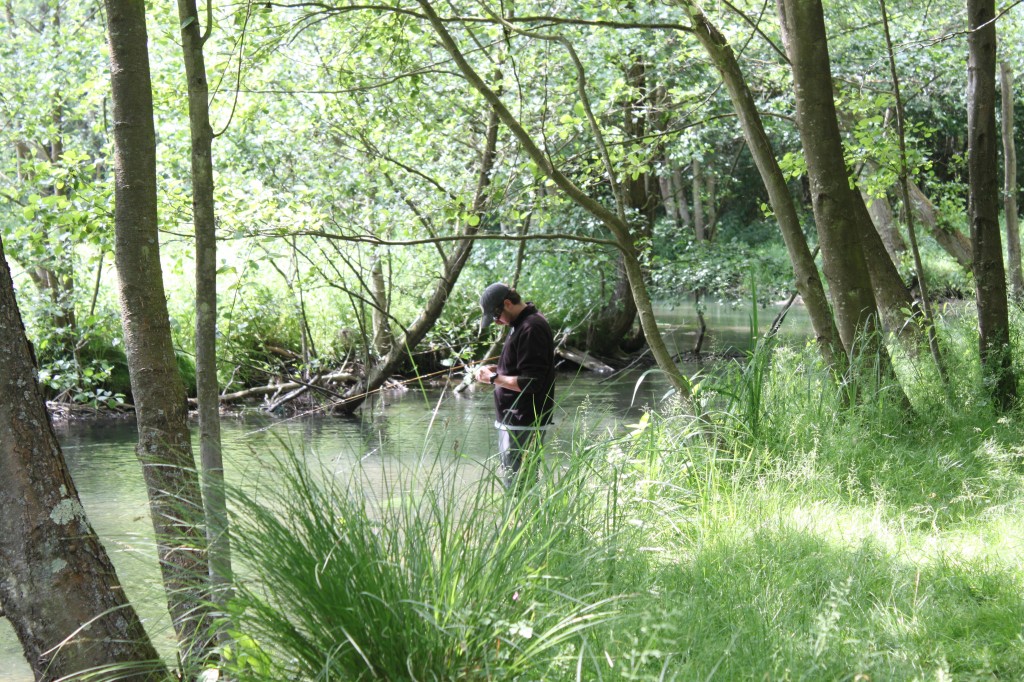 My wife tagged along with her camera as I began to fish, and in the back of my mind is the sinking fear that I might not catch anything. She always sees my photos and reads my posts, but when the rubber meets the road, I'm still a guy trying to impress a girl. With no big bugs on the water and no rocks to flip over, I figured, go with what you know – a mini-hoppper. Third cast and BOOM, a nice little brown trout was on the end of my line. My girl was impressed.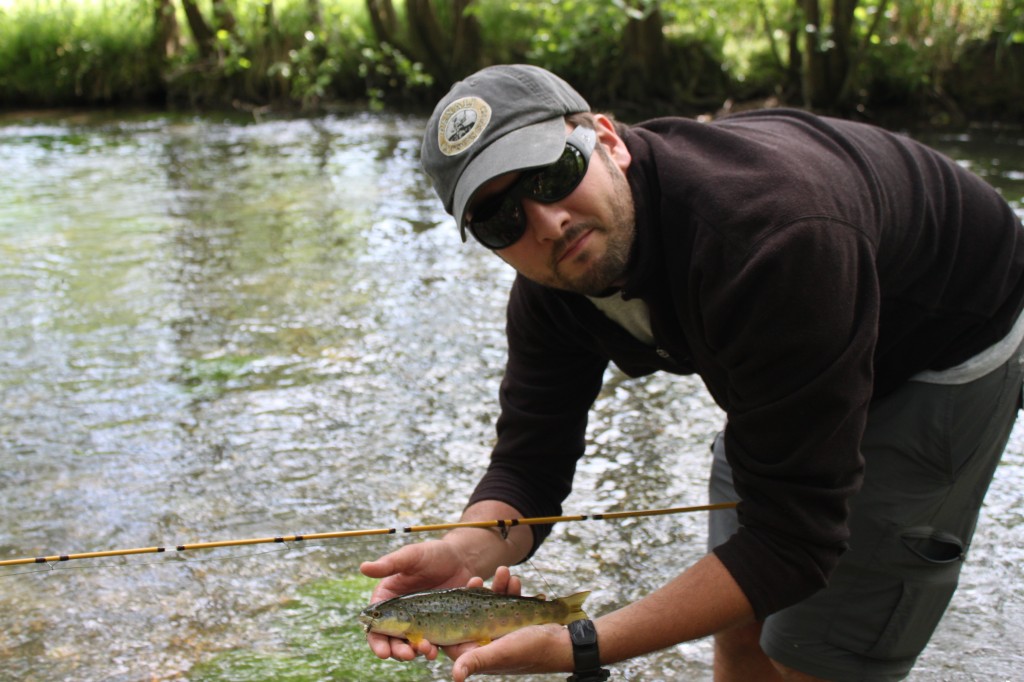 Michelle snapped a few quick photos and I released the brown back to the small riffle that he came from. With the weight of the actually catching a fish taken off my shoulders, I relaxed and got into the groove of fishing. Fishing a chalkstream was much different than the free stone creeks of the Adirondacks and the West that I am used to fishing.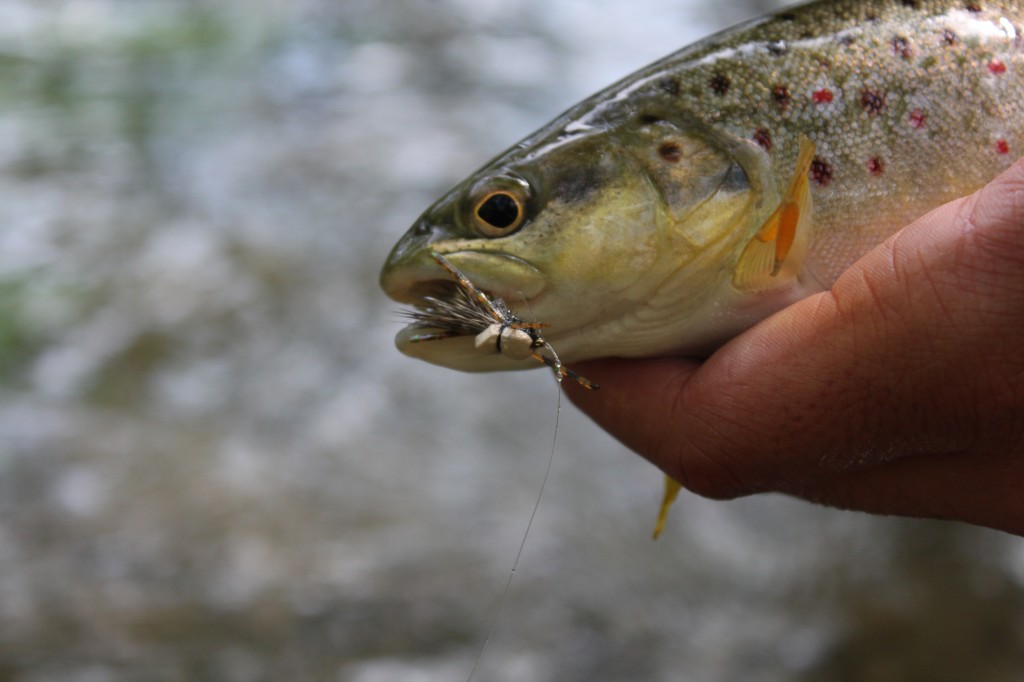 I fished for the next several hours and caught three fish total for the afternoon. After all the walking and running around that we had done in Paris, Malvoisine was like a slice of heaven. Michelle had been worried about what she was going to do while I fished, but after falling asleep on a blanket next to the river, she woke and relaxed while reading a book. We were both so refreshed as we headed inside to clean up for dinner.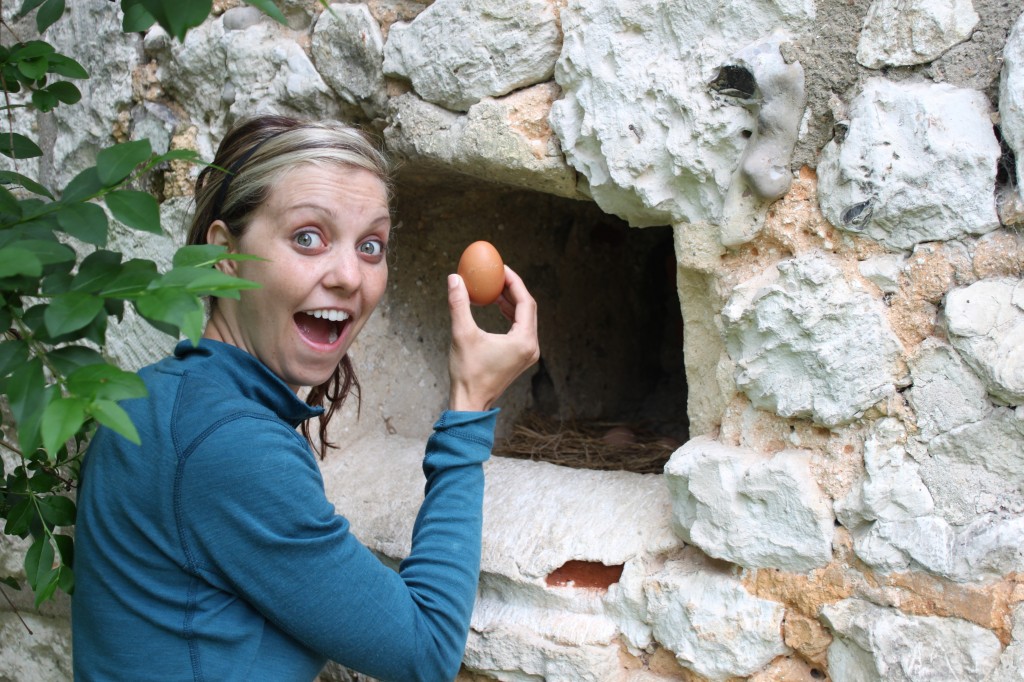 All the food provided by Adrian and Hedy was fresh and wonderful. All their food is homegrown and what little they don't grow and harvest on their property, comes from the surrounding farms. We ate in style for every meal with highlights being: homemade jams, self-harvested honey, homemade cider champagne, and so much more. Michelle and I fell in love with Adrian and Hedy and truly enjoyed getting to know them. We talked and laughed long into the night.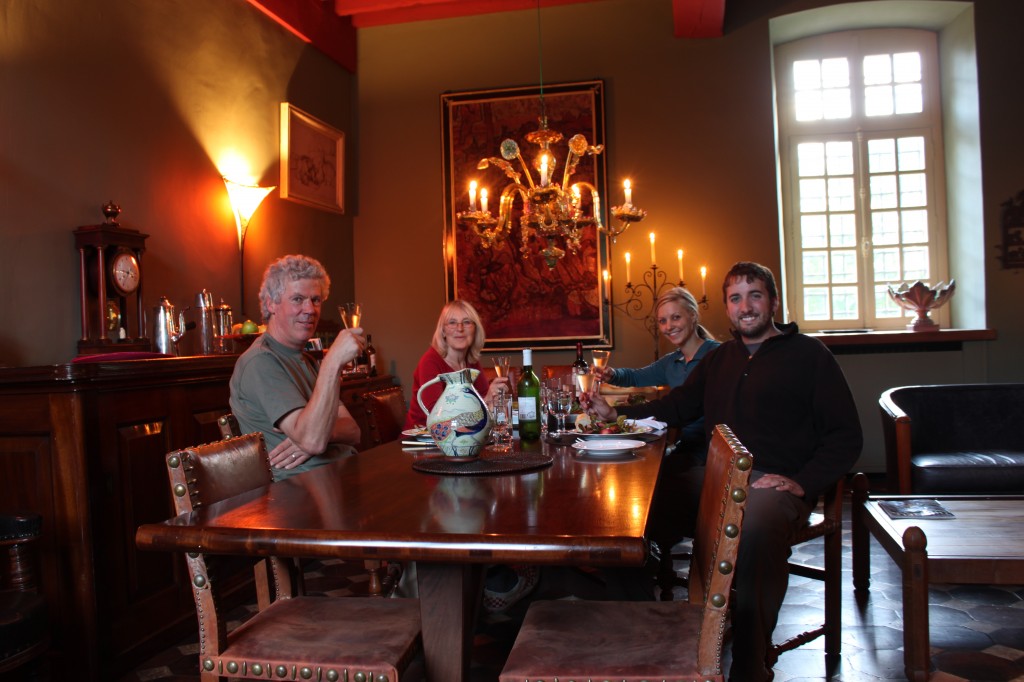 Michelle and I had only planned to stay at Malvoisine for one night, but halfway through dinner we realized that was a joke. Adrian and Hedy had an opening for the following night so we decided to enjoy the good life and stay another night. With rain in the forecast, things did not look good for fishing the Andelle again, and when I woke the next morning, the river was chocolate soup. Luckily, Adrian also owns a beat along the Heronchelle which is a short walk from the Manor. The Heronchelle is much closer to its source and so therefore was not terribly affected by rain.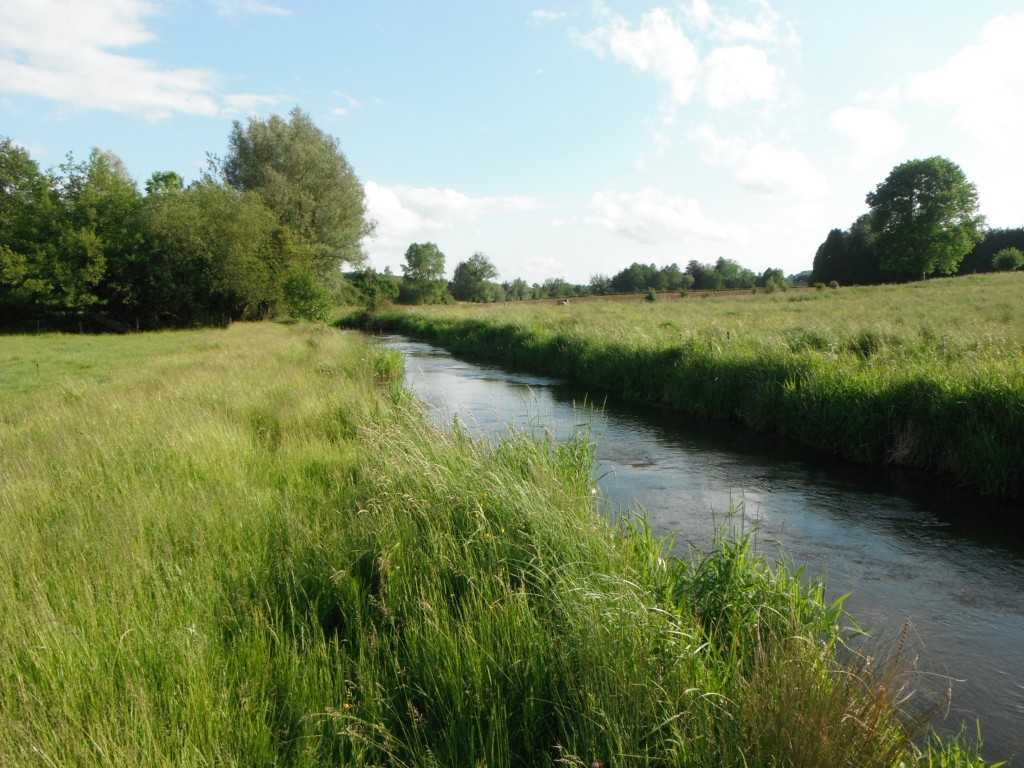 The Heronchelle is a beautiful stretch of water, but did not always look this perfect. Prior to the Manoir obtaining the beat, cattle grazed right to the waters edge and beyond. Since securing the rights to fish it a year or two ago, Adrian has worked closely with the Wild Trout Trust in monitoring and improving the habitat for the resident brown trout.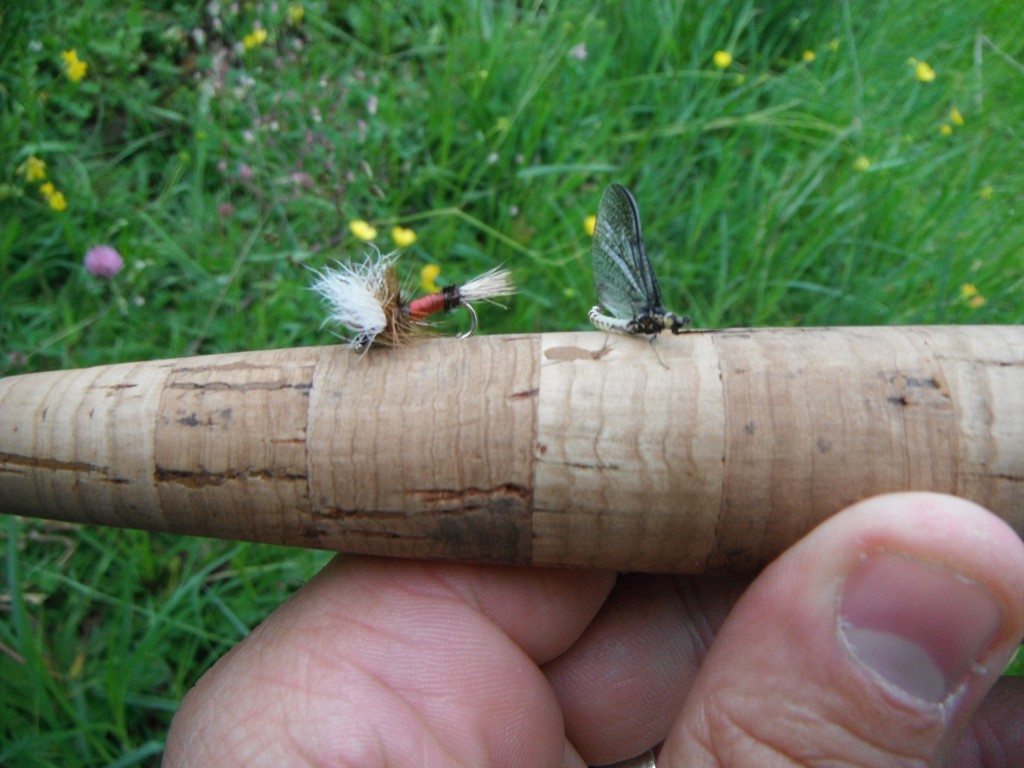 I stalked the banks and in the face of a fairly stiff wind made a valiant effort to present flies to a few fish. I missed one, LDRed another, and spooked a few more. A beautiful and humbling day on the water to say the least, and I walked back to the main house hungry and ready for another delicious meal.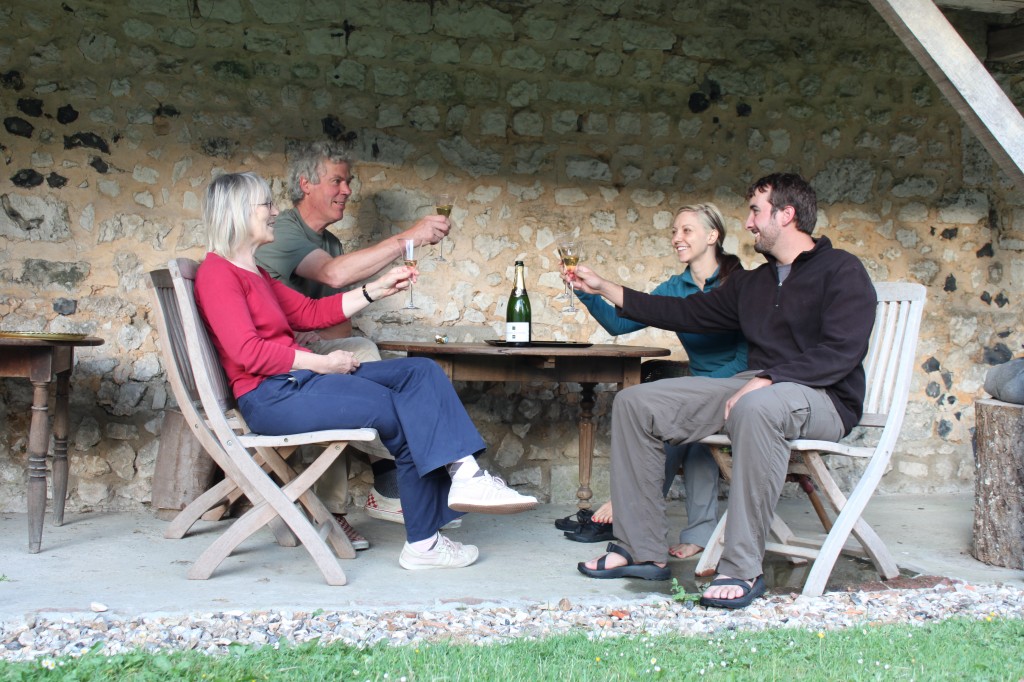 I truly struggled while writing this brief account of our time at the Manoir de Malvoisine. It was such an unbelievable time that it is impossible to do it justice in words. Fly fishing in France was one of the coolest things I was able to do on my trip, but it would not have been the same without Adrian and Hedy. Michelle and I both enjoyed the time we spent there and look forward to going back again in the future.
Check out more pictures from the Manoir de Malvoisine and fly fishing in France on the Arizona Wanderings Facebook Page.
Many thanks to Adrian and Hedy for a wonderful time at the Manoir de Malvoisine.