The weather has been a little bit funky here in Arizona and my Christmas break is being threatened by rain and snow in the high country. In spite of the predicted elements, my good friend Pete and I loaded up the truck hastily made our way to Red Rock Country and the fabled Oak Creek. While driving creekside, we caught glimpses of a high, turbulent, and off color torrent that did not look very fishable. Regardless, we had made the drive and were not easily deterred. I had brought my 5 weight knowing that with high winds predicted, I would need a little backbone to cut through the wind and throw some heavier streamers.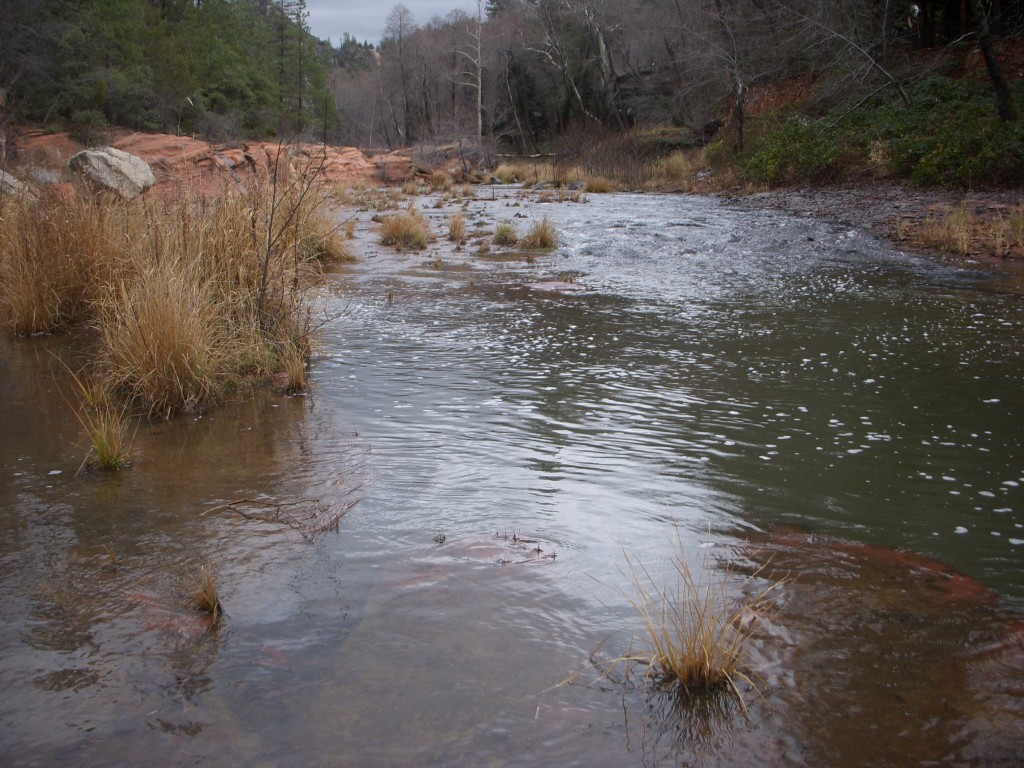 With no insect activity, I opted to strip a simi-seal bugger through the first pool and on my third cast through the pool, saw a large head engulf my fly. Luck was on the fishes side and he spit my fly quickly. After several more pools, hook-ups, and fly changes, I rigged up a mini hopper and a copper john variant and drifted it several times through a likely lie. I was extatic with a firm hit on the dropper and was soon cradling a gorgeous Oak Creek Brown trout. I always feel extremely blessed when catching brown trout out of this section of Oak Creek, because I know that these fish see so many fishermen and their offerings.
As I continued fishing I saw a few sporadic rises, but the high, milky water made it difficult to fish small dries that wold match the small winter bugs that were hatching. Occasionally a bigger specimen would fly by and tempt me to tie on something smaller but I refrained.
Making my way upstream, I found myself again stripping a leech through a larger pool and had several larger hits on the streamer. On one last try, a strong fish nailed the fly and head shook his way to my net. At this point I was feeling very lucky as I held this football of a brown for a quick photo.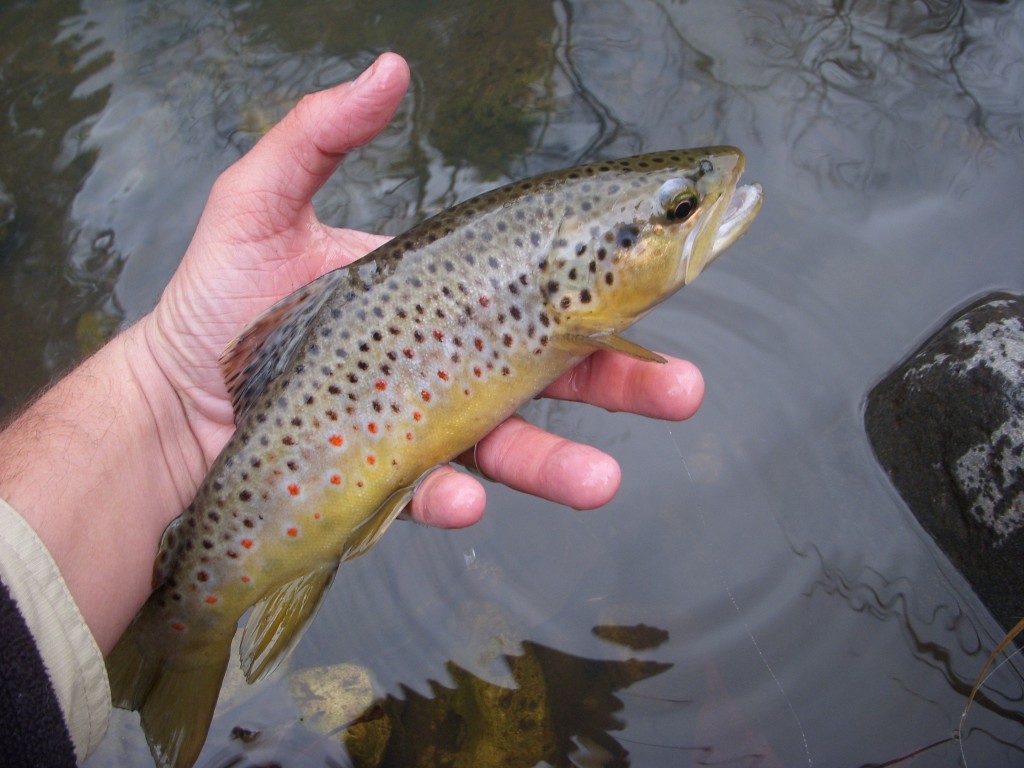 With half a dozen pools left before our access point to leave, the day began to get colder. Thankfully, the inclement weather had held off and no precipitation ruined our day. As I followed the course of the stream I came upon an extremely long pool with several obstructions in the center of the pool. I worked the lower section of the pool with my bugger and had several fish follow it in but ultimately refuse it. While contemplating my next move, a fish rose and sent large ripples radiating to the banks of the stream. I quickly tied on a #16 parachute Adams, said a little prayer, and dropped a perfect cast just to the side of his previous rise. Within moments, the trout nonchalantly sipped the dry and I was latched into a large fish. Luckily, I had my 5 weight and was able to muscle the fish away from several large rocks and half submerged logs and stabbed my net a fish that could barely fit inside of it. I had heard of large fish in Oak Creek and have spooked and occasionally tied into some, but have never been successful at getting one to hand. After this fish, I did not need to fish the rest of the day. This is one of those times I wished I had a measuring tape, so without going into guessing on numbers, all I will say is that it was a big fish.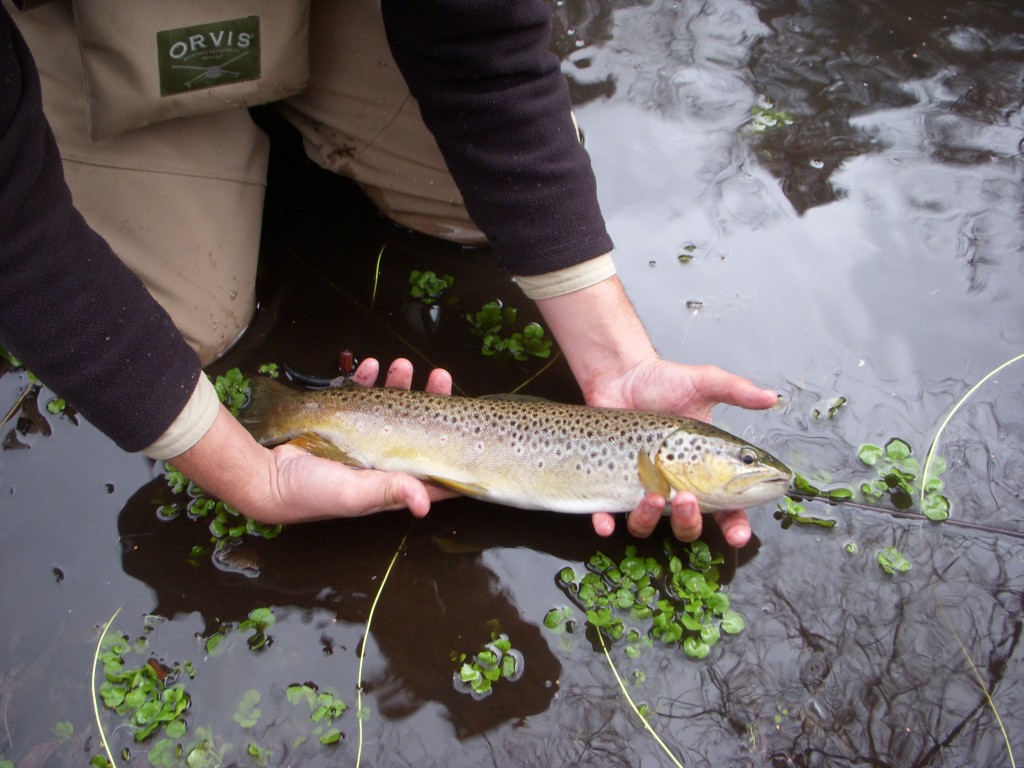 Streamers, nymphs, and dries all seemed to be the ticket for the day. The high water conditions made it some of the toughest and most frustrating fishing but the outcome of the day was extremely rewarding. Quality day spent on the water with good company is a great way to spend time off from work.