Rambling Review – Cabela's Upland II Vest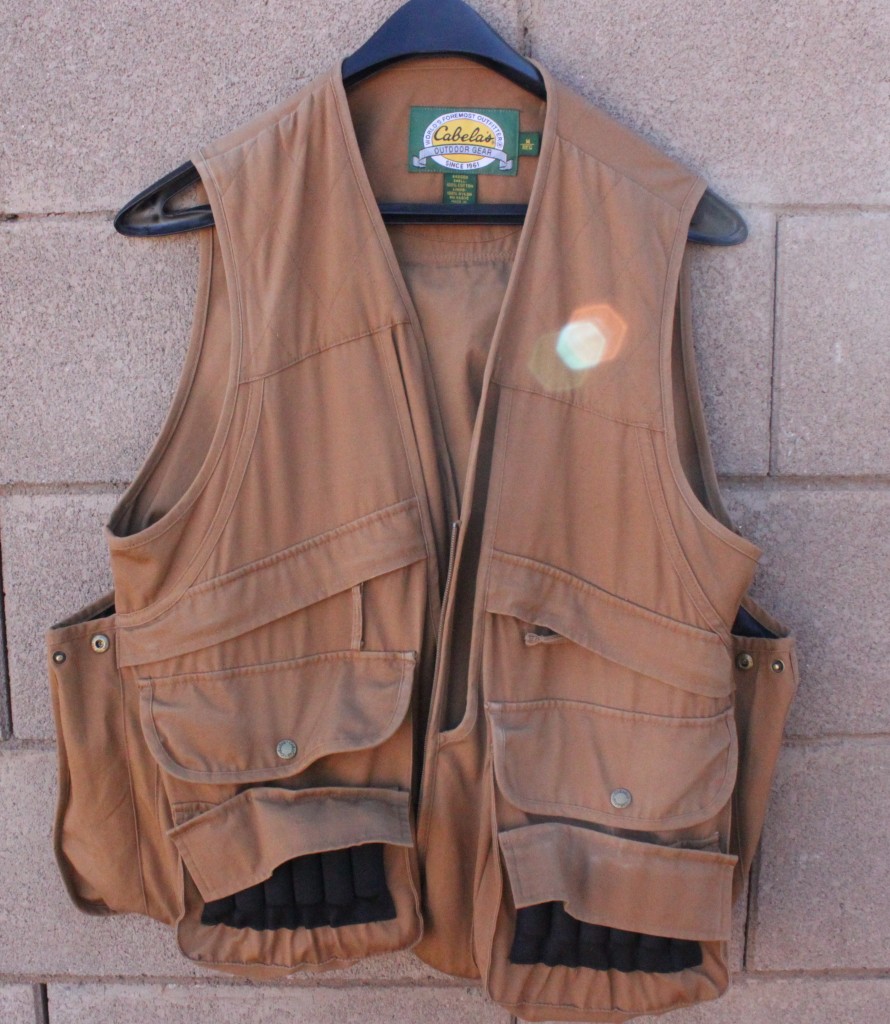 Why?
I have been hunting quail in Arizona for quite a few years now and when I first started I would chase after these birds with a small backpack that contained some water and a GPS. This backpack served me well until I started being successful and actually bringing a few birds down. At first I would throw them in the backpack but without going into the details, it turned messy quick. I found myself looking at a couple different upland game vests and decided upon the basic vest that Cabela's offers, the Cabela's Upland II Vest. Here is why…
First Impressions –
Game Pouch – The Cabela's Upland II Vest  has a large game pouch that can be accessed from the front or the back. The top of the pouch can be opened by a zipper and its contents can be easily taken out. A limit of Gambel's quail can easily fit in this large pocket and I imagine larger birds could easily be carried. The vest is lined with a durable shear material that sheds liquid and other organic matter easily.
Outside Pockets – Aside from the large game pouch, there are 4 large pockets on the front of this vest. Two of these pockets are especially deep with zipper pockets. I like to put my GPS, TP, knife, cell phone, and other odds and ends in this portion of my vest. The lower two pockets close with a  snap and I may put extra shells on the right side for quick access and then put empties on the left.
Inside pockets – This Upland Vest has an inside pocket on either side. The right side pocket is a zipper pocket perfect for keys or a wallet. The left side pocket is a thinner Velcro pocket that I like to store small sandwich Ziploc bags in for after the hunt field dressing.
Shell loops – On the outside lower portion of the vest, six shell loops on each side are extremely handy for fast reloading. I alternate between 20 and 12 gauge shells and the loops hold both perfectly.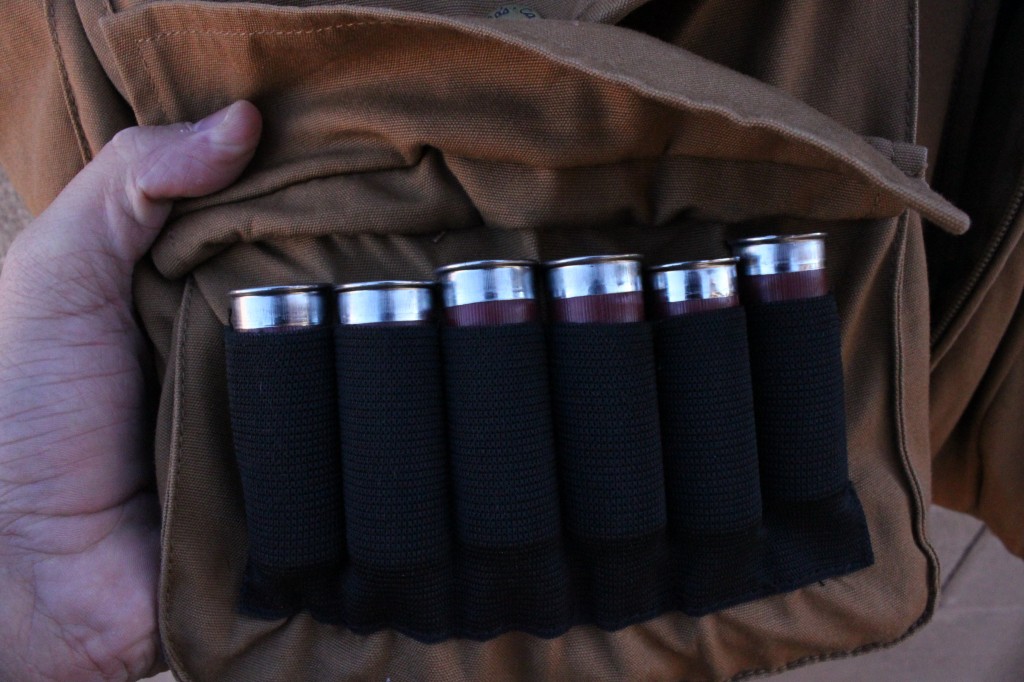 Field Use –
I have had this vest for 3 years and have been very happy with its performance. The rugged material stands up to the prickly, thorn filled desert of Arizona and looks non-the-worse for wear and tear.  I have torn through more cat-claw and mesquite trees than I care to remember and as I look at this vest, it looks fairly new. It accommodates my field needs very easily and has seen over 50 days of heavy field use. I usually wash this vest after every season before I put it back in the closet and it handles the washing machine very well.
One thing I am looking at having my wife sew onto the back of this vest is two adjustable straps to loop my jacket into. On a chilly Arizona morning, I will leave the truck with a flannel or other heavy shirt to keep myself warm. After an hour or two, I have worked up quite a sweat and need to shed those extra layers. Normally, my shirt ends up in my game bag with my birds. This is fine, but I would rather attach my extra clothing to the outside of the vest instead of storing it with a bunch of dead birds.
The vest I have is in the traditional brown and really like this particular color choice. It gives me the option of using it for other hunts or activities. If I want to use blaze orange, I can throw on a hat to keep myself visible.
My biggest issue with this particular vest is the front zipper. It is not as high quality as I would like and often times will tear from the bottom as zippers do. It is an easy fix, simply unzipping and then re-zipping the zipper, but it can be annoying in the middle of a hunt. The manufacturer could easily remedy this problem by installing a heavy duty zipper. This is but a small bump in the road for an otherwise quality product.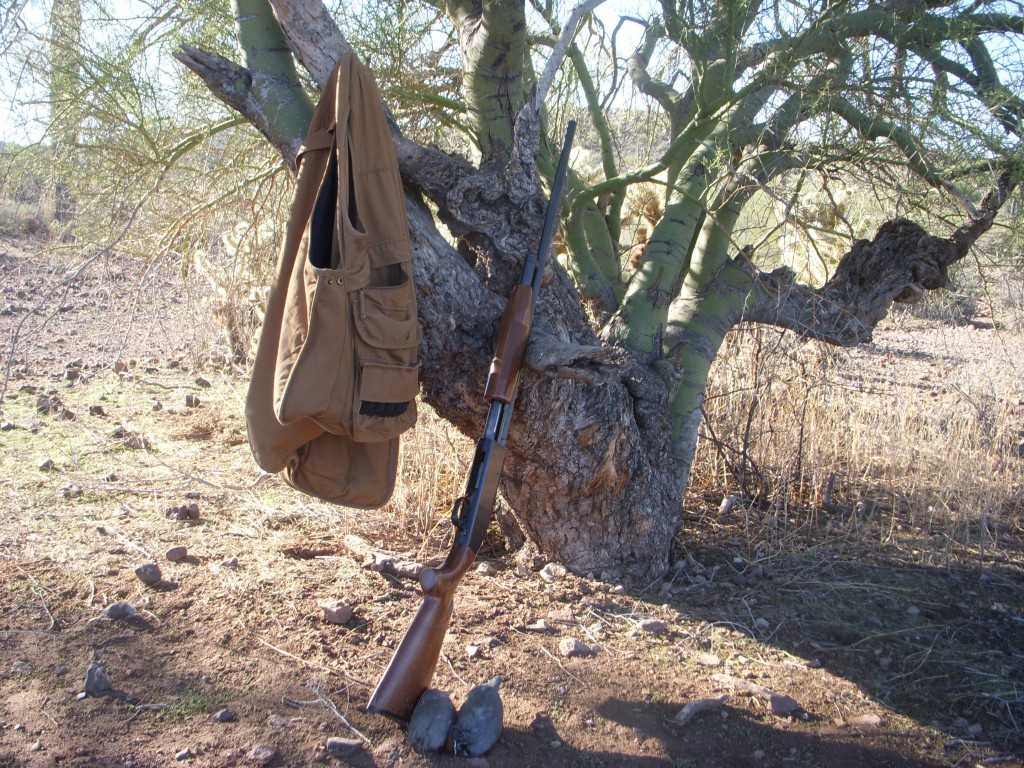 Pros:
Price – Not uncommon to see this product on sale, far below its original price.
Durability – Rugged Material, Game pouch material
Utility- Pockets, Game pouch, Shell loops
Cabela's name – Cabela's stands behind products with their name on it.
Cons:
Occasional Zipper Malfunction
No outside straps for cold weather clothing
Not breathable during the hotter months
Prognosis – I recommend the Cabela's Upland Vest to the beginner and advanced hunter because of its high performance, durability, and great price
* Disclaimer:
The reviews at Arizona Wanderings are my honest opinion. Arizona Wanderings is not sponsored by or associated with any of the stated companies and is accepting no compensation, monetary or otherwise, in exchange for this review.  My independent status may change in the future but, as of the date of publication, no relationship other than described above has been pursued or established.