Rambling Review: Coleman Fyrechampion Hyperflame Stove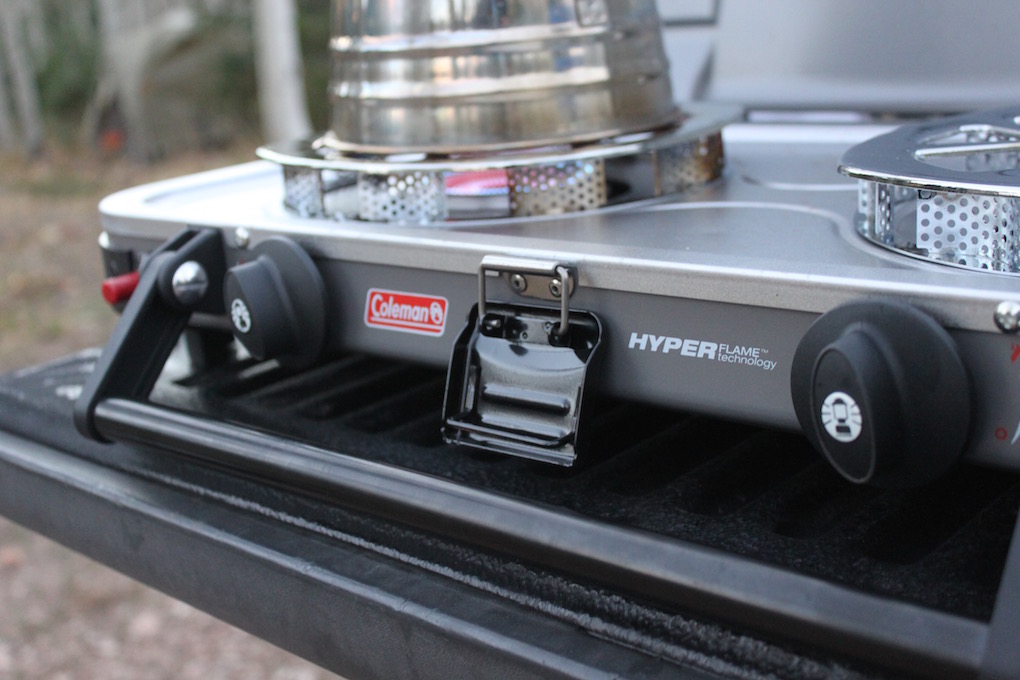 Why:
Although many times I'm looking for the lightest equipment for backpacking into the backcountry, there are plenty of times where I'm truck camping and space and weight are not an issue. When it comes to stoves, I have several compact camp stoves that are ideal for those backpacking trips where all that is needed is to boil water for dehydrated meals, but these compact stoves are limited in the amount of any real cooking. For my fishing and hunting trips, where I'm camping next to the truck, I've been using the Coleman Fyrechampion Hyperflame 2-Burner Propane Stove which has been a pretty solid stove for me.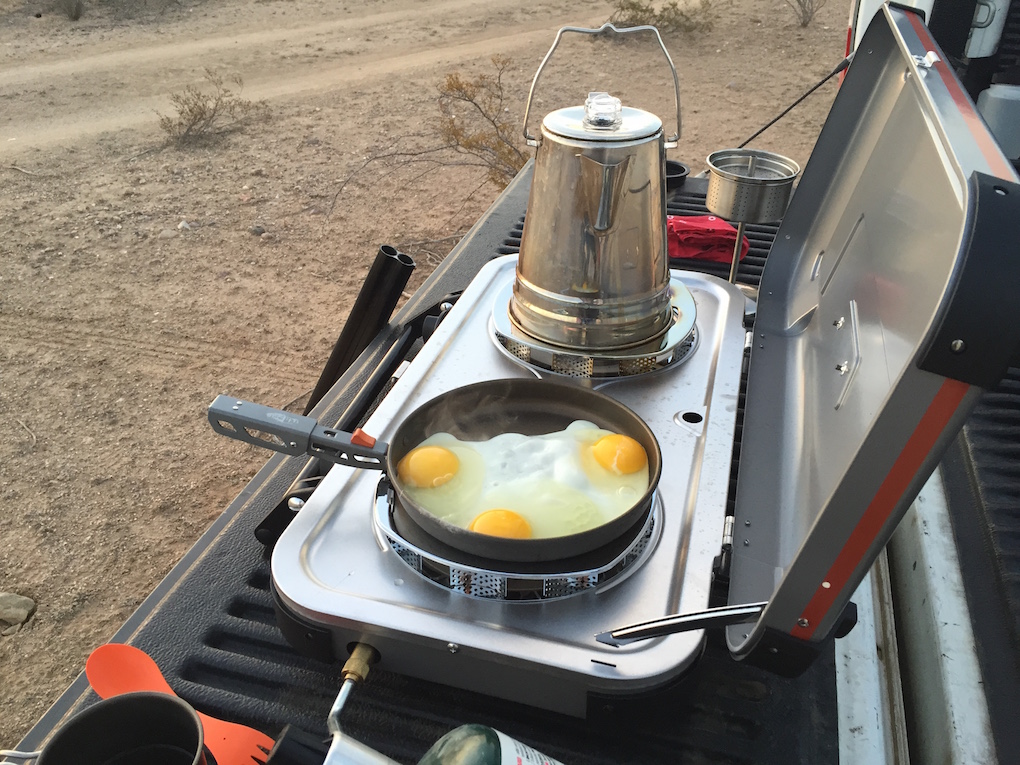 First impressions:
Dimensions – This stove measures 26.8″ x 6.6″ x 14.9″  and weighs in at 17.1 pounds.
Coleman's HyperFlame burner technology cuts boil time in half compared to a standard burner at 3 m/sec. windspeed
The Coleman Hyper Fyrchampion Hyperflame stove boasts 12,000 BTU from each of the two burners
The Fyrechampion comes with two griddles, for use as a two-burner stove, griddle, or stove/griddle combo
Uses a standard 16.4-oz. propane cylinder
The Coleman Fyrechampion Hyperflame Stove is covered by a 3-year limited warranty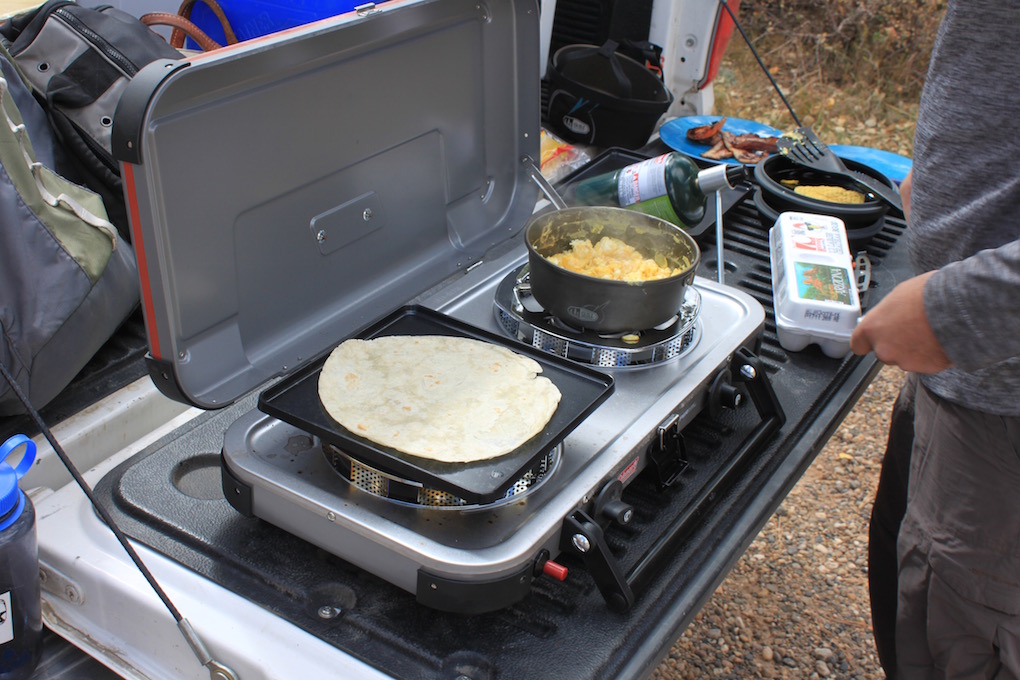 Field Use:
After a couple months of use, the Coleman Fyrechampion Hyperflame Stove has proven to be a great piece of gear for my truck camping trips. It's seen several fishing and hunting overnight trips, as the two burner top really comes in handy when cooking up the main course and a side.
The removable griddles are an interesting touch on the stove, and to be honest, I was a bit skeptical if I would even use them and thought about leaving them when I first packed the stove for a trip. But the first time I cooked up scrambled eggs and toasted the tortillas on the griddles, I was sold. They are great for warming tortillas, cooking eggs and sausage, but unfortunately the the short sides of the griddles make them too short to contain bacon grease. Regardless, I've realized how nice the griddles are to have in the field.
One of the standout features on the Coleman Fyrechampion Hyperflame Stove is how much heat this stove puts out. Between the Coleman Perfect Heat Technology and Perfect Flow Pressure Control System, this stove puts out high, steady heat, even at 9000′ in the White Mountains on a chilly fall morning. The recessed cook top, lowered burners, and high intensity flame make for a fairly wind resistant unit. Although high heat is a positive when talking about a stove, I have found it a bit difficult to find the sweet spot for low heat and simmering.  While  the stove is capable of putting out, it takes a bit of playing to find the lower end of the flame without causing the flame to snuff out.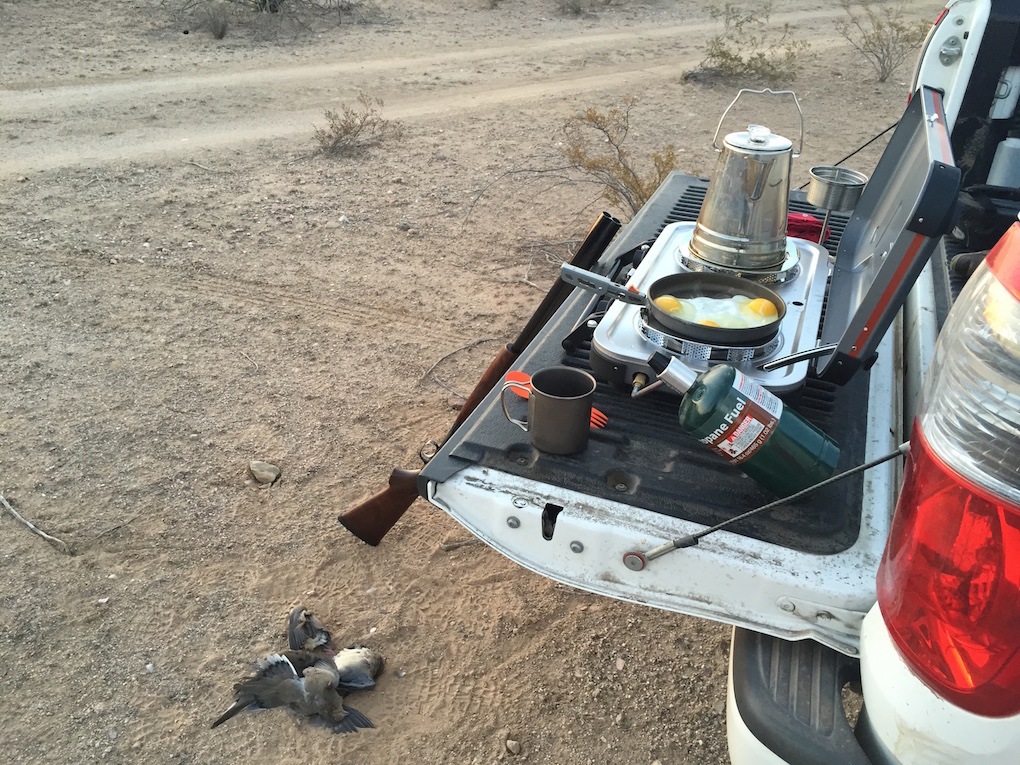 Pros:
A solid stove for vehicle camping trips
Two 12,000 BTU burners 
Bulk propane tank compatible
3 year warranty
Wind resistant
Cons:
The griddle sides are a bit short. Perfect for everything but bacon.
Made in China
Prognosis:  The Coleman Fyrechampion Hyperflame 2-Burner Propane Stove is a solid stove and worth your consideration if you are in the camp stove market.
* Disclaimer:
The reviews at Arizona Wanderings are my honest opinion. Arizona Wanderings is not sponsored by or associated with any of the stated companies and is accepting no compensation, monetary or otherwise, The Coleman Fyrechampion Hyperflame Stove was provided by Coleman for the purpose of this review.  My independent status may change in the future but, as of the date of publication, no relationship other than described above has been pursued or established.