Rambling Review – Crooked Horn Outfitters Trail Light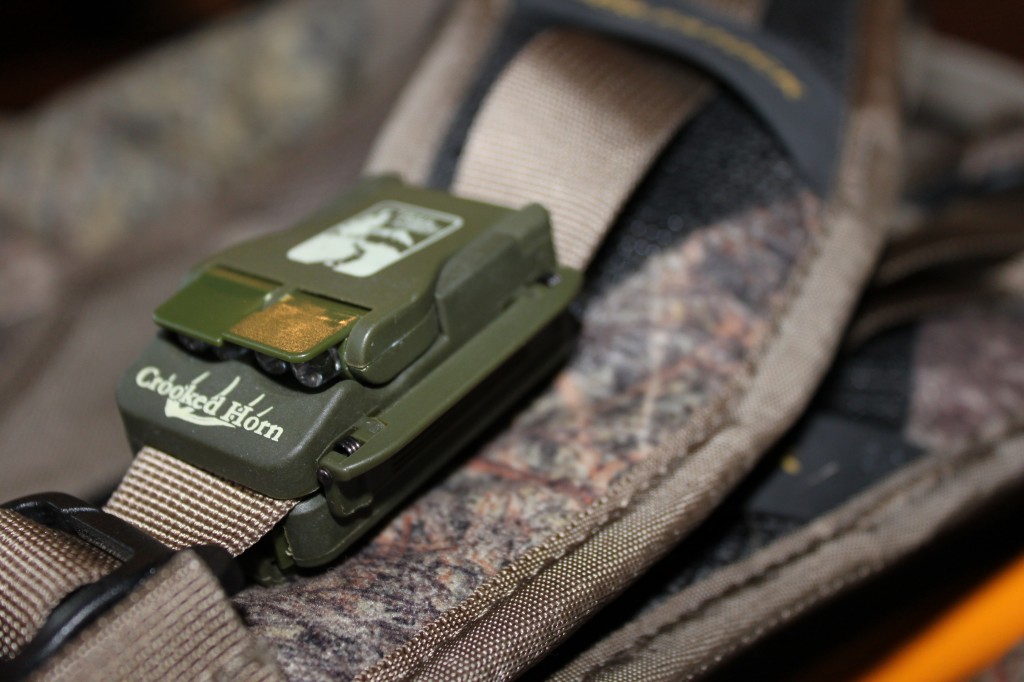 Why:
Can an outdoorsman have too many quality flashlight/headlamps? Probably not. The Crooked Horn Outfitters Trail Light is a pretty ingenious system that offers another illuminating option for the hunter, fisherman, or hiker.
First impressions: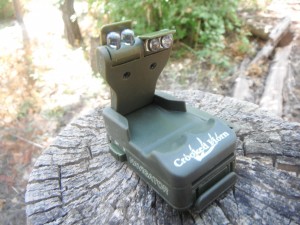 The Dual Multidirectional LEDs – The Crooked Horn team really nailed it with the multidirectional LED system that they included in their Trail Light. With two individual pivoting LEDs the outdoorsman can perform those tasks that require light without having to try and position your headlamp in just such a way that leads to neck cramps later.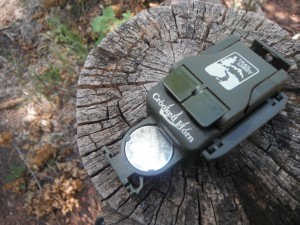 The Battery Clip – The quick, no hassle battery clip, assures the operater that at a moments notice a new battery can quickly be loaded into the Trail light without having to fumble with tiny screws and a screwdriver.
Hands Free – Usually my head lamp or flashlight is buried at the bottom of my pack. The operator can choose to mount the Trail Light to a backpack or quick clip it to a chest strap or jacket and always have their hands free.
Field Use:
Fly fishing – When small stream fishing, I usually wear a backpack to carry any gear that I may need. When sneaking into that remote stream in the early morning or slipping and sliding out of the creek long after the sunlight has left the canyon, having that Trail Light hooked to my should strap has been an extremely beneficial feature.
(I also performed a very unscientific test. When I was at the San Juan last spring, I had brought my vice with me to tie flies at camp. With my headlamp, I would find myself struggling to focus the beam on whatever I was working on. So, I went to my tying table here at home and turned all the lights off, so that it was completely dark. I then used the Trail Lights double beams and focused on on the hook and the other on the pedestal where my materials were. It was much easier to see what I was working on then just a head lamp, and I imagine if I used the Trail Light and a head lamp, I would be a happy camper.)
Hunting – I spent 4 days on a PA whitetail hunt, sneaking to stands before daybreak and climbing into trees in the dark. The Crooked Horn Outfitters Trail Light really came in handy. I used the green light setting for most walks in and used the two way directional to shine one at my hands and one at my feet as I climbed up the tree steps and got set up. The most convenient thing about the light is that it is hands free and the multidirectional  feature. In my opinion it is better than a headlamp/hat light because you do not have to keep moving your head up and down to see where you are going and it does not shine in your buddy's eyes when you are talking to him in the dark. The light being clipped to your pack or jacket keeps the light pointed down and forward and allows you to move your head to look all around without the light dancing all around the woods.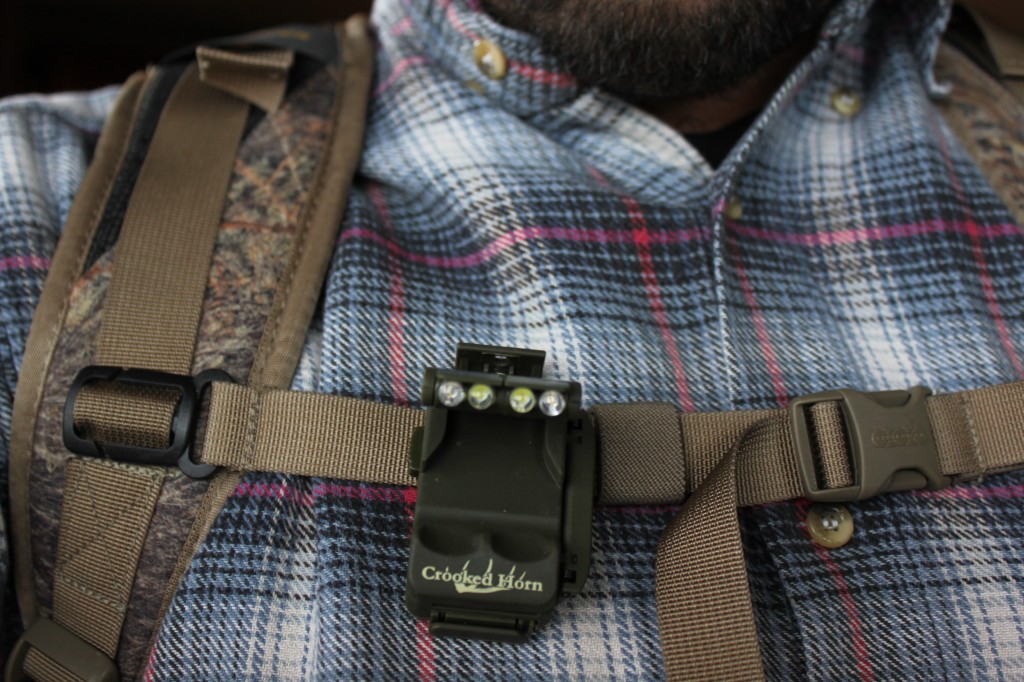 Pros:
Innovative Pivoting LEDs
Fast Battery Exchange Clip
Green and White LEDs for different hunting situations
Permanent Backpack Strap Mount
Cons:
There are brighter lights on the market, but I believe that the output is perfect when trying to sneak through the woods to the stand without spooking game.
Prognosis: The Crooked Horn Outfitters Trail Light is a dynamite little tool that will always be at the top of my gear list.
* Disclaimer:
The reviews at Arizona Wanderings are my honest opinion. Arizona Wanderings is not sponsored by or associated with any of the stated companies and is accepting no compensation, monetary or otherwise, in exchange for this review.  The Crooked Horn Outfitter Trail Light was provided for the purpose of this review. My independent status may change in the future but, as of the date of publication, no relationship other than described above has been pursued or established.