Rambling Review – Linekurv Stripping Basket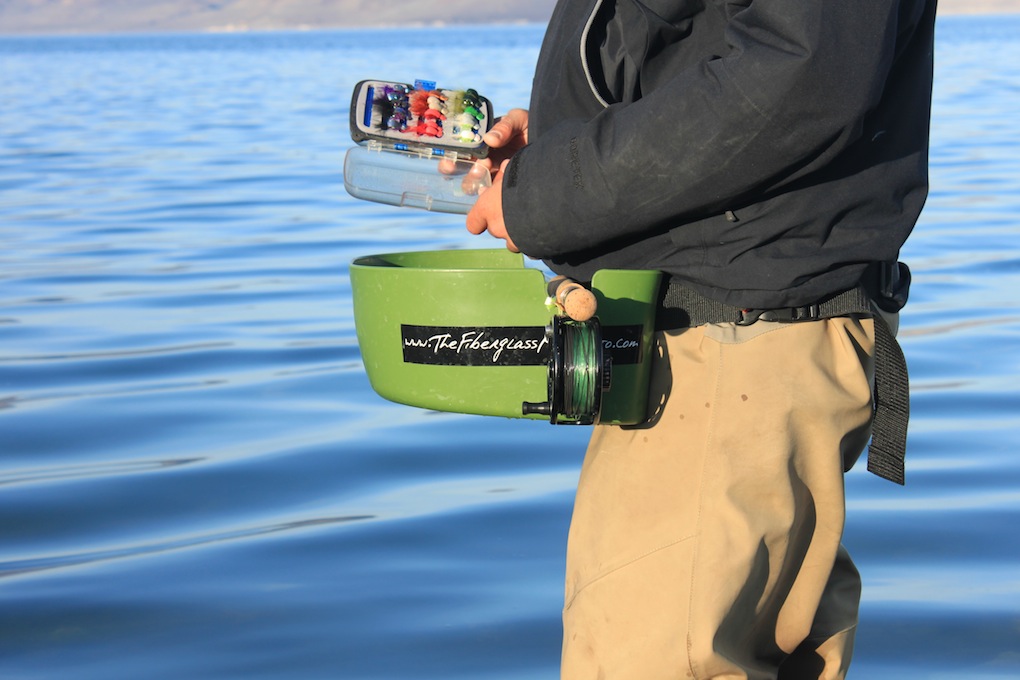 Why:
This year, I had the opportunity to do a bit of pike fishing along with a trip to Pyramid Lake. Several people I talked to recommended a stripping basket for both occasions and it was not until I went that I really understood why. Stripping baskets help to keep line from tangling while hand stripping fly line. I found out that a quality stripping basket is worth it's weight in gold. Here are my thoughts on the Linekurv Stripping Basket. The Linekurv baskets are made in Denmark where "linekurv" means stripping basket.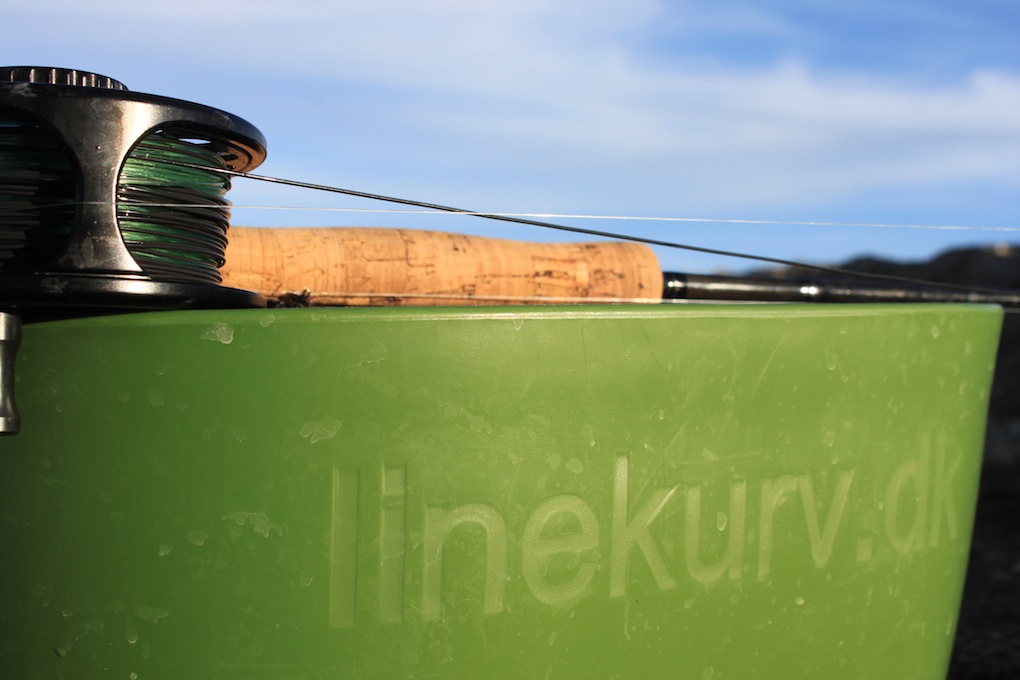 First impressions:
Solid – The Linekurv stripping basket is built rock solid. There is nothing fragile about the basket or the heavy duty nylon belt.
The fit and feel – Right out of the box, I tried the Linekurv basket on, and with a simple cinch of the belt it snugged right around my waist. There is a slight curve on the backside of the basket which allows it to hug your body. Some of the homemade stripping baskets I've seen are almost too boxy and look uncomfortable. Not so with the Linekurv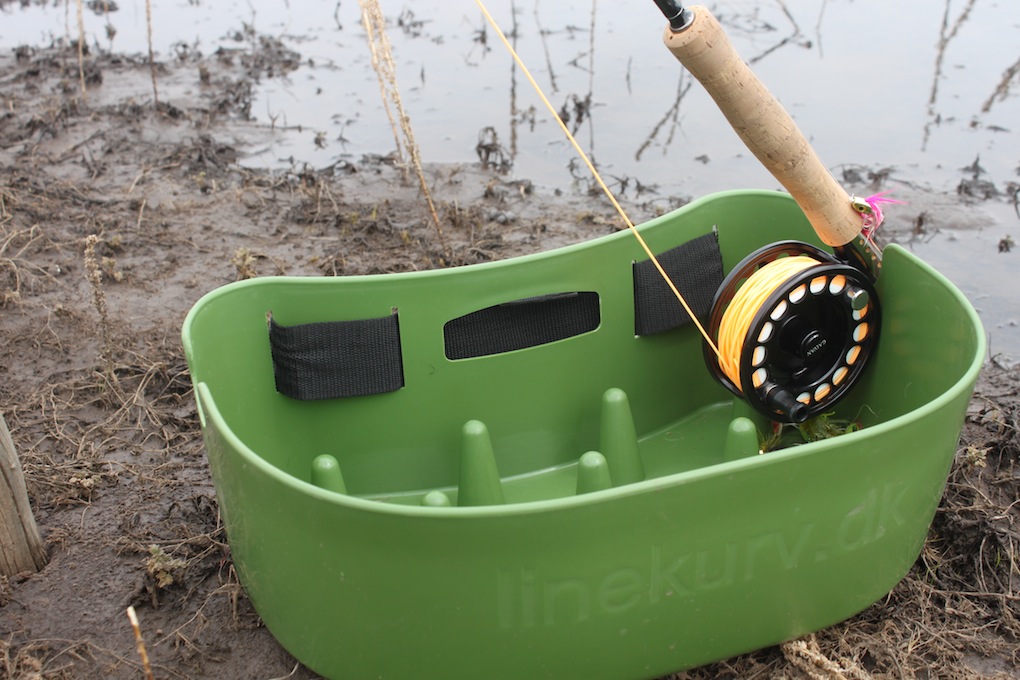 Field Use:
Although I needed a stripping basket for Pyramid Lake, I had the opportunity to try out the Linekurv stripping basket on a bit of pike fishing in Northern Arizona. I debated on even taking a basket along, but I at least wanted to practice with it before getting on the water at Pyramid Lake. When I showed up at Upper Lake Mary, I was more than happy to have the basket along. Fly fishing for pike involves heaving big flies tied with rabbit strips and then stripping line as fast as you can to shore. The banks of the lake were muddy and nasty, but instead of line being piled up at my feet and getting stepped on, line was coiling neatly in the stripping basket. I truly learned the value of having a stripping basket for keeping your line clean.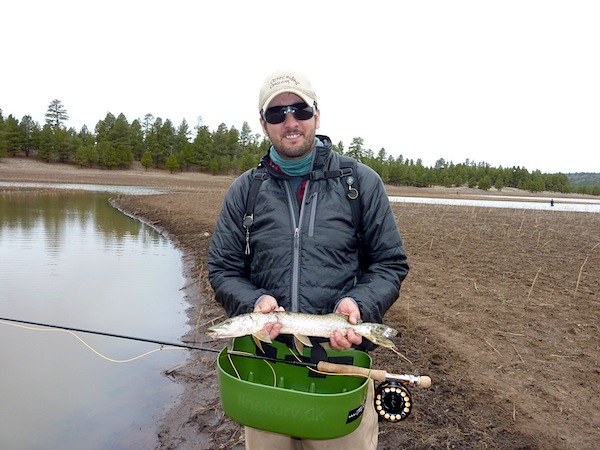 The main reason that I even looked into stripping baskets was for fly fishing Pyramid Lake. Pyramid is a windy lake in Nevada known for holding big Lahontan cutthroat.  One of the main ways to fly fish the lake is with a heavy sink tip shooting head and lots of running line. Large amounts of running line, piled up at your feet is a recipe for disaster.
The cones at the bottom of the basket keep the running line from tangling. So as you are casting the shooting head, the rest of the running line zips through the guides without knotting up and ruining the distance on your cast. The smooth design also cuts down on any line snags on the basket. I was using a 200 grain shooting head and with a bit of a tailwind, I was laying down casts farther then I have ever cast line before. I believe much of that comes from using a stripping basket.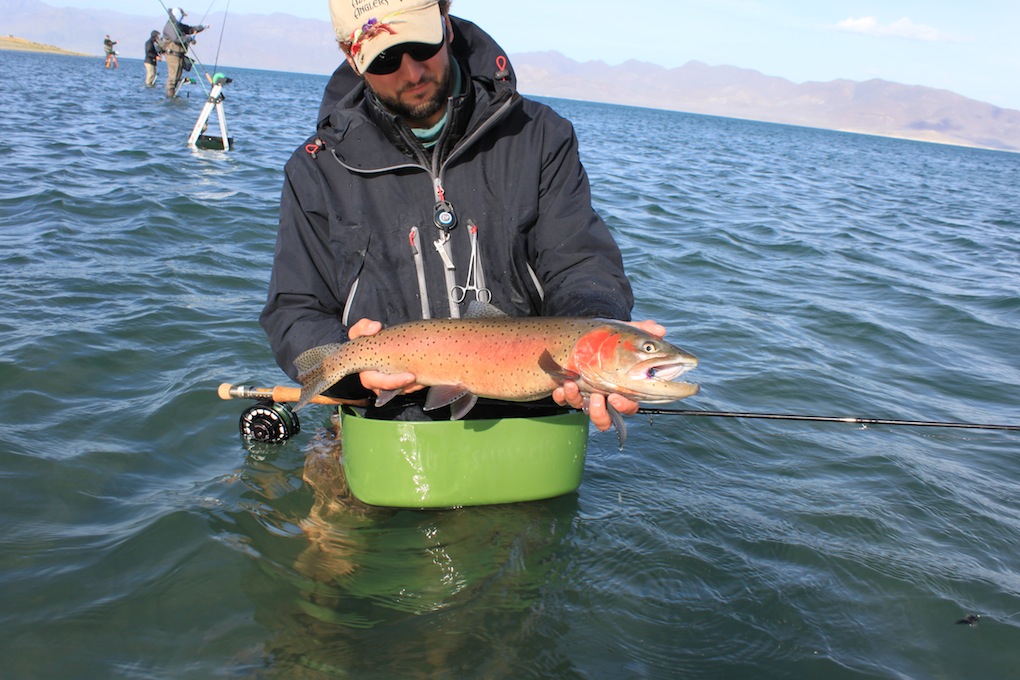 The Linekurv also has two  notches cut into each side which hold your fly rod perfectly when you need your hands free. On Pyramid Lake, I had to fight the urge to start stripping my flies in before they had sunk to the bottom of the lake. What I liked to do was to cast out my heavy sinking line, lay my fly rod in the Linekurv, put my hands in my coat and count to 30.
As I mentioned in several posts on fly fishing Pyramid Lake, Landon, the Pyramid veteran of our group, stayed on the ladder longer than any of us. While I was taking a break, he asked to give the Linekurv a try. This was probably a mistake, because he almost did not want to give it back.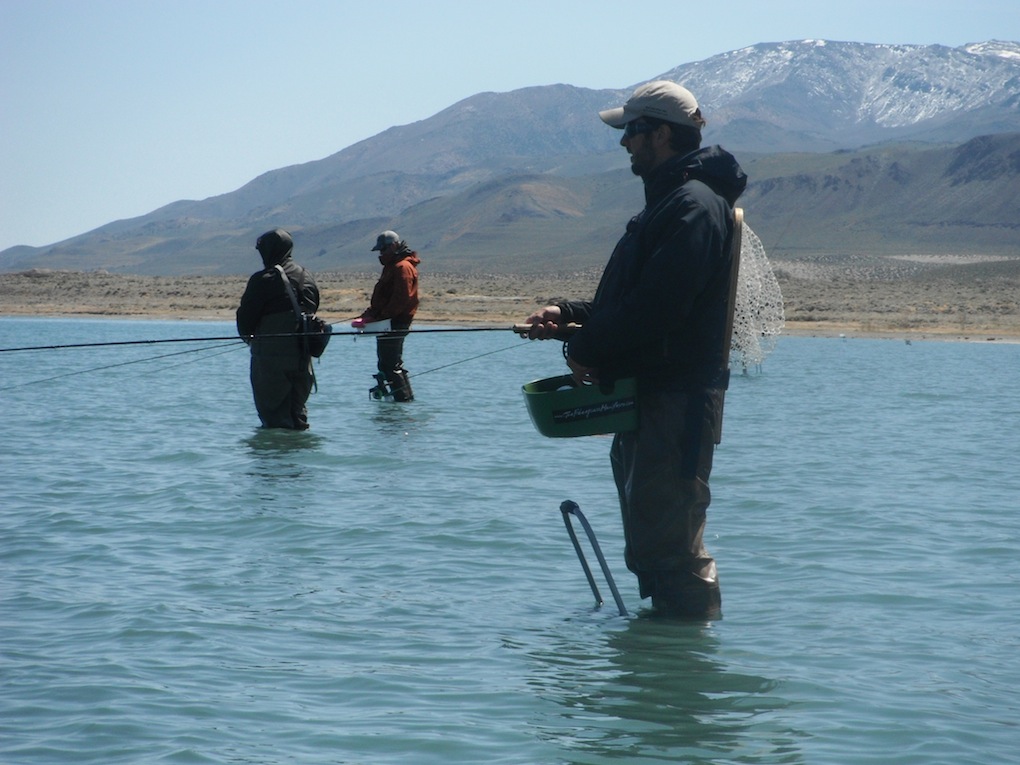 The one thing that I went back and forth with on the Linekurv basket was the lack of holes for draining water. While pike fishing, it did not matter, as I usually was not more than knee deep in the water. At Pyramid, we waded out to chest deep before putting our ladders down and climbing up. Often times, when landing fish, we were wading in water up to our bellies and water filled up part of the Linekurv, making it awkward to move around and necessary to drain. After doing quite a bit of reading, I think that it is a matter of preference for the fishermen. Some guys like to have drainage for their baskets for a rogue wave, while others who do more deep water fishing prefer to have a basket that floats on the water. The jury is still out for me. It did not take much effort at all to give the basket a quick flip to drain water, but I think it would be cool to have two drain plugs that you could open and close depending on the situation you are fishing in.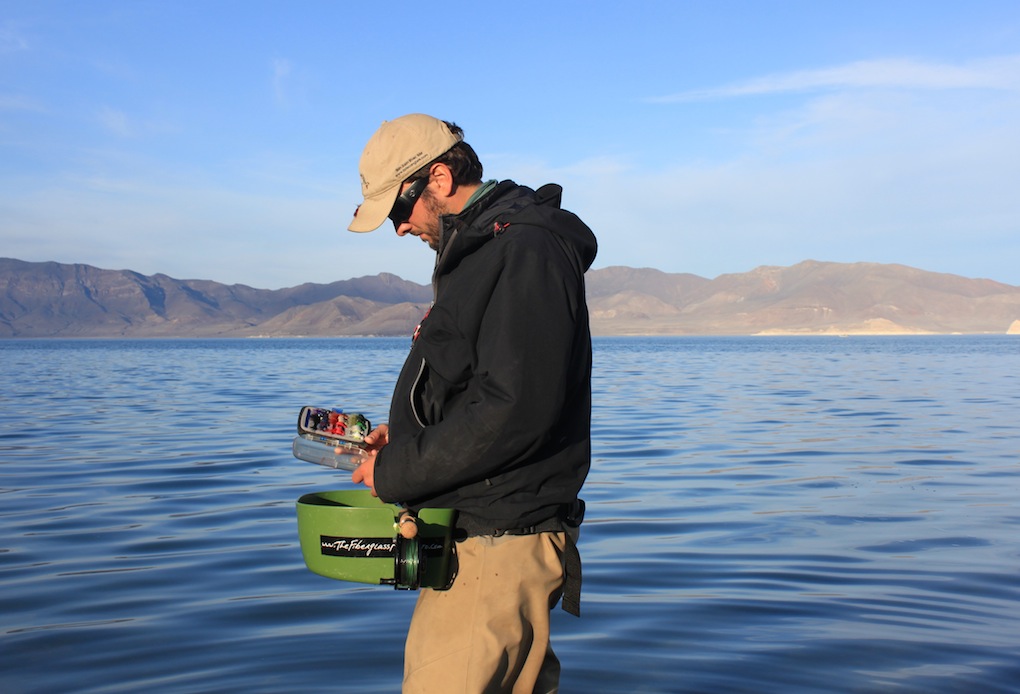 Pros:
Lightweight
Durable material designed to be rugged in very cold and warm conditions
Nine cones in the bottom of the basket  to minimize line tangles
Comfortable
Built in rod holder
Sleek design that reduces protruding edges
Cons:
No drainage holes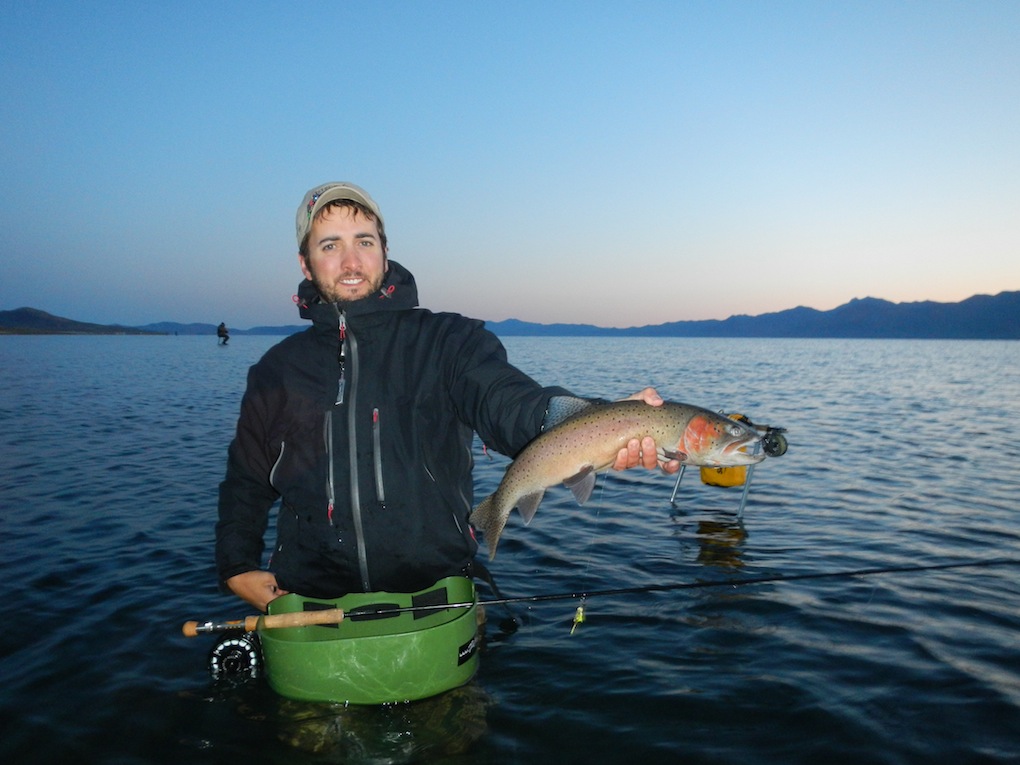 Prognosis:  The Linekurv stripping basket is a top of the line choice if you are looking for a high quality, well designed stripping basket. The Linekurv is an excellent tool for adding some serious distance to your cast.
* Disclaimer:
The reviews at Arizona Wanderings are my honest opinion. Arizona Wanderings is not sponsored by or associated with any of the stated companies and is accepting no compensation, monetary or otherwise, in exchange for this review. The Linekurv stripping basket was provided for the purpose of this review. My independent status may change in the future but, as of the date of publication, no relationship other than described above has been pursued or established.