Rambling Review – Nikon Monarch 10×42 Binoculars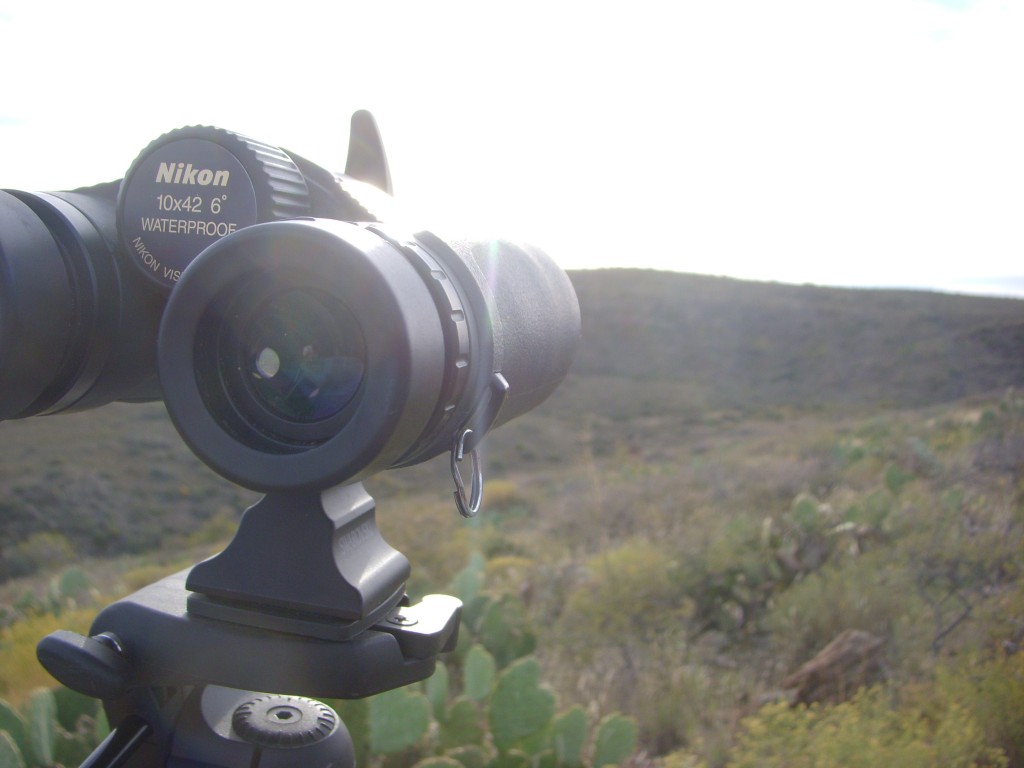 Why:
Growing up in Pennsylvania and New York and hunting the deer that populated those woods is much different than hunting the higher desert landscape of Arizona. I quickly learned that just finding a well worn Pennsylvania deer trail and plopping myself down beside it was not going to work in the big country of the Southwest. "Glassing" is a way of life here in Arizona, as it is across much of the West. There is a ton of land that must be closely scrutinized and a quality pair of binoculars are important. Now a truly high-end pair of European binoculars (no specific names) can run up into the thousands of dollars. For some hunters that is doable and someday I hope to buy myself a pair. But for a teacher in the poorest paying state in the Union, it is impossible to think about spending that much money on a pair of binoculars. After much research and shopping around, I decided on a pair of Nikon Monarchs because the price and quality of these binoculars were both appealing to me.
First impressions:
Lifetime warranty – Some would argue that a lifetime warranty does not mean a thing, but when I am looking at a pricey tool that is going to see some rugged country, a warranty makes me sleep better at night. It proves to me that Nikon believes in their product and is willing to back it up.
Price – To my untrained eye, the difference between a thousand dollar pair of binoculars and a couple hundred dollar pair is not enough to warrant the extra cost. Let's be honest, I could buy a nice new fly fishing set up for the difference. When I think about it in those terms it is an easy choice.
Features –Nikon claims that these Monarch binoculars are shockproof, fog proof, and waterproof.  The rugged rubber design gives a sense of durability and protection for the prisms inside. The Nikon Monarch Binoculars also come with flip down front covers, a non-attached eye piece cover, and a case for the binoculars.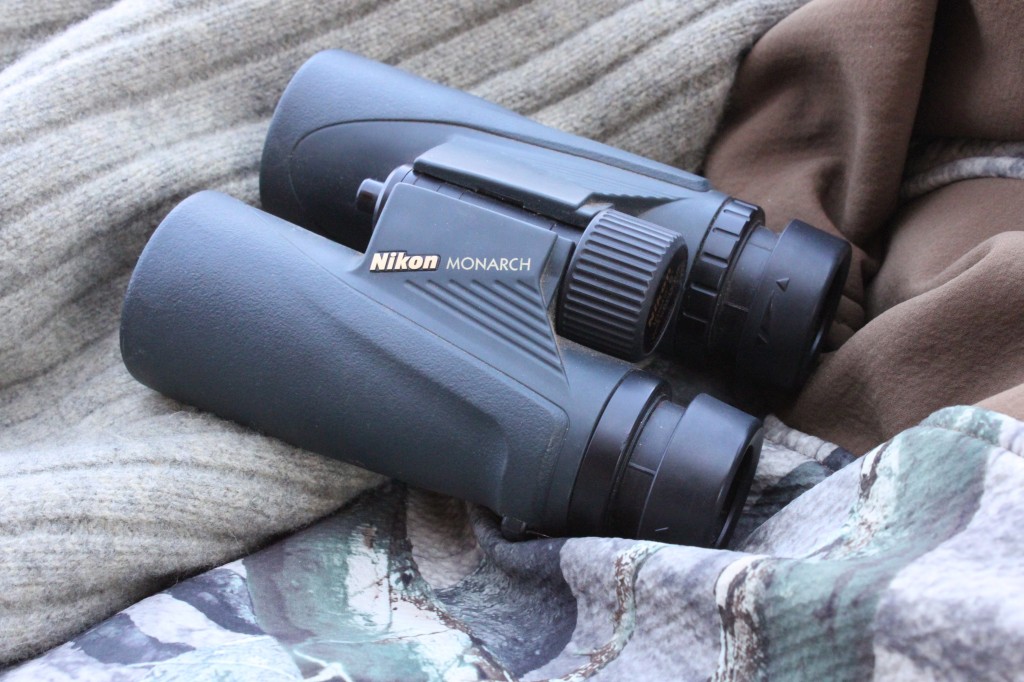 Field Use:
If you have spent some time reading through my wanderings, you will see that these binoculars have been through several seasons of hunting. My untrained eyes have gained quite a bit experience over the past several years as I have learned the finer points of glassing in Arizona.
Image quality has been fantastic. I know some people can tell a huge difference between these and other pricier binoculars, but I think the difference is negligible. I have put in long hours staring through these lenses searching and finding animals and they are extremely comfortable.  Whether a low evening light or a bright Arizona day, the Nikon Monarchs really do the trick.
I prefer to use these binoculars with a tripod for stability. Because they are 10 power, just holding them without any support or trying to use your knees to steady the image can become annoying. They are powerful binoculars and therefore really should be used with a tripod. I had to buy an adapter to mount the binoculars on the tripod. Originally I bought a standard Nikon tripod adapter but have switched to the Swarovski quick release adapter (another gear review in the works to explain how wonderful the Swarovski adapter is). Once a quarry is spotted I dismount the binoculars from the tripod and where a binocular harness that keep these binoculars close to my chest but still functional for the stalk.
In my experience, Nikon's shockproof, waterproof, and fog-proof claims are for real. These binoculars have been put through the paces and stood up to some serious abuse. I was caught in one rainy day and they performed well throughout the day. Hot breath on a cold morning had no affect on the Nikon Monarchs.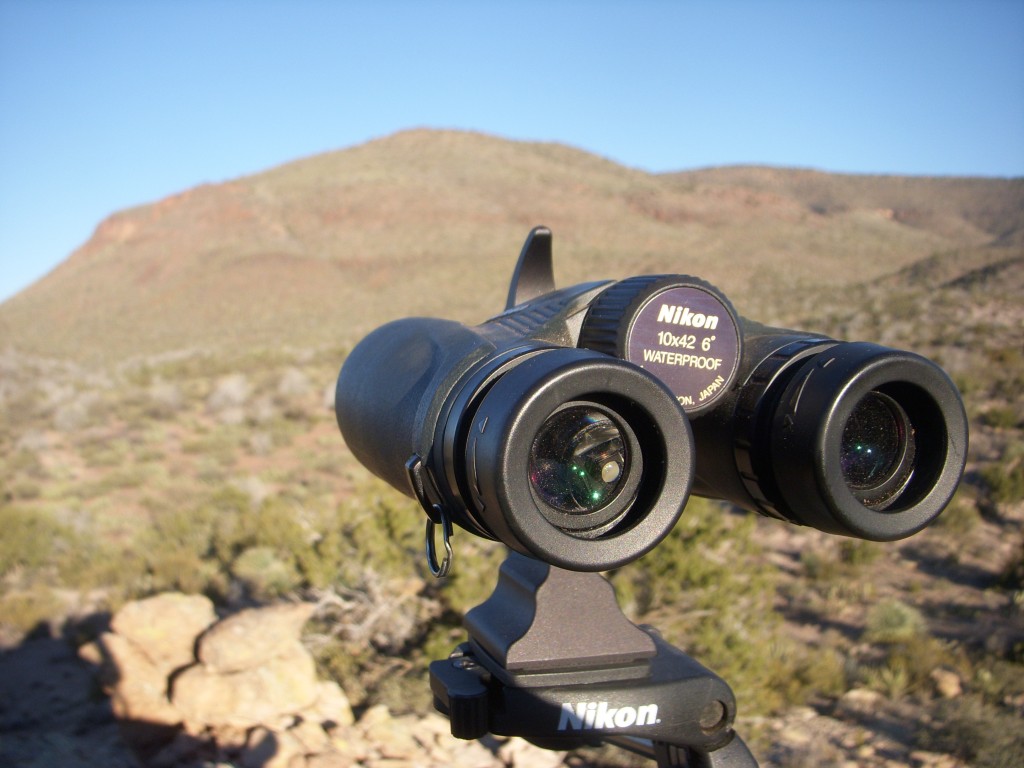 Pros:
Shockproof, waterproof, fog- proof
Excellent image quality
Price
Lifetime Warranty
Cons:
Loose pupil eye cover
Tripod and adapter sold separately (which is not out of the ordinary)
PROGNOSIS: Great binoculars for an even better price. These should definitely be on your radar if you are looking to buy a new pair of optics.
* Disclaimer:
The reviews at Arizona Wanderings are my honest opinion. Arizona Wanderings is not sponsored by or associated with any of the stated companies and is accepting no compensation, monetary or otherwise, in exchange for this review.  My independent status may change in the future but, as of the date of publication, no relationship other than described above has been pursued or established.