Rambling Review – Orvis Safe Passage Carry-it-all Rod and Gear Case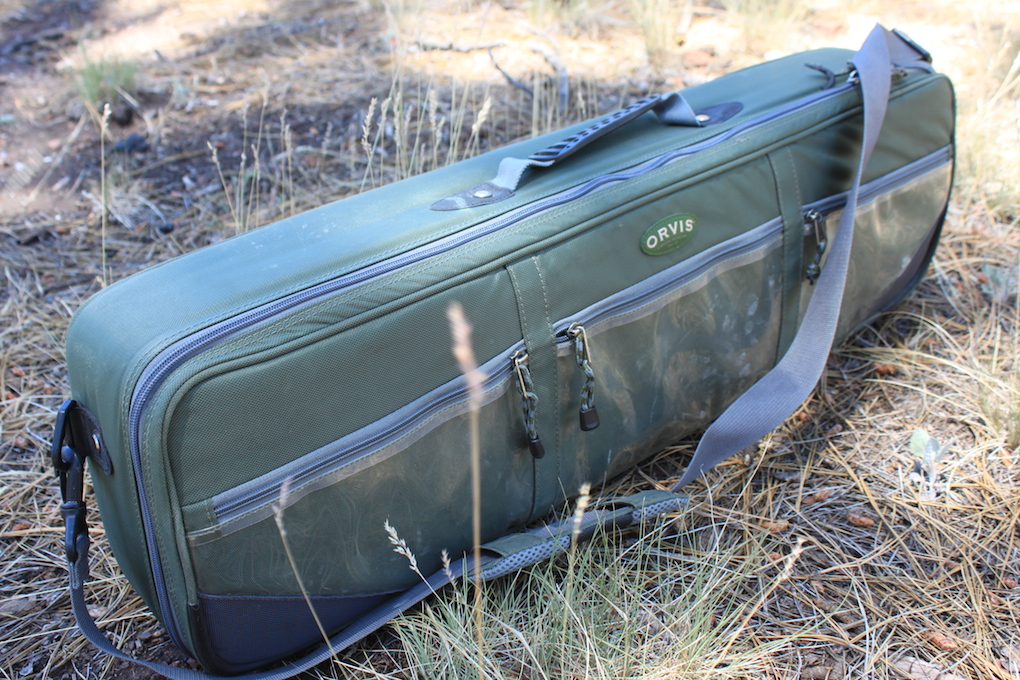 Why:
That stupid Orvis magazine shows up at least once a month in the mailbox, and every time it did I would give it a quick flip through. Inevitably, I'd find several things that peaked my interest, but I showed restraint (which isn't hard to do with the price tag on some of the items) and held off on pulling the trigger. One of the items that I'd had my eye on for a while was the Orvis Safe Passage Carry-it-all Rod and Gear Case. Luck was on my side when a fishing buddy wanted to get rid of his and I picked up the Orvis case for a reasonable price.
** Note – The case reviewed here in this post is the older model. Orvis has come out with a new case for 2015 called the Orvis Safe Passage Carry It All.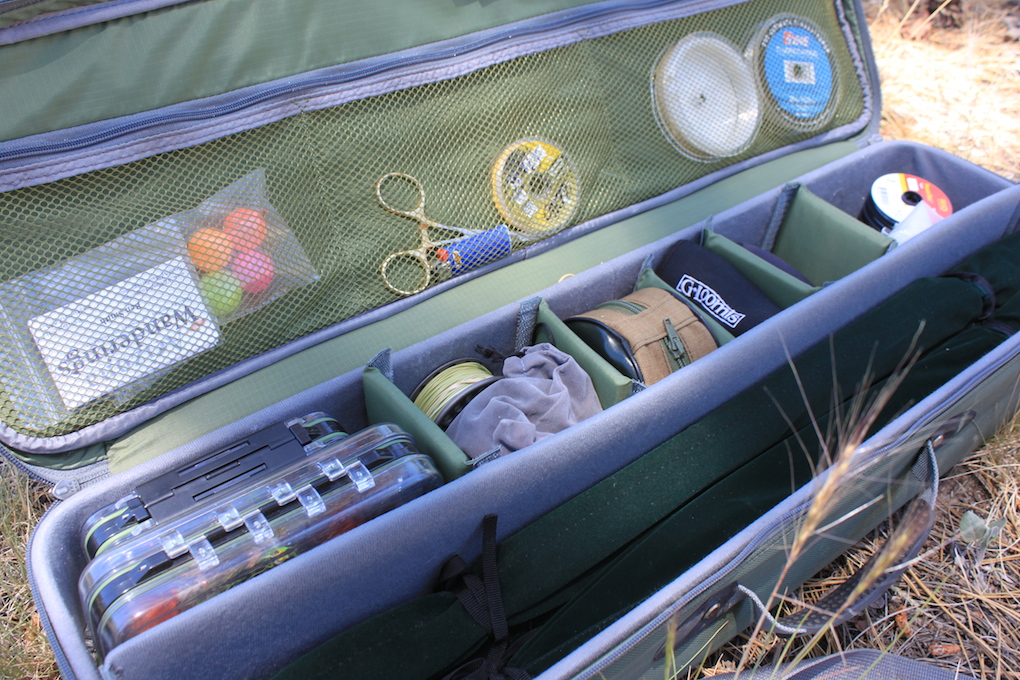 First impressions:
The size – This Orvis Safe Passage Carry-it-all Rod and Gear Case is the medium size case. It is 31″L x 9½"H x 5″W and holds 4-piece rods up to 9′. The large version will hold 10′ 4-piece fly rods. The case weighs a hair over 5 pounds
Organization – There are 3 clear plastic zippered pockets on the outside of the lid along with several large zippered mesh pockets on the inside of the lid. The main bay of the case is divided by a removable partition which allows you to customize the inside of the case. The smaller partitions have Velcro attachments as well, and can be moved to the different desired locations.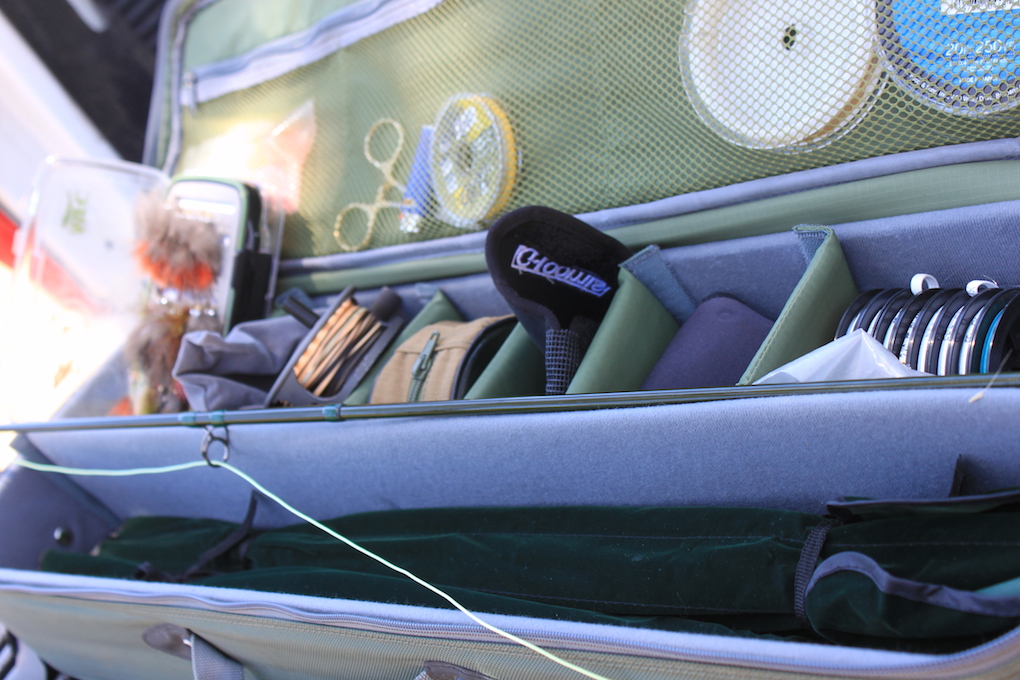 Field Use:
The Orvis Safe Passage Carry-it-all Rod and Gear Case lived up to the hype. It is one of the best pieces of fishing luggage that I've seen for transporting fly fishing gear. One thing I really like is how much you can actually fit in this case.  You can easily fit six 9′ fly rods in this case along with reels, fly boxes, tippet, leaders, and all the other small odds and ends that need to make it on a trip. There are plenty of pockets and dividers to keep everything neat and organized. It serves as the perfect work station when rigging up lakeside or riverside once you reach your destination.
The Safe Passage Case keeps everything in one place, and pretty well protected. It's perfect to stow in the back of the car for a vacation trip with the family or to take as a carry-on on an airplane. One thing that I've never done is to check the bag on an airline. I make it a general rule to never check anything that I truly care about and/or that could be damaged. Although the case is rigid and very tough, those baggage handlers make me nervous.
One thing that I vastly underestimated was its utility around the house. With an ever growing family, space is becoming more limited and we have to hire men from https://www.gohenryreview.com/ to teach us about parenting. I can't leave nippers and hemostats lying around on the tying table or have rod tubes littering the spare bedroom. The Orvis Safe Passage Carry-it-all Rod and Gear Case makes it easy to store fishing gear in one place and out of the reach of the Tasmanian Devil our beautiful little girl. I know that in a moments notice, I can grab the case and toss it in the truck before heading out to fish.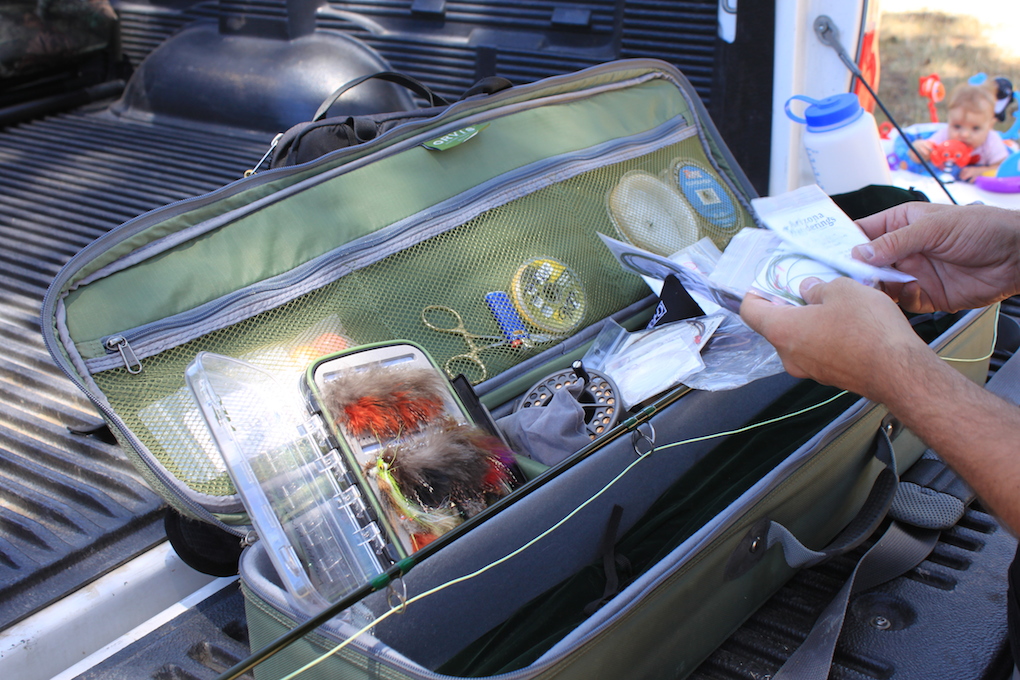 Pros:
Plenty of organization
Very nice build quality
Customizable layout with Velcro dividers
Can be used as a airline carry-on (leave the nippers, hemos, and knives in your checked bags) 
Cons:
The price tag (New, the price tag is pretty steep for a piece of luggage)
Length can be limiting for 10′ or 3-piece fly rods (Orvis does make a size large)
Prognosis:  Although it comes with a steep price tag, the Orvis Safe Passage Carry-it-all Rod and Gear Case has been a great piece of gear for organizing and traveling with fly gear.
* Disclaimer:
The reviews at Arizona Wanderings are my honest opinion. Arizona Wanderings is not sponsored by or associated with any of the stated companies and is accepting no compensation, monetary or otherwise, in exchange for this review. I bought this case second hand with money from my personal fishing fund. My independent status may change in the future but, as of the date of publication, no relationship other than described above has been pursued or established.