The Saturday sun found my friend Pete and I double-timing it north east to the Mogollon Rim for a day trip of fly fishing. We both have a few days off next week and figured we could spend the day jumping from creek to creek seeing different conditions and accessibility of different areas for our upcoming trip. The day started crisp and cold but soon warmed to pleasant temperatures in the 60s. Water levels were high and creek banks were swollen, but the water seemed fairly clear the higher in elevation we fished. Strong winds made it difficult to cast 3 weights and the bite was almost nonexistent all day.
About noon my day brightened immensely, when cycling through my box, I tied on a #10 Hopper Juan with a stonefly dropper and lobbed several casts into the foam line of a dark pool. I crouched, watching several drifts slowly make their way through the pool, when the surface exploded and my hopper was hooked neatly in the corner of a 18-19″ brown trout. After a short battle, my 3 weight was able to breathe a sigh of relief as I cradled my best fish on a fly rod to date and also my first fish on a self-tied fly. A few quick pictures and the brute swam strongly away.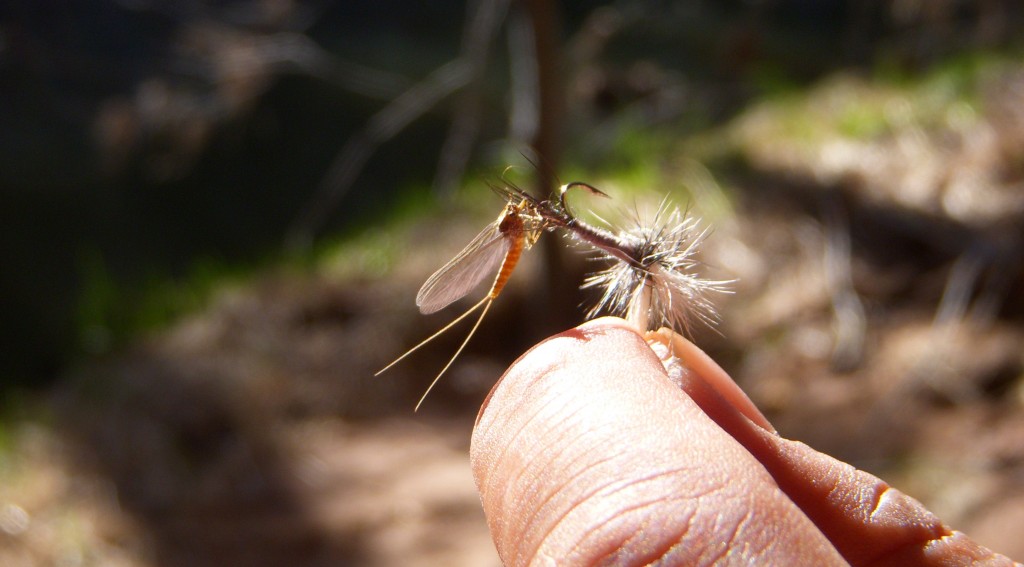 Around 4:30, we observed an extremely small hatch coming of the creek we were fishing. The majority of these bugs were #20-22s, which was much smaller than anything we had on hand. One large blue wing olive landed squarely in Pete's fly box, but after flailing at the water with small parachutes for several hours, we decided to call it a day. Next week holds promise for smaller crowds, slightly lower flows, and the hope of more fish.